LOUISVILLE, Ky. (WDRB) – Passport Health Plan said it's reviving its stalled construction project at 18th Street and Broadway in west Louisville amid uncertainty about the future of the Louisville organization as it works to save its 20-year-old Medicaid business in the state.
Passport CEO Scott Bowers said the organization will issue a formal request next week for a development partner to re-start the project, which calls for a headquarters office building for about 700 Passport employees and other "health and well-being" possibilities such as senior housing, health clinics or a pharmacy.
"We're ready to move forward and re-start the engines," Bowers said, though he could not give a firm timeline for construction to resume.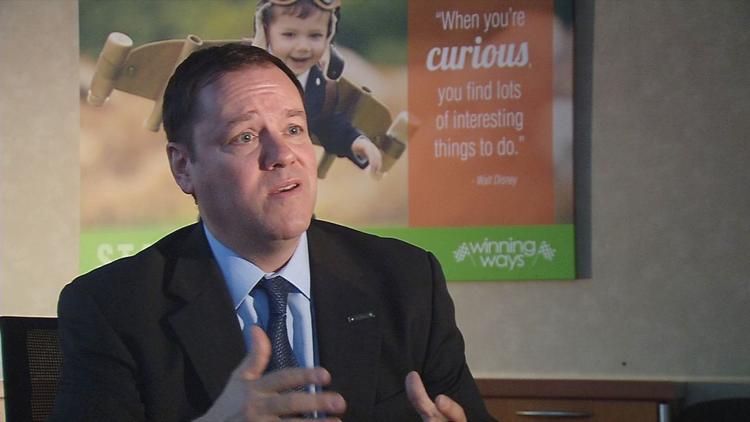 Passport's move comes as California-based Molina Healthcare, a health insurer specializing in Medicaid, wants into the Kentucky market and is apparently trying to curry favor with state policymakers by offering to take over the West Louisville project.  
"When you read that someone is telling other people that they're going to move into your house, it's interesting," Bowers said, adding that Molina Healthcare has never expressed its interest in the property directly to Passport.
Molina Healthcare declined to comment, but a source familiar with the company's plans said Molina is willing to commit capital to complete the health and well-being campus and to lease the planned office building and place about 1,100 employees there, as first reported by Louisville Business First last month.  
Renderings: Passport health and well-being campus
Conceptual renderings of Passport Health Plan's proposed headquarters building and health / well-being campus at 18th and Broadway in west Louisville.
Passport had started construction on the office building before pausing the project in February as the organization looked to stay afloat after Medicaid payment cuts implemented by the administration of former Republican Gov. Matt Bevin, which disproportionately affected Passport.
Passport is one of five "managed care" insurance companies that administer benefits for the 1.3 million low-income Kentuckians enrolled in Medicaid, the federal- and state-funded health insurance program for the poor.
The state's Medicaid contracts with those companies are renewed every five years, and the current set of contracts expire on June 30.
Shortly before he left office last month, Bevin's administration awarded a new set of five-year contracts to Molina and four other big health insurance companies, cutting Passport out of the state's managed care business for the first time since the organization was founded in 1997.
But Gov. Andy Beshear, who took office Dec. 10, rescinded the Bevin's administration's contract, giving Passport another chance at keeping the Medicaid business beyond June 30.
Passport covers about 300,000 people throughout Kentucky, including about 200,000 in the Louisville area.
Beshear said Monday that he is asking the Medicaid contractors to re-submit bids to the state by February and that his health cabinet will evaluate the responses in April.
"It's going to be a completely fair and transparent system where the best bidders are awarded those contracts," Beshear said, adding that no company, including Passport, is guaranteed a contract.
As of Tuesday, Passport is no longer a nonprofit organization, as Arlington, Va.-based Evolent Health bought a 70% stake in the organization for $70 million.
Passport's nonprofit founders – the University of Louisville, Norton Healthcare, the Louisville/Jefferson County Primary Care Association and the Jewish Heritage Fund for Excellence – retain a 30% stake in the organization.
Evolent Health CEO Frank Williams has told Wall Street analysts that the company would liquidate Passport if it fails to win a new Medicaid contract from Kentucky, which is basically all of Passport's business.
Bowers, who was installed at Passport last year when Evolent Health effectively took control of the organization, could not say what happens to the West Louisville project in the event Passport is shut down.
"I think we have to wait and see how things play out. It would be a hypothetical for me to do too much scenario planning … I think if I go down another scenario-planning path of the 'what ifs', it takes our eye off the ball, and I want to stay focused," he said.