JUNCTION CITY, Ky. (WDRB) – At least one person died and five others were injured after authorities said a natural gas pipeline ruptured early Thursday in Lincoln County, Ky., triggering an explosion and massive fire that could be seen as far away as Lexington.
Lisa Renee Derringer, 58, was killed, according to Lincoln County Coroner Farris Marcum. She was among those living closest to the blast and was found outside her home, said Kentucky State Police spokesman Tpr. Robert Purdy.
Purdy said officials believe everyone in the area has been accounted for and there won't be any other deaths.
The explosion and fire shook homes, destroyed buildings and scorched the ground over hundreds of feet. Cars were burned out. Yards turned black.
Hannah Brashear, who lives nearby, said she thought the windows in her house were going to break. 
"It felt like 110 degrees," she said. "My face was just hot as soon as I stepped out of the garage, out of the carport. You could just feel the heat on your face."
Charles Baxter, whose mother lives in the mobile home park, said the heat was so intense it melted the siding off the trailer.
"It's just drooping off like icicles hanging off the house," he said.
The blast, which happened around 1 a.m., destroyed nearby railroad tracks and forced about 75 people from the Indian Camp trailer park in the Moreland area to evacuate to a church in Stanford.
While the full extent of the damage isn't known, Purdy said five or six homes were destroyed. 
The rupture occurred on the Texas Eastern Transmission 30-inch, high-pressure gas line that runs from the Gulf Coast to markets in the northeast. The line's owner, Canada-based Enbridge, said in a statement it is aware of and responding to the incident.
Speaking in Lincoln County at a noon press conference, Enbridge official Jim McGuffey said the company would be evaluating two of its nearby lines for damage. He told reporters the line that ruptured was probably inspected within the last four years, but he did not have an exact date. 
Thursday's explosion comes less than three months after an unexpected gas release occurred at the company's nearby Danville Compressor Station in Lincoln County after a valve didn't close properly, a federal database shows.
The cause of that incident, on May 8, remains under investigation, according to the U.S. Pipeline and Hazardous Materials Safety Administration.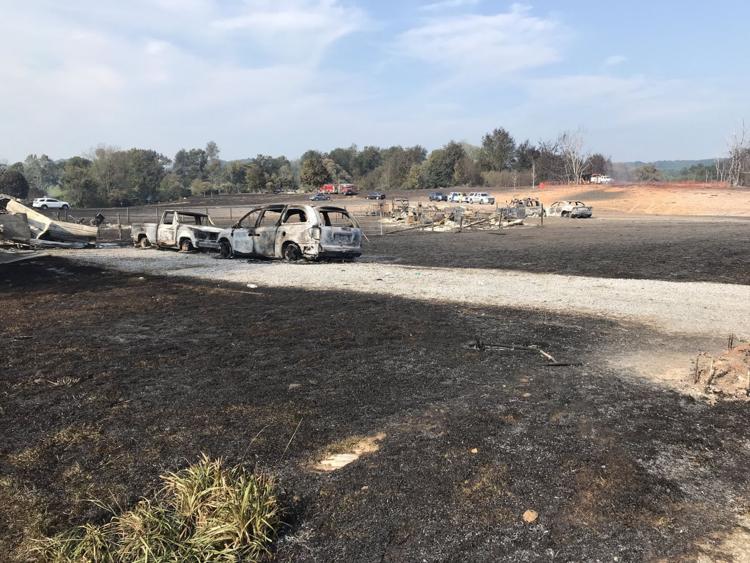 An Enbridge spokesperson said it was looking into the status of that investigation.
Video footage taken shortly after Thursday's rupture shows flames shooting into the sky, lighting up the early morning darkness. An emergency management official said the flames were 300 feet high.
Enbridge acquired the transmission line in 2017 when it merged with Spectra Energy Partners. A year earlier, the pipeline safety administration issued a rare corrective order when Spectra's Texas Eastern line near Delmont, Penn., failed and exploded in April 2016.
The fire from that blast burned a roughly quarter-mile area, consuming trees and vegetation. A man living near the site had third-degree burns over 75 percent of his body, according to a federal report. 
Investigators found corrosion on two of the pipeline's welds. 
NEW: These pictures are from a hazmat team that was on site of the Lincoln County pipeline explosion. You see that massive pipeline in the pictures. @WDRBNews pic.twitter.com/J7UPJUwmKz

— Dalton Godbey (@DaltonTVNews) August 1, 2019
There has been one other rupture on the Texas Eastern lines since 2010. Earlier this year, a 30-inch line in Noble County, Ohio failed, resulting in an explosion and fire, according to a database. Two people were injured. 
The National Transportation Safety Board and the federal pipeline safety agency were sending investigators to the scene of Thursday's rupture, authorities said. 
The Associated Press and WDRB reporter Travis Ragsdale contributed. Copyright 2019 WDRB Media. All rights reserved.