LOUISVILLE, Ky. (WDRB) – Despite a concerted push by some administrators of a grassroots group of Jefferson County Public Schools teachers, Kentucky's largest school district did not cancel classes Monday due to teacher absences.
The failed effort to convince JCPS teachers that "Tuesday is too late" – several in the JCPS Leads group changed their Facebook profiles to an image that includes the phrase over the weekend – comes as district officials watch for possible "sick outs" this week as the House and Senate resume business at the Capitol Tuesday.
JCPS canceled classes three times in a week as teachers protested a trio of bills they say will hurt public education locally and throughout Kentucky, particularly a scholarship tax credit bill that would give significant tax breaks to donors who contribute to private-school-scholarship groups.
Ivonne Rovira, a Spanish teacher at Wilder Elementary and an administrator on the JCPS Leads Facebook page, said she was disappointed that teachers did not take action Monday. "This isn't about one day or one week," she said.
Rovira, who was among JCPS Leads administrators who changed their Facebook profile pictures, said she expects JCPS will be canceled from Tuesday through Thursday regardless of Monday's outcome.
"I do not think that what happened today is a predictor of what will happen Tuesday, Wednesday and Thursday," she said. Rovira said she supported calling off school on Monday because lawmakers were holding committee meetings and whipping votes on legislation for the last days of the session.
Sources tell WDRB News that JCPS had less than 500 unfilled absences late Sunday, and some speculated that the district was automatically filling some openings with central office staff in order to keep the number of unfilled absences low. JCPS Communications Director Renee Murphy told WDRB News that "a handful" of central office workers "temporarily helped a few schools this morning."
In a related development, one administrator announced on the JCPS Leads Facebook page early Monday that he would be stepping away "for personal reasons." While Academy @ Shawnee teacher Tim Hill wrote that he would still fight for public education, he said the JCPS Leads page "is getting diluted."
"I tried my best to get varied and effective ways to show representation for our kids, but the representation shown on here is not the representation I had envisioned for this fight," Hill wrote in the post, according to a photo obtained by WDRB News. "I have asked for civil ways to approach this, I have provided information when needed, but the fact of the matter is this is beginning to get out of hand.
"I truly hope that the end result we are seeking truly is aligned."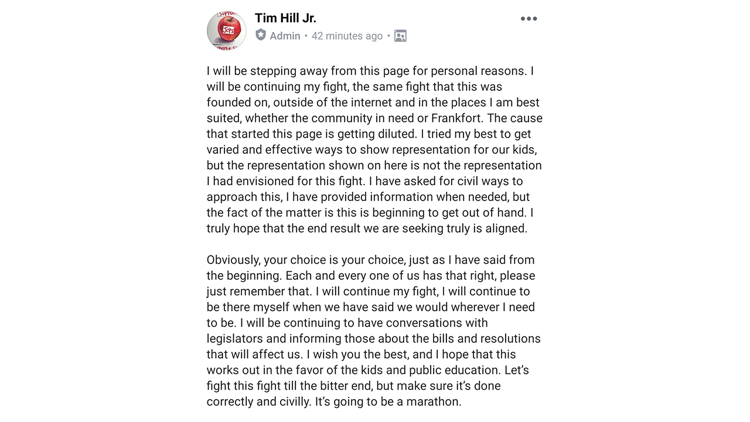 One of the most vocal JCPS Leads administrators who urged teachers to be in Frankfort on Monday isn't an educator or staffer for the district, but rather a community organizer.
Michael McCloud said in a video with other JCPS Leads administrators Saturday and obtained by WDRB News that JCPS teachers "know what to do" for Monday.
"I know everybody was wondering what the next moves are going to be," McCloud said in the video. "Simply put, Tuesday is too late. Y'all know what to do."
In another post Saturday, McCloud reiterated that teachers should take action Monday.
"We are acting Monday and all week," he wrote in the post, obtained by WDRB News. "We are a community. This is tough, this is stressful. Believe and trust that we can do this together. We have a lot of needs for our district. A lot to defend. And a lot of risk with a lot at stake."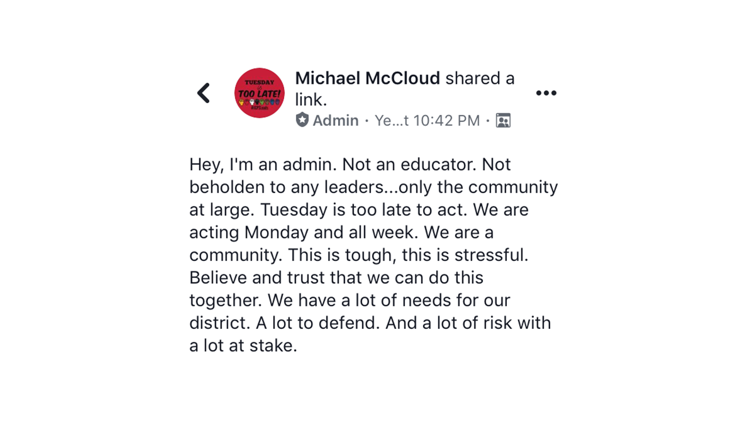 When it seemed like JCPS teachers had not heeded calls to force JCPS to close Monday, McCloud recorded a Facebook Live interview around 11 p.m. Sunday with Rebecca Garelli, an Arizona teacher and a leader of Arizona Educators United. Arizona teachers went on strike for a week last year for better pay, ultimately winning 19 percent raises over a three-year period.
"The time is now,"Garelli said in the video. "I mean, I know that there's no one path that you guys see, but from sitting outside of it, there's only one path that I see, and that's you guys getting together and fighting back at this because it's easier to fight it and stop it now than try to fight it 10 years down the road or fight it for the next 10 years.
"Once it's in, all they're going to do is tweak the legislation and expand it and expand it and expand it, and you're never going to get back to where you are at this moment in time."
McCloud criticized intermittent work stoppages at JCPS, calling "every opportunity" to be in Frankfort "vehemently important" in the video.
But McCloud told WDRB News on Monday that "the collective majority" decides whether or not to call in absences and close JCPS.
"Nobody makes that call," he said. "People have livelihoods they do have to think about and consider."
When asked about McCloud's involvement as an administrator in JCPS Leads, Rovira said community activists have played significant roles in other education-centric movements. McCloud first joined the group after reaching out the JCPS Leads administrators, and he had been working with the group early, helping organize things like childcare and meals for kids, Rovira said.
She called McCloud's involvement in JCPS Leads "pretty natural" and "definitely a benefit." She noted that he works with traumatized kids.
"Every place that's been successful has made ties to the community," Rovira said. "Oakland, Chicago, West Virginia, Arizona, they had parents and community members standing shoulder-to-shoulder."
JCPS and the Jefferson County Teachers Association, which has not supported efforts to cancel classes, announced an agreement Thursday that would allow schools to send three teachers to the Capitol on a rotating basis for the four remaining days in this year's legislative session. Officials presented the plan as a way for district teachers to have a presence in Frankfort without closing schools.
Even with that deal in place, though, JCPS Superintendent Marty Pollio said last week that district officials weren't sure whether teachers would adhere to that plan or continue calling out when the House and Senate resume work in Frankfort this week.
But Rovira said the plan did not come up for a vote by JCTA members before its announcement and that some JCPS schools wouldn't be able to send any delegates to the Capitol as detailed in the agreement. She said teachers at Wilder Elementary have filled every available slot under the JCPS-JCTA plan, but the turnout at other schools hasn't been as robust.
"Some schools … will probably send nobody," Rovira said. "We won't even have 500, and 500 is not enough to fight them."
Copyright 2019 WDRB News. All rights reserved.