NEW ALBANY, Ind. (WDRB) – Like clockwork, a team of Christian Academy of Indiana employees take handheld digital thermometers and scatter along winding lines of idling cars every weekday morning.
One by one, they take the temperatures of masked elementary students awaiting clearance so they can start the school day.
Most families with students at the Christian Academy of Indiana, which has an enrollment of about 700, have chosen to send them back to school as classes resumed July 22. The private school was one of the first to reopen for the 2020-21 school year in Indiana.
Students like senior Andrew Roy welcome the new health standards that students must follow at the Christian Academy of Indiana because they're the difference between learning in classrooms and learning from home.
Schools throughout Indiana and Kentucky abruptly stopped offering in-person classes in March as COVID-19 spread throughout the U.S., something Roy said hit him "like a brick in the head" because he thrives through social interactions with his teachers and classmates.
"I don't know if I would be wearing a mask in a normal condition because I don't really like it, but I will tell you this: I like being at school more than I dislike wearing a mask," Roy said Thursday.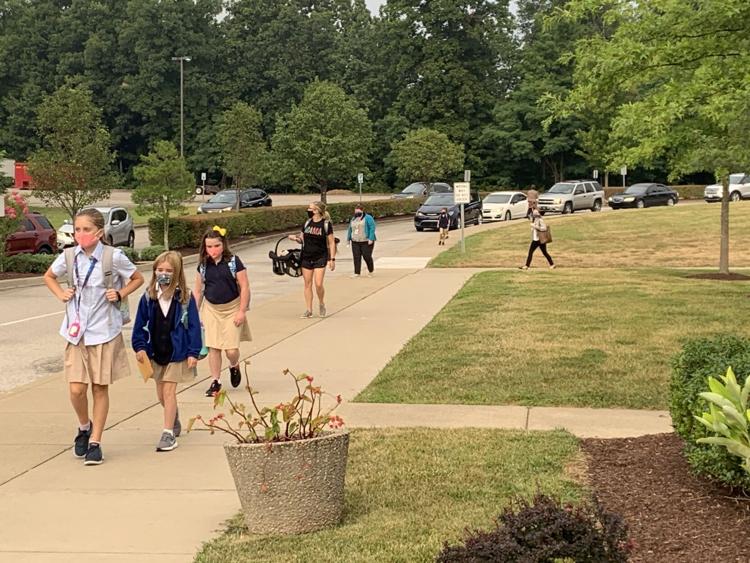 Parents are also glad to have their children back in classrooms to start the 2020-21 school year.
David McLaughlin, whose 10-year-old son Mason and 13-year old daughter Autumn attend Christian Academy of Indiana, believes his children benefit academically and socially from the personalized interactions they get at school.
While they were apprehensive of needing to wear masks inside the school initially, McLaughlin and his wife Julie say their children have grown accustomed to the new safety requirements that have been implemented in response to the COVID-19 pandemic.
In fact, eighth-grade student Autumn has started making her own masks.
"She's very creative, and this is her way of expressing it," Julie McLaughlin said.
The Christian Academy of Indiana has implemented different guidelines for students in elementary grades and those who are older.
The academy's youngest learners will stay in the same classrooms throughout the school day, including eating their meals there unless fair weather allows them to eat outdoors, said Monica Allison, elementary school principal. They can also spend time outside during physical education classes, she said.
Students are spread out in classrooms, which average about 18 pupils. Teachers have removed furniture so they can provide adequate social distancing in their rooms, Allison said.
Elementary classes spend much of their time together to make contact tracing and containment easier in case COVID-19 cases are identified during the school year, she said.
"If we were to have a positive case, then we could easily trace who people have been in contact with and then we wouldn't have to potentially shut down all the elementary but just a class or a portion of a class," Allison said.
Older students will continue changing classes, which have been set up to have as much social distancing as possible, said Scott Luttrell, principal of middle and high schools. In some smaller classes, students have as much as 10 feet of space between their fellow classmates, he said.
Desks are sanitized between classes, and the school is getting water-filling stations for bottles after shutting down fountains, he said.
Social distancing is also being enforced in the cafeteria.
"We have literally spaced them out to four per giant lunch table, and it works," Luttrell said. "We're letting kids go outside. They have picnic tables out there -- again two or three per table."
For now, school days look "very different" thanks to COVID-19, he said.
"We've had to retrain our students because they've had years now of doing it one way or the other, and now we're coming in and trying to teach them," said Luttrell, who is in his first year as principal at the academy. "It's all about that congregating, wearing your mask, washing your hands."
Families that don't feel comfortable sending their children to school during the pandemic have two options at the Christian Academy of Indiana.
Elementary students can enroll in the academy's distance learning program while older students can utilize synchronous instruction, which gives them a live look at what their teachers are covering in classes.
Both Allison and Luttrell estimate they have about 20 students in their grade levels enrolled in remote learning programs.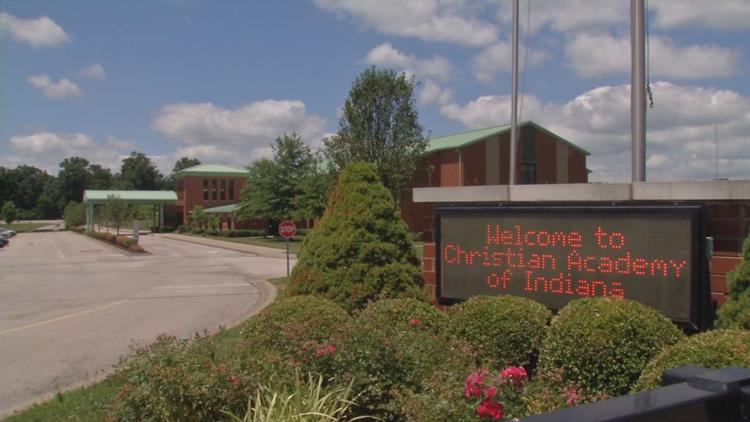 For those who are learning inside classrooms, both principals say students have followed the academy's reopening guidelines.
"The kids have been very adaptive, and they're just kind of taking it all in stride," Allison said. "… I think it helps that the adults set a good example for them also."
"The first day we had a lot of coaching, a lot of reminding, but once the second day hit, they were spreading out at lunch," Luttrell said. "I wasn't going around being the lunch-seating police."
The success of the school's reopening plan depends on students following guidelines, he said.
"I asked the first day of school, 'Who wants to be in class? Who would rather be here than be online?' Overwhelmingly they raised their hands," Luttrell said. "So we then said, 'Help us out and do what you need to do.'"
That message has resonated with Roy and, he believes, his fellow seniors.
"I personally want to be here as long as I possibly can," said Roy, who has attended the Christian Academy of Indiana since the second grade. "So if I have to wear a mask to do that, for me that's enough."
Copyright 2020 WDRB Media. All Rights Reserved.