LOUISVILLE, Ky. (WDRB) – At least one entity has expressed interest in helping the University of Louisville buy and operate Jewish Hospital and the other KentuckyOne Health Louisville-area assets, but U of L officials won't reveal the identities of its potential partners nor the number that have come forward.
Friday afternoon was the deadline for entities such as hospital operators and investment firms to respond to a "request for proposals" the university issued on Feb. 19.
U of L is interested in taking over the struggling KentuckyOne Health facilities – five hospitals and four outpatient centers – and potentially combining them with University Hospital and the U of L Physicians, the practice plan for university-employed doctors.
RELATED: U of L launches search for partner to help buy Jewish Hospital
The combined system would generate $1.5 billion in annual revenue, U of L said in its RFP.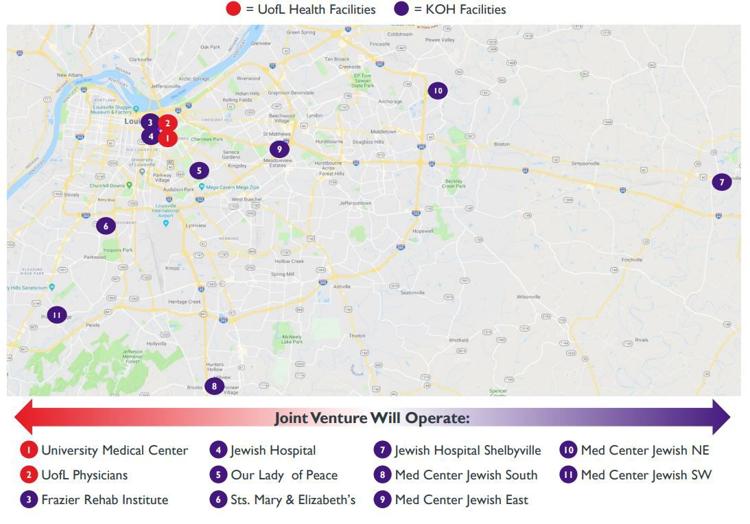 But the university needs outside financing and operational expertise to make the deal possible.
U of L spokesman John Karman confirmed Monday that the university received at least one response to its proposal, but he said the responses will be withheld until the university chooses a partner or decides not to move forward. There is no timeline for that decision.
"Obviously we want to do this as soon as possible," Karman said.
WDRB reported in January that Nashville-based for-profit hospital company Ardent Health Solutions had been in discussions with university officials.
Ardent declined to comment at the time and again on Monday.
U of L initially was not interested in trying to take over the KentuckyOne Health franchise, but that changed after KentuckyOne Health failed to reach a deal with BlueMountain Capital Management, a New York investment firm previously identified as the likely buyer. 
A representative of BlueMountain Capital declined to say Monday whether the firm responded to U of L's request for proposals.