LOUISVILLE, Ky. (WDRB) -- Authorities have identified the man accused of firing a gun into a crowd of protesters Saturday at Jefferson Square park, resulting in the death of 27-year-old Tyler Gerth and injuries to another demonstrator. 
Steven Lopez, 23, faces charges of murder and first-degree wanton endangerment, according to an arrest citation. Lopez was arrested at 10:47 p.m. Saturday and was taken to University Hospital to be treated for a gunshot wound to the leg, police said. 
Witnesses told police they saw Lopez fire multiple shots into the crowd of demonstrators around 9 p.m., according to Lopez's arrest report. Witness video from the scene of the shooting shows people running from the square, hiding behind bushes and buildings and diving behind vehicles to avoid gunfire.
"Some bystanders returned fire to protect their life and the life of others," police said in Lopez's arrest report. The Louisville Metro Police Department's Homicide Unit is working to identify anyone who may have fired. 
Jefferson County Sheriff's deputies responded to the scene and began performing life-saving measures on Gerth, who died at the scene from a single gunshot wound, according to the Jefferson County Coroner's Office. A second victim was found at the Hall of Justice and was taken to University Hospital with injuries that police said were not life threatening.
Lopez has been arrested more than once over the course of Louisville's protests, according to acting Louisville Metro Police Chief Robert Schroeder, who said demonstrators in the park have repeatedly asked Lopez to leave because of his "disruptive behavior." Lopez was among a group of 17 protesters arrested June 17. He was charged with inciting a riot, disorderly conduct, harassment and possession of drug paraphernalia, according to an arrest citation.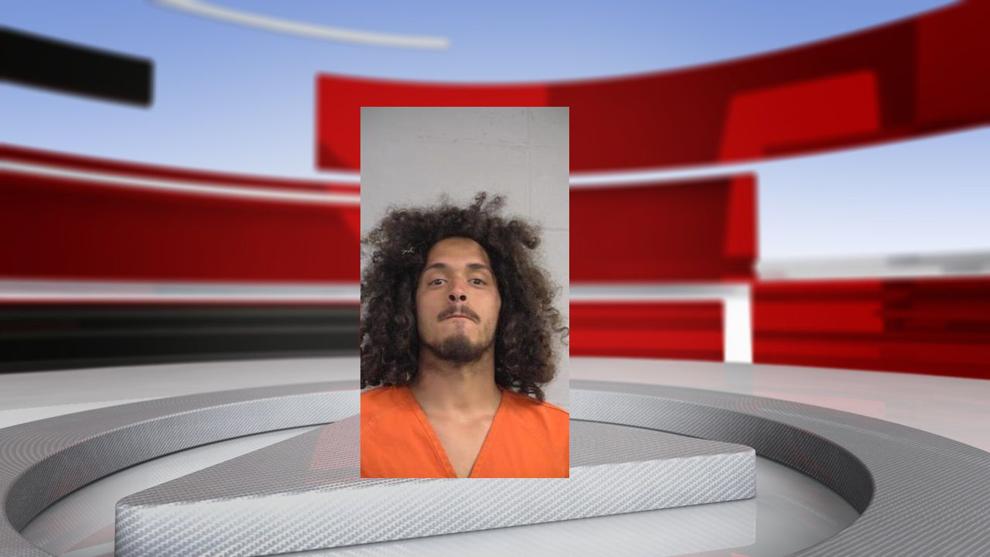 One witness told WDRB News that he was familiar with Lopez and that "a lot of people have had problems with this individual," adding that he had been involved in at least three fights at the park over the course of the protests.
Video of the fatal shooting has been circulating social media, Louisville Mayor Greg Fischer said, adding that it "clearly shows the panic, the fear and anguish among those at the scene."
"I cannot imagine the trauma that they experienced. Whether they were there at the time of the shooting or not, I know the sadness of those who have been organizing and participating in peaceful protests for racial justice," he said. "This is absolutely not what they wanted, or any of us wanted. None of us wanted to see this area of peaceful protest become a crime scene."
LMPD has also released a clip from surveillance video of the shooting captured by a nearby security camera. 
Warning: the below video contains graphic content.
In the aftermath of the fatal shooting, authorities cleared protesters' tents and other belongings from Jefferson Square Park, and overnight camping was banned. Schroeder apologized for the way in which authorities cleared the protesters' camp, noting that it caused "great concern and anger." However, the chief said it "had to be done."
"The tents and supplies that had taken over the park created a situation that could no longer be safely handled," Schroeder said. "I do want to apologize, however, for the way those belongings were handled and removed from the park. It was not our intention to damage anything that was removed, however many of the items were treated in a manner less than our standards. The way that property was handled has also caused concern within the community, and I am deeply sorry. We will work in the future to help prevent a situation like this from occurring again."
Peaceful demonstrations will be allowed to continue at the park, but people will not be allowed to stay overnight, LMPD Sgt. Lamont Washington said in a statement. No tents of any kind will be allowed in the park at any time of day.
Louisville's Chief of Public Safety, Amy Hess, said the decision to clear the park of all tents and camping equipment was made early Sunday morning.
"We had great difficulty in seeing exactly what the situation was on the ground, in seeing what we had, who was there, and what was happening. It's a safety issue at this point," she said, noting reports of an increase in fights and weapons at the park.
Hess noted that no-camping signs had been posted in the park since before the protests began, but said they wanted to "balance the First Amendment" and "the need to come together and demand change." She also referenced a camping ordinance that prevents "camping paraphernalia" and materials, as well as "temporary shelters" from being in the park.
NOTICE:We are enforcing the camping ordinance starting this morning, given the safety risk that now exists in the park. pic.twitter.com/6bPX4wVdSU

— LMPD (@LMPD) June 28, 2020
LMPD's Chief for Community Building, Vincent James, called the shooting "devastating to the community."
"It's traumatizing to the community. And even in the fact that this was a peaceful protest, yet someone in their own mind decided to take matters into their own hands, and to take life," James said. "This is the time in our community that not only do we fight for justice, but we also have peace. And we know and recognize that there can't be peace without justice."
Gerth was passionate photographer who was at Jefferson Square Park "documenting the movement, capturing and communicating the messages of peace and justice," according to a statement from his family. 
"We are devastated that his life was taken from us far too soon. Tyler was incredibly kind, tender hearted and generous, holding deep convictions and faith," Gerth's family said in a statement. "It was this sense of justice that drove Tyler to be part of the peaceful demonstrations advocating for the destruction of the systemic racism within our society's systems.
"While we cannot fathom this life without our happy, inquisitive, hardworking, funny, precious Tyler, we pray that his death would be a turning point and catalyst for peace in the city he loved so much," the family added. "We ask for your prayers and that the Lord would draw close in our sorrow, but we also ask that his death is not just another statistic of senseless violence. 'Darkness cannot drive out darkness; only light can do that. Hate cannot drive out hate; only light can do that.'"
Gerth was a Louisville native and Trinity High School graduate, according to Fischer.
"I want to recognize his family and share my deep sympathies with them (and) friends of the family from this act that is really just difficult to comprehend why things like this happen," Fischer said. 
Jefferson Square Park has been the epicenter of Louisville's monthlong protests over the shooting death of Breonna Taylor at the hands of three Louisville Metro Police Officers, Sgt. Jon Mattingly, Detective Myles Cosgrove and now former Detective Brett Hankison, who were serving a "no-knock" warrant at Taylor's apartment on March 13.
Related Stories:
Copyright 2020 WDRB Media. All Rights Reserved.