LOUISVILLE, Ky. (WDRB) -- A little boy with Down syndrome had a wish granted amid his fight with leukemia.
Running around Big O Tires in New Albany like Dash from "The Incredibles," 9-year-old Logan Chevalier topped off his excitement with a high five to his dad.
Logan just found out he's going to Disney World.
"What do you want to do when you get to Disney World?" Logan's mom Stacey Chevalier asked.
"Ride rides," Logan shyly said.
The past two years haven't been easy for him. He missed a lot of school and fun because of his medical treatment for Acute Lymphoblastic Leukemia. But on Tuesday, while eating cake with Mickey Mouse ears on his head, he got to feel like any other little boy.
"How did you feel? Did you feel happy or excited?" Chevalier asked.
"Excited," Logan replied.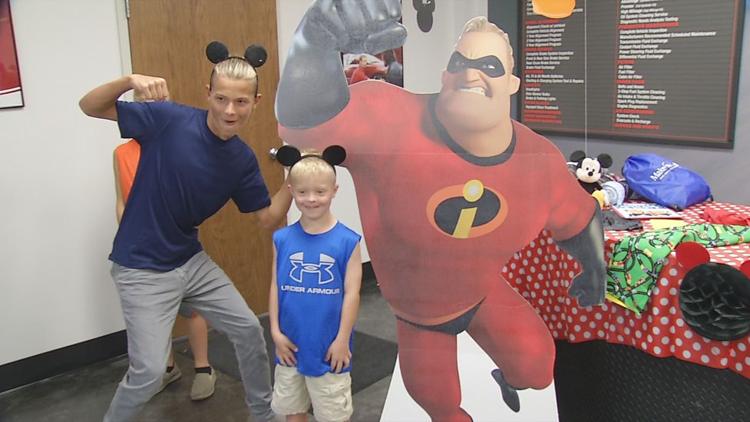 Big O Tires helped fund Logan's Make-A-Wish trip to the happiest place on earth.
"It's a great thing to do, and it's a great way to help a family who is going through the issues they're going through," said Greg Kimberlin with Big O Tires. "It just allows the entire family to escape and be a family and be a kid."
Any money donated to Make-A-Wish stays 100% local.
"All the money we raise in Kentucky and southern Indiana stays here to grant wishes for kids in Kentucky and southern Indiana," said Cassidy Hyde with Make-A-Wish.
The Bardstown family will be leaving for Disney for a week at the end of September.
"It's pretty hard when your son is going through leukemia, and you have two older sons, and you're trying to manage life and keeping it rocking on, because life doesn't stop," Stacey said.
But this trip will hopefully turn a new page and give the family a fresh start as Logan nears the end of his treatment. His chemotherapy is expected to be complete in December.
Copyright 2019 WDRB Media. All Rights Reserved.