WARNING: This report contains graphic and disturbing information. Reader discretion is advised.
LOUISVILLE, Ky. (WDRB) -- One of the former Louisville Metro Police Department officers now behind bars in connection with the LMPD Explorer sex abuse scandal allegedly didn't just have sex with teens in the mentoring program.
Former officer Kenneth Betts is accused of raping a fellow officer.
The allegation is just one of the explosive new claims made in an investigative podcast released by Fox News.
"It was almost like a super power came over (Betts)," an accuser, identified only as Darryl in the podcast, told FOX News Reporter Andrew Keiper. "He had a hold of my ear, and he was still exposed in the front of his pants. We'll just say he, yeah, he forced me, yeah." 
The podcast reports Darryl is an officer, who is older and bigger than Kenneth Betts. He said he chose not to pursue a lawsuit but hopes his story will bolster the sexual abuse accounts of other victims. 
The interview took place in the first of a four-part podcast called "Derby City Betrayal." The series details the investigation into the sexual abuse case against Betts and former LMPD officer Brandon Wood, as well as their subsequent arrests.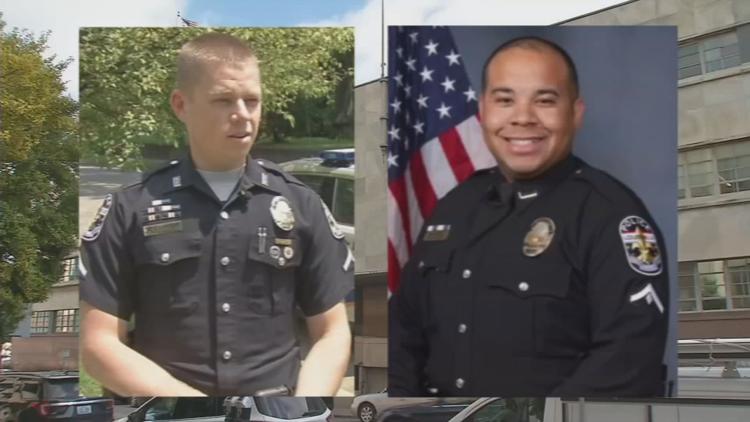 Betts and Wood are both now serving time in federal prison. Prosecutors said they used their position as leaders of the youth program for teens interested in law enforcement to have sexual relationships with minors.
The Fox podcast also interviewed a victim identified as C.F. Now an adult, he was one of the first former explorers to file a lawsuit against Betts, Wood, LMPD and the city of Louisville.
The interview with Keiper goes into graphic detail about how C.F. was groomed.
"It was on a regular basis. (Betts) would ask for nude photos, ask for me to come over, all sorts of things," C.F. said. "Some messed up things happened." 
Some of those details include allegations of a threesome with Betts and another explorer participant. At the time, both victims were between the ages of 15 and 17, C.F. said, and had both been drinking at Betts' home. 
"I had a buzz, and that's when he pulled us back, started taking our clothes off and kind of pushed us onto the bed and from there, it led on to him giving us oral sex," C.F. said. "I was giving him oral sex, and it led to him [EXPLETIVE] me and N.C."
The podcast also makes another bombshell allegation, that a former Explorer cadet took his own life after being interviewed by the FBI in February 2018. The podcast admits that the details of that alleged abuse are "scarce and only the suicide is corroborated."
WDRB News investigated the same claim. Shively Police said the former cadet's death was ruled an accidental shooting. The outside investigator the city hired was later questioned about why it wasn't included in his report.
Metro Council President David James said the answer wasn't good enough.
"The reason I wasn't satisfied is because he's the person making well over $100,000 to investigate the issue, and if he wasn't aware of it, then that means he wasn't very thorough in his investigation," James said.
James is sourced heavily in the podcast, especially talking about who knew what, when, and the allegation of a cover-up involving Louisville's police chief, mayor and a former lieutenant over the LMPD Explorer Program.
The podcast lifts heavily from WDRB News reports, though WDRB was not involved in its production.
James said the FBI is still investigating the case.
LMPD and the mayor's office declined to comment in the podcast and for this story, citing the seven pending lawsuits against the city in connection with the LMPD Explorer Program.
To access the podcast, CLICK HERE.
Related Stories:
Copyright 2019 WDRB Media. All Rights Reserved.