LOUISVILLE, Ky. (WDRB) -- Dozens protesters gathered outside Kentucky Attorney General Daniel Cameron's Louisville home Saturday night to demand justice for Breonna Taylor. 
A flyer for the demonstration called on anyone outraged by the grand jury proceedings in the Taylor case to show up on Cameron's front yard. The demonstration comes just days after an anonymous grand juror in the Taylor case said the jury wasn't given a chance to weigh charges against two of the three Louisville Metro Police officers who fired their weapons into Taylor's apartment the night she was killed.
A homeowner near Cameron's house allowed the demonstrators to first gather in their front yard around 7 p.m. before the group marched along Bedford Lane toward its destination. Members of the group chanted, "Bow for Breonna," waved a "Black Lives Matter" flag and held signs, one reading, "A.G. Cameron blocks justice." 
LMPD officers in riot gear showed up a little after 8 p.m. and told protesters to get out off the road. Protesters shouted at officers but eventually made their way back to the yard in which they first gathered. Police followed the group to the front yard of the home and remained in the area for a while before leaving when protesters moved out of the road and into the yard. 
LMPD had not reported any arrests related to the demonstration as of 11:30 p.m.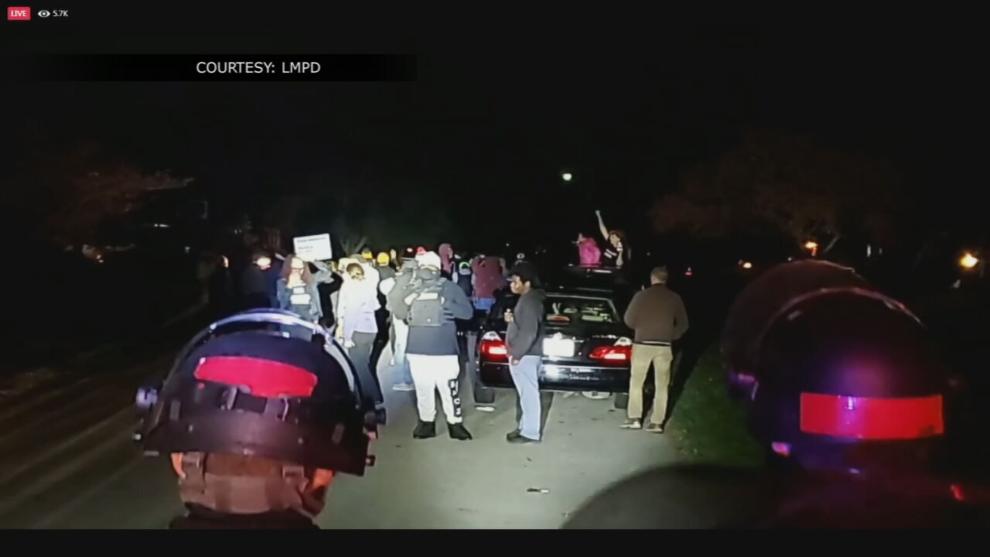 In July, LMPD arrested 87 demonstrators who staged a sit-in on the attorney general's front lawn to demand justice for Taylor. A month later, one person was arrested, and six others were cited during a silent demonstration on Cameron's front yard involving mostly senior citizens.
Taylor, 26, who is Black, was shot and killed March 13 by white LMPD officers serving a search warrant at her apartment near Pleasure Ridge Park. 
On Sept. 23, a Jefferson County grand jury indicted former LMPD Detective Brett Hankison with three felony counts of wanton endangerment for shooting into an apartment neighboring Taylor's during the raid. Cameron's office only presented the grand jury with wanton endangerment charges against Hankison, according to the anonymous grand juror, who was given permission by a judge to speak publicly about the jury's work. 
Neither Hankison nor the other two officers who fired their weapons into Taylor's apartment were charged in connection to her death. Cameron has said the other two officers, Sgt. Jonathan Mattingly and Detective Myles Cosgrove, were "justified" in returning fire because Taylor's boyfriend, Kenneth Walker, fired first. Walker has said that he fired a shot because he thought someone was breaking into the apartment. 
The U.S. Department of Justice and the FBI continue to work separate investigations into Taylor's death. The FBI's work may not be complete until 2021, Louisville activist Christopher 2X said in early October. 
Related Stories: 
Copyright 2020 WDRB Media. All Rights Reserved.