LOUISVILLE, Ky. (WDRB) -- The Louisville Metro Police officer who was shot during the March 13 raid on Breonna Taylor's apartment has filed a counterclaim against Taylor's boyfriend, who allegedly fired the shot that hit him. 
Claiming Taylor's boyfriend acted "willingly or maliciously," LMPD Sgt. Jonathan Mattingly is suing Kenneth Walker for battery, assault and emotional distress, according to court documents filed Thursday. Mattingly wants a jury trial, compensatory and punitive damages.
"Walker's conduct in shooting Mattingly is outrageous, intolerable, and offends all accepted standards of decency and morality," Mattingly's attorney, Kent Wicker, wrote in the lawsuit.  
Walker, however, has claimed he was acting in self-defense, believing officers were intruders breaking into Taylor's apartment.
Walker fired a single shot from a 9 mm handgun that hit Mattingly in the upper left thigh when LMPD officers serving a search warrant used a battering ram to break down the door to Taylor's apartment near Pleasure Ridge Park shortly before 1 a.m., Kentucky Attorney General Daniel Cameron found during an investigation into the case. Mattingly underwent surgery to repair his femoral artery in the hours after the raid. 
Mattingly, Detective Myles Cosgrove and former Detective Brett Hankison combined to return 32 shots. Taylor was hit six times and died in her hallway. 
Walker was initially charged with attempted murder of a police officer, but the case was dismissed without prejudice in May, meaning he could be charged again as more facts come out. Jefferson Commonwealth's Attorney Tom Wine said Oct. 8 he won't decide whether to file new charges against Walker until the U.S. Department of Justice and FBI wrap up their investigations into Taylor's death. 
In a statement Thursday, Walker's attorney, Steve Romines, called Mattingly's lawsuit a "baseless attempt to further victimize and harass Kenny."
"Kenny Walker is protected by law under KRS 503.085 and is immune from both criminal prosecution and civil liability as he was acting in self defense in his own home," Romines said. "Even the most basic understanding of Kentucky's Stand Your Ground law and the 'Castle Doctrine' evidences this fact. One would think that breaking into the apartment, executing his girlfriend and framing him for a crime in an effort to cover up her murder would be enough for them."
Walker has sued state and city governments and 13 current or former LMPD officers, as well as former LMPD Chief Steve Conrad, whom Mayor Greg Fischer fired in June. The suit asks that Walker be immune from further prosecution in the case, as he is entitled to protection under Kentucky's "stand your ground" law, as well as a jury trial and unspecified monetary damages.
Speaking briefly at a Sept. 1 news conference announcing the lawsuit, Walker said he "would never knowingly shoot a police officer. Breonna and I did not know who was banging on the door, but the police know what they did. The charges brought against me were meant to silence me and cover up Breonna's murder. For her and those that I love, I can no longer remain silent."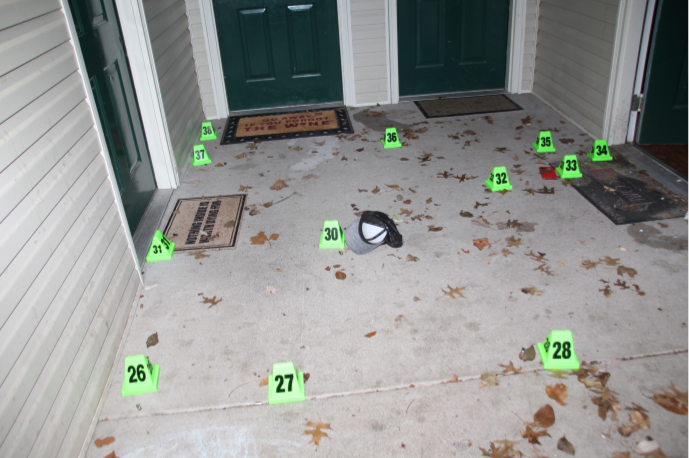 Mattingly's attorney argues that officers repeatedly knocked and announced their presence outside Taylor's apartment — "so loud that at least one of Ms. Taylor's neighbors came out of his apartment to see what was going on." More neighbors than not, however, disputed how clear their announcement was, according to evidence Cameron's office presented to a Jefferson County grand jury.  
Only one witness said he heard the officers announce themselves before the shooting began, Cameron's prosecutors told the jury. The attorney general has singled out that witness, saying the man "corroborated" officers' accounts.
But the man, who used a babysitter who lives above Taylor's first-floor apartment, had previously recalled a different story.
More than a week after the shooting, the man told police on March 21 he heard no one identify themselves as officers and heard no knocking. In a subsequent interview on May 15, however, he changed his story and said he did hear police announce themselves and knock on Taylor's door.
An investigator with Cameron's office told grand jurors that that there is a "language barrier" with the man and "it's kind of hard to understand him."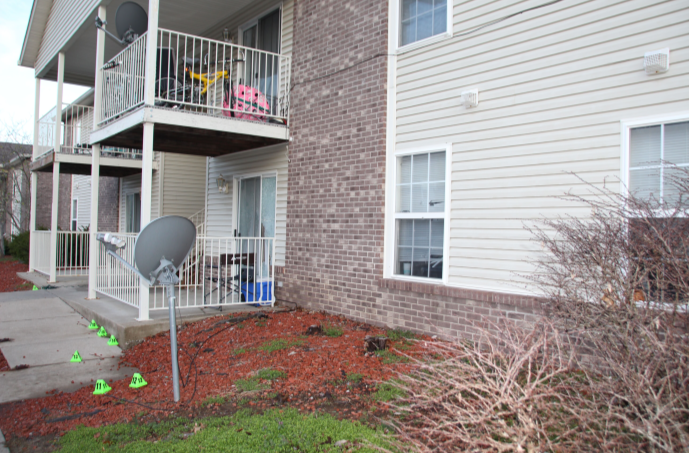 Walker has said he and Taylor were watching a movie in bed when they heard loud banging on the apartment door. He said they never heard police identify themselves.
"We're like, 'What the heck?' We both get up, start putting on clothes – another knock at the door," Walker told investigations with LMPD's Public Integrity Unit in the early morning hours of March 13. "She's like, 'Who is it?' loud at the top of her lungs. No response.
"… It's a long hallway," Walker continued. "Even if somebody was saying something on the other side, you probably couldn't hear them. But, as loud as we were screaming … I know whoever was on the other side of the door could hear us."
Read Mattingly's countersuit in full below: 
Copyright 2020 WDRB Media. All Rights Reserved.