LOUISVILLE, Ky. (WDRB) -- On a warm Friday night, in the shadow of Fourth Street Live, Joshua Scroggham and his wife were hard at work on the sidewalk outside Starbucks.
Both held a collection cardboard signs. In front of them, an unused Chipotle bowl was bare except for a handful of pocket change.
"It's like a roller coaster," said Scroggham, who sat on the sidewalk and occasionally greeted tourists and locals who passed by while walking to restaurants and bars. "You don't know how the ride's going to go until you wear it out."
It's not work he wants to do, but he said his survival depends on panhandling. It's the reason he's been paying attention to what's been happening a short walk away at City Hall.
There, Metro Council's Public Safety Committee is considering an ordinance that would improve pedestrian safety. It would also, in effect, drastically change panhandling throughout most of Louisville.
"Getting that ordinance to go through and pass, you're going to make it to where there's more criminals in jail," Scroggham said.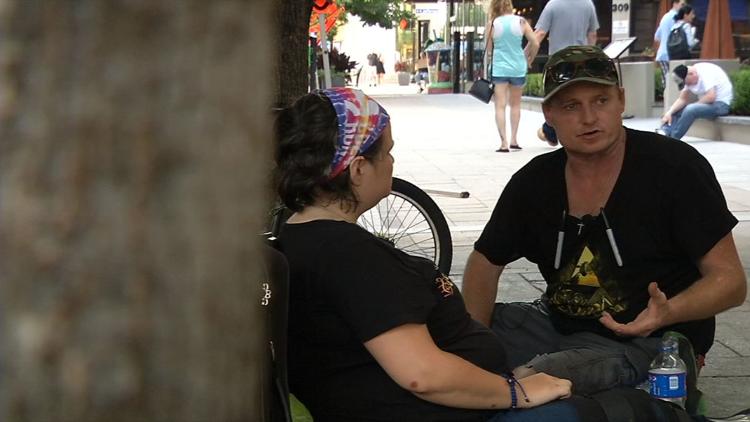 The panhandling Scroggham was doing Friday on the Fourth Street sidewalk would likely be fine. However, the city could soon start fining panhandlers, or others, who loiter in medians or who approach drivers to solicit money or whatever else.
Scroggham isn't the only one paying attention. Corey Shapiro, the legal director for the ACLU Kentucky, is paying attention too.
"We have a Constitution," Shapiro said. "The First Amendment applies here."
He said his organization has issues with the ordinance, because the ACLU argues panhandling is protected, free speech whether it's on a median or whether a panhandler approaches a driver.
"We have concerns that what this ordinance will do will be to violate the First Amendment," he said.
Shapiro pointed out two recent federal rulings — in Albuquerque, N.M., and Hot Springs, Ark. — where similar ordinances were found to be unconstitutional.
He can't yet say whether the ACLU Kentucky would challenge the Louisville ordinance if it passes, but he'll keep paying attention to what's happening at City Hall.
In defense of the ordinance, Metro Councilman Pat Mulvihill (D-District 10), one of the sponsors, said the County Attorney's Office studied the law before the ordinance was drawn up, and it's nothing too out-of-the-ordinary since it's modeled after cities across the U.S., including Lexington.
The council committee could give the plan its first vote at the end of the month.
Related Stories:
Copyright 2019 WDRB Media. All Rights Reserved.