LOUISVILLE, Ky. (WDRB) -- Despite a new wave of restrictions from Kentucky Gov. Andy Beshear, COVID-19 cases continue to rise across the commonwealth.
Beshear on Wednesday reported a record 37 deaths in which the virus was a contributing factor alongside 3,601 new infections. The state's positivity rate, a measure of the proportion of tests returning positive, also peaked at 9.62% — the highest it has been since May. 
"We simply cannot let Kentucky get to the point of no return where we see deaths pile up like we are seeing in so many other places across the country," Beshear said Wednesday. "We are not surrendering. We are fighting back. That's not always going to be popular. It's going to be difficult."
Wednesday's report followed a single-day record 4,151 new cases and 35 deaths announced Tuesday. The grim milestones come nearly two weeks after the governor enacted new restrictions that closed indoor dining and limited the size of social gatherings. 
"We're testing somewhere around 22-25% positive rate in our community testing," said Dr. Jason Smith with UofL Health. "When you start seeing that kind of numbers, the restrictions of restaurants and gatherings are not going to be as impactful if you had a much smaller number to start with." 
Indiana, meanwhile, reported 6,655 new COVID-19 cases and 91 new deaths on Wednesday. Still, indoor dining on that side of the Ohio River remains open, leaving some to wonder if Beshear's restrictions are really working.
Bridgette Pizzonia, who owns Ciao Ristorante in Louisville, said closing indoor dining has been detrimental to her profits. 
"We're right across the bridge. Why can't our restrictions be the same? I don't understand it," she said. "Their numbers are high; our numbers are high. I don't see how us restaurants being closed has brought any numbers down; I see it getting even worse."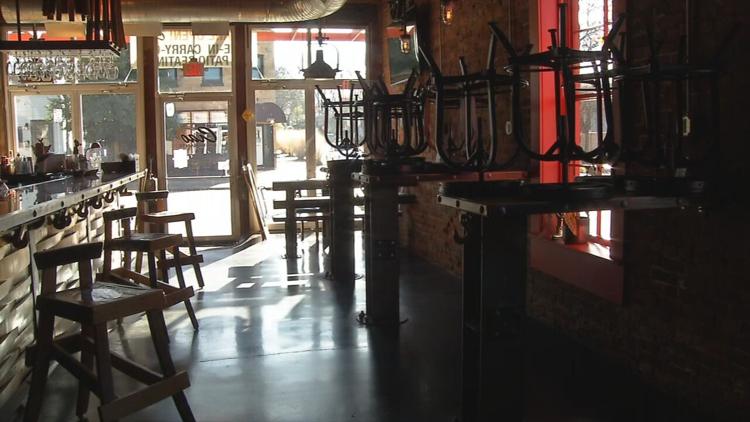 Pizzonia said she has applied to receive $10,000 from the Kentucky Food and Beverage Relief Fund, but it won't be enough to pay even one month of her bills — if she receives the funds, that is. 
Beshear can extend the restriction on indoor dining past Dec. 13 but said Wednesday that he does not expect to do so.
"We fully expect that it will be able to (resume on Dec. 14)," Beshear said. "At this point, we have no expectation that we will continue (the restriction). The current order will have gotten through two cycles of this virus, and we anticipate it will have an effect. We hope it has a major effect, but we believe it will at least have a slowing effect on the virus." 
The coronavirus is most often transmitted through indoor dining and social gatherings, according to Smith, who said restaurants are not solely to blame for the spread.
"As far as restrictions are concerned, it's difficult to say that they're working right now given the number of patients that we see coming through," Smith said. "In general, restrictions are typically going to be delayed by about two weeks so you'd only right now start to see a difference, but my guess is that's been significantly out weighed by travel and movement regarding the holiday." 
Currently, Smith said local hospitals are nearing capacity. UofL Health has just over 1,000 beds in their system, and of them, 960 are occupied. Norton Healthcare, meanwhile, said it is experiencing a record number of coronavirus hospitalizations. 
As of Wednesday, 1,768 Kentuckians were hospitalized with COVID-19, according to a report from Kentucky Public Health. Of those patients, 427 were in intensive care units, and 234 were on ventilators. 
"Once it gets to be a certain level, and I'm worried we're approaching that level, those type of interventions can't really work anymore," Smith said. 
Related Stories: 
Copyright 2020 WDRB News. All rights reserved.