HILLVIEW, Ky. (WDRB) — The pastor of a Bullitt County church says he won't comply with an order to self-quarantine while he and his attorney discuss their next steps.
Troopers with Kentucky State Police arrived at Maryville Baptist Church on Easter Sunday morning to record license plate information of churchgoers who attended a mass gathering during the coronarivus pandemic.
Pastor Jack Roberts and his allies have argued they have a constitutional right to continue in-person church services, and Sunday, dozens of families attended the Easter service at the Bullitt County church despite an executive order from Gov. Andy Beshear that prohibits mass gatherings in an effort to slow the spread of COVID-19. Beshear said Friday that anyone who participates in mass gatherings of any type during Easter weekend will be required to self-quarantine for two weeks. 
The troopers placed notices under cars' windshield wipers that say, in part, "This vehicle's presence at this location indicates that its occupants are present at a mass gathering prohibited by Orders of the Governor and the Cabinet for Health and Family Services. As a result, this vehicle's occupants, and anyone they come into contact with, are at risk of contracting COVID-19, a respiratory illness that can be severe and lead to death, particularly for older adults and those with underlying heart, lung, kidney and immunity issues."
According to Beshear, the license plate information will be forwarded to local health departments, which will then present orders to self-quarantine for 14 days at the car owners' homes. Failure to comply could result in further enforcement, the notices say.
Beshear has frequently urged churches to cancel in-person services and has advocated against non-faith-based mass gatherings to help limit the spread of COVID-19, which has killed 97 people in Kentucky as of 5 p.m. Sunday. 
"People have focused on the license plates, but all I'm trying to do is say if you make the decision to go to a mass gathering, your decision should stay with you," Beshear said Saturday. "If you put yourself at risk, fine. Just self-quarantine for 14 days. I know some people might disagree with it. And it sounds however it sounds. But they don't have to read out the number of deaths every day. They don't have to do that. And while this is a worldwide pandemic, I feel responsible for those deaths, for better or worse."
During his Sunday afternoon briefing, the governor said the Maryville Baptist violators aren't being charged, and he stopped short of explaining how the self-quarantine orders will be enforced.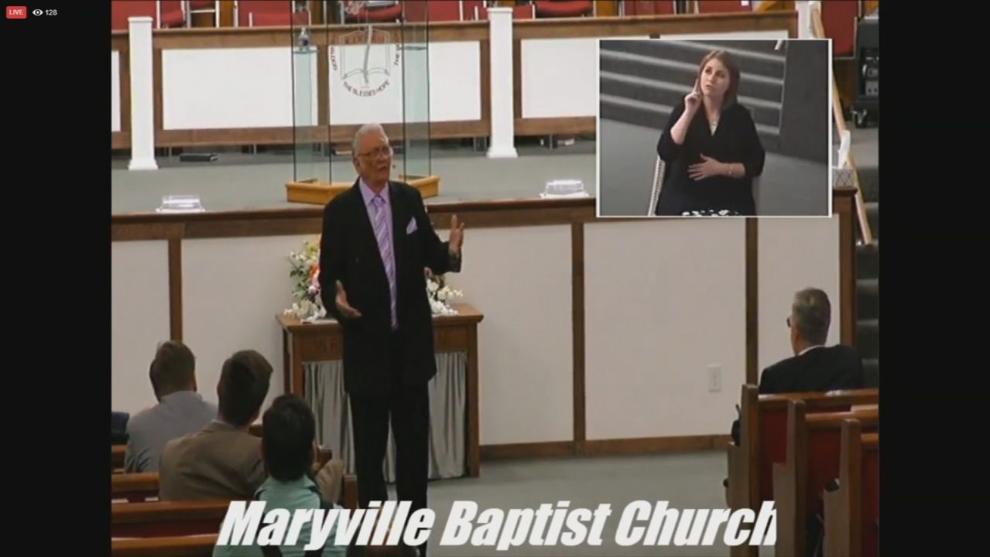 "I don't know whether they took our license plates or not; it don't really matter," the Rev. Jack Roberts said during Sunday's service, which was livestreamed on the church's Facebook page. "Church, I'll just tell you something: If you get a ticket, if you get a ticket for being in church this morning, bring it to me; my lawyer said he'll take care of it. It's garbage; it's just garbage. I took a picture of my license plate on the back of my car and sent it to the governor yesterday. I just said, 'Save yourself a trip, right here it is. Ain't no need in coming out.'"
During his opening remarks Sunday, Roberts acknowledged people who drove from Dayton, Ohio, and two women who drove from South Brunswick, New Jersey, to Kentucky to attend Maryville's Easter service.
While other worshipers applauded the two from New Jersey, Beshear and his Public Health commissioner fear they could help spread the virus in Bullitt County, if they're infected. Beshear described New Jersey as a possible new "epicenter" of COVID-19.
Meanwhile, Roberts also said that someone scattered "at least one keg, one box" of nails throughout the church's parking lot before the congregation arrived for service. 
"I thought, 'You know, you could really be angry and, really, if you saw them doing it, you'd just kind of want to punch them out,' but the fact of it is we need to feel sorry for folks," Roberts said. "I mean, of all the places to keep you from, they should have put them down at the liquor store ... . They could have put them down at the abortion clinic.
"When our politicians get on TV and say that they wanna save one life, you could save 60 a day or better (in) downtown Louisville," he added, referencing EMW Women's Surgical Center on West Market Street. "I mean, it's not that complicated, folks. It's not lives they want to save."
Using a Kentucky Cabinet for Health and Family Services enforcement notice, the Bullitt County Health Department ordered Maryville Baptist Church to cease its in-person gatherings "immediately" on April 7. The next night, an in-person worship service went on as scheduled at the church. 
In an interview with WDRB News on April 8, Roberts said he doesn't want a fight but maintained he has a constitutional right to keep his church doors open.
"It's my life, and I feel like the Gospel is more important than anything else," he said.
Sunday, Beshear said Maryville Baptist is one of only about seven churches in the state that have continued in-person worship. He said most churches are doing the right thing and promoting good social distancing with livestream or "drive-in" services.
Related Stories:
Copyright 2020 WDRB Media. All Rights Reserved.