LOUISVILLE, Ky. (WDRB) -- Construction to overhaul Dixie Highway started nearly two years ago, and work is expected to be finished by the end of this year.
Crews have been working to install safety upgrades to make the so-called "Dixie Dieway" much safer.
"It makes me feel good that they've improved the safety of Dixie Highway," said Sarah Bramer, who walks along the road several times a week.
On Monday, Bramer and her partner, William Piccolo, were using one of Dixie Highway's new wide sidewalks to walk to the grocery store.
"I feel safer, a whole lot safer, than I did before," Bramer said. "I don't feel like I'm gonna get hit by a car now."
New sidewalks are just one aspect of the $35 million project to make the deadly road safer.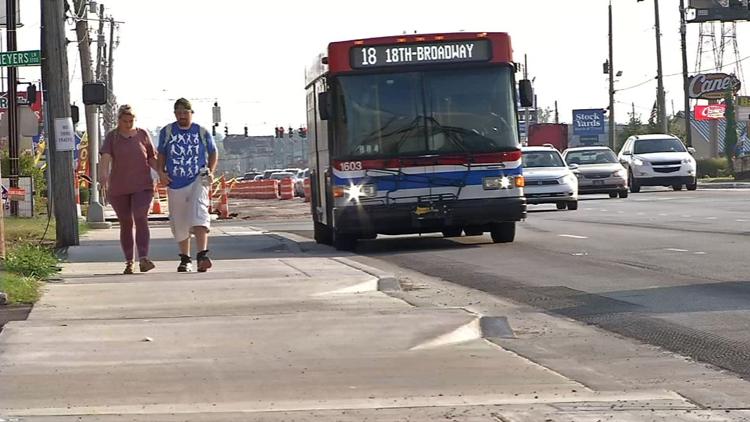 "There are 4,000 people who take the bus on Dixie Highway every day, so those people need to be able to get to the bus safely, and they need to be able to get home from the bus stop safely," said Beverly Bartlett, spokeswoman for The New Dixie Highway.
Other upgrades include new crosswalks, bus stations and medians.
"When you drive down Dixie Highway, you're used to being able to turn wherever you want," Bartlett said. "Now, you'll have to wait until the end of the block to turn."
Project leaders announced Monday that construction, which started in December 2017, is on schedule and it will be finished by the end of this year.
That's a relief for some drivers.
"Every now and then, we'll have (Bramer's) dad's truck, and driving in it while they're doing all this (construction) ain't so fun," Piccolo said. "You'd be backed up forever. It takes you 30 minutes to get five minutes down the road."
But Bramer said the end result is worth the wait.
"For future generations, it makes it safer," she said. "Maybe there won't be as many deaths on Dixie Highway."
Crews will put the finishing touches on the project in the spring, which includes landscaping, final surfacing and road striping, but it is not expected to cause any major traffic issues.
Related Stories:
Copyright 2019 WDRB Media. All Rights Reserved.