LOUISVILLE, Ky. (WDRB) -- One of Kentucky's first public school districts to welcome students back inside classrooms during the COVID-19 pandemic is transitioning to remote learning for at least two weeks.
Green County Schools, which began the 2020-21 school year Monday, announced Friday that students will learn from home starting Aug. 24 until at least Sept. 8 based on its measure of local COVID-19 cases and after an employee at Green County High School unofficially tested positive for the disease.
Close contacts of that individual will be contacted by the Lake Cumberland District Health Department about quarantining procedures if that positive COVID-19 test is confirmed, GCS Superintendent William Hodges said in a video statement on the district's Facebook page.
"At this time, the district is unaware of any students that have tested positive for COVID-19," he said.
"The district will continue to remain transparent with our community, and we will continue to make necessary precautions to maintain the health and safety of our students, their families and our staff."
GCS is one of several school districts that have decided to reopen their classrooms despite Gov. Andy Beshear's recommendation to delay in-person instruction until at least Sept. 28 given the recent escalation of COVID-19 in Kentucky.
Hodges told WDRB News that his decision to close the district for the next two weeks was difficult, "but we know its the right decision."
"Seeing those smiling faces, seeing kids back and knowing that they're in a place that's better for them, it made it a tough decision," he said, noting that 80% of GCS students chose the district's in-person learning option with 20% opting to enroll in its virtual academy.
"But at the same time, we feel strongly about our reopening plan, and we know when that metric reached that level ... that means that the virus is very active in this community."
GCS uses a measure of active COVID-19 cases, developed in consultation with the health department and Cumberland Family Medical Center, to determine when the district transitions to its distance learning plan. Hodges said the figures are calculated by dividing the number of active COVID-19 cases by Green County's population and muliplying that number by 10,000.
The district's measurement totals are divided into red, yellow and green zones, and schools close once the active COVID-19 caseload reaches red.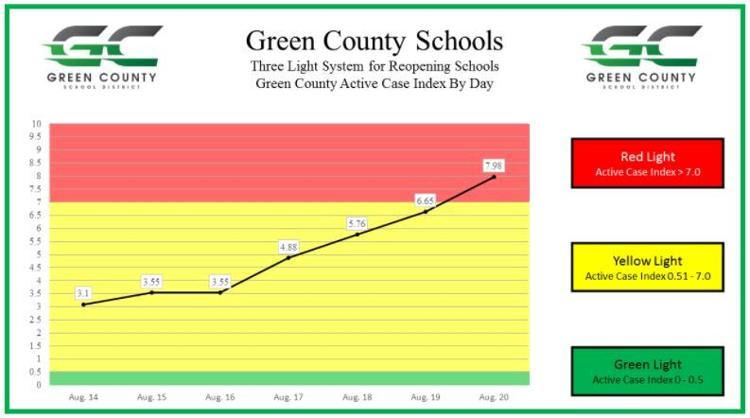 Hodges attributed to recent uptick in local COVID-19 cases to test results from a long-term care facility in Green County, though he said GCS does not count results from residents of that facility in its data.
Superintendents and school board members throughout Kentucky have complained about the state's inability to provide regional and county-level metrics like COVID-19 testing positivity rates to help guide local decisions.
Hodges said GCS developed its own metric to help provide some clarity to Green County's current COVID-19 experience and how it would impact learning in the district.
"When you're talking about someone's health, it can't be a guessing game," he said.
Beshear has said the state's COVID-19 positivity rate, currently 5.18%, makes it too risky for schools to reopen their classrooms to start the 2020-21 school year.
But for Hodges, the beginning of the school year has gone "really well" despite Friday's shutdown announcement.
"We hope to see the students back in classrooms here before too long," he said. "Everyone has commented on how compliant our children have been, and our families, they've been flexible, they've been patient and very compliant and done everything we've asked them to do to carry our plan out.
"They want to be here, so they're doing what it takes to be here."
Still, Hodges expected to deal with COVID-19 cases from students and employees as the district reopened its classrooms during a global health pandemic.
It's something that will happen in other school districts during the 2020-21 school year as well, he said.
"This is another worry," Hodges said of COVID-19. "You worry about their health because you want them to be safe and at the same time try to mitigate those risks as much as possible.
"There's always going to be risks there, but you try to lower them as much as you can and in the end do the best by children and families."
Copyright 2020 WDRB News. All rights reserved.