LOUISVILLE, Ky. (WDRB) – Simmons College of Kentucky announced Monday the formation of its Kerner Commission 2.0, focusing on changes that school officials say need to be done to develop equity in Louisville.
The group borrows its name from the original Kerner Commission, a panel commissioned by President Lyndon Johnson in 1967 following riots in cities like Detroit and Newark, New Jersey, sparked by civil unrest. The commission determined in 1968 that racism was at the heart of those protests in black communities.
"The basic conclusion of the Kerner Commission report was that our nation is moving toward two societies: one black, one white, separate and unequal," said Frank Smith, executive vice president of Simmons College and executive director of the commission. "And I am here to tell you today we have arrived."
The Kerner Commission 2.0 comes at a time of heightened unrest in recent weeks. Protesters around the country, including Louisville, have demonstrated against the deaths of George Floyd, Breonna Taylor and others by law enforcement.
The commission's goals are to educate the community on black issues, identify strengths of Louisville's black communities through an asset-based study, develop resources for those communities, and implement and evaluate identified solutions, said Nancy Seay, chair of sociology for Simmons College and the commission's coordinator.
"I believe our national conscience has been pricked once again," Seay said. "What are we going to do? Are we going to go back to the same old methods of control and containments? Are we finally going to say let's try something new?"
Simmons College President Kevin Cosby was direct in his appeal to Mayor Greg Fischer and other city leaders to allocate more resources to black communities and institutions, including a call for reparations.
"I'm hoping, and I'm putting him on the spot, that our mayor who will soon be president of the (U.S.) Conference of Mayors, will do what the mayor of Durham, North Carolina, has done, and that is to call upon the United States government to pay reparations to the American descendants of slavery," Cosby said. "Because this is going to take federal government, who caused the problem in the first place, to fix it."
Fischer told reporters after the news conference that he "absolutely" supported reparations.
"The facts are clear," he said. "… America needs to come to grips with this. White America needs to lose any shame that they have and understand the history and the impact leading to that today."
Simmons College and Kentucky State University, two historically black institutions, have also been tasked by Gov. Andy Beshear's administration to help recruit more black teachers into classrooms throughout the state.
Cosby and KSU President Christopher Brown signed an agreement to seek collaboration in several areas, including recruiting and training more black students for careers in education.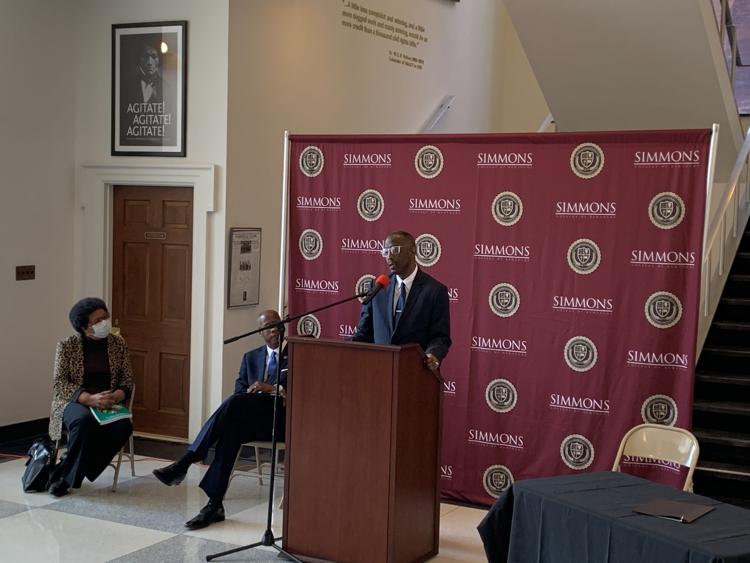 Jefferson County Public Schools has already entered a partnership with Simmons College to build a more diverse teaching force in Kentucky's largest school district.
While more than a third of JCPS students are black, less than 15% of the district's teachers are black, Superintendent Marty Pollio said Monday.
"The research is very clear," he said. "… When African-American students have teachers that reflect them, achievement increases, and so we have been very intentional about finding ways to do that."
Cosby says he's not surprised that black teachers can impact black student achievement.
"Who is best able to teach an eagle how to fly like an eagle? A mother eagle," he said. "… We need to put some eagles in Jefferson County Public Schools and the schools across the commonwealth."
Fischer added his belief that having more black teachers in classrooms will help white students.
"Racial isolation is one of our enemies," he said. "When people don't see people that don't look like them, they become distrustful. The more we are integrated as a society, the more brilliant we will be."
Copyright 2020 WDRB Media. All rights reserved.