LOUISVILLE, Ky. (WDRB) – Saturday night's crash of a stolen SUV on Fern Valley Road claimed the life of one of the five people inside. Family members confirmed that victim was 13-year-old Ki'Anthony Tyus, who survived getting hit by a stray bullet three years ago.
Christopher 2X, a community activist and family friend, spoke to Tyus' grandmother Sunday morning. She said a representative from the coroner's office came to the house, confirming Tyus died in the crash. She said he was thrown from the SUV.
The devastating news was so overwhelming, Tyus' grandmother ended up in the hospital. Christopher 2X spoke to reporters Sunday on behalf of the family.
"It's just devastating," Chris 2X said. "There's no way to describe the magnitude of his loss right now. It's just sad all the way around. For everybody involved."
According to LMPD, the SUV was stolen, and the driver did not pull over when officers initiated a stop on I-65 South. A police statement explains the driver turned toward officers, causing two patrol cars to crash, then sped away on I-65.
When another officer spotted the SUV and tried to pull it over again, the driver took off toward and the officer initiated a pursuit. According to police, the driver of the SUV exited on Fern Valley Road, lost control, flipped and crashed into a ditch.
Officers said at least five people were inside the vehicle. Ki'Anthony Tyus died. The four others were injured, one of them gravely hurt and still at the hospital as of Sunday night.
"As of right now, the family does not have clarity as to why Ki'Anthony was in that vehicle," 2X said.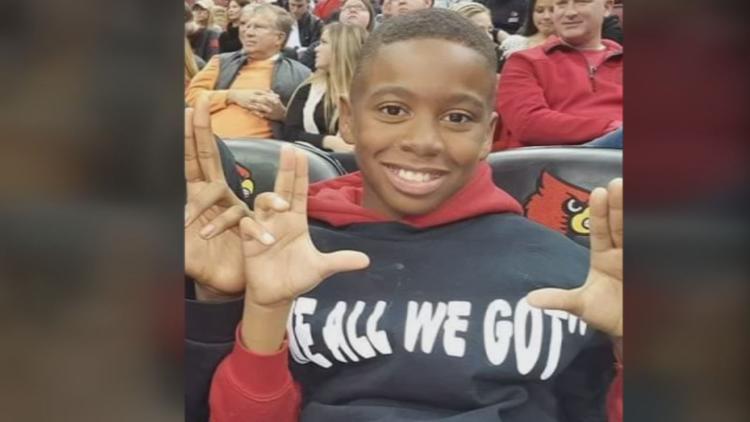 Chris 2X said Ki'Anthony spoke and texted with his grandmother, his caretaker, earlier Saturday, and she gave him permission to go skating at the Manslick Rollerdome. LMPD is investigating what led to all the occupants to be in that suspected stolen SUV.
"The story line of that vehicle is not good," said Christopher 2X. "Nobody's going to sugar coat that, I'm not here to do that. But at the end of the day, he didn't cause his own death."
Chris 2X described Ki'Anthony as a "granny's boy" who loved to play ball. The 13-year-old was also an activist for standing up against gun violence.
Ki'Anthony was hit by a stray bullet from a shootout at Ballard Park when he was 9 years old. He needed multiple surgeries to repair his leg. But as he recovered, he visited the hospital with Chris 2X to keep other gunshot victims company.
"He wanted to encourage others to at least do their best to try to stay away from situations that could put them in harm's way," Chris 2X said.
The 13-year-old also met with state government leaders, basketball stars, and music legends to spread the message. Chris 2X said Master P was devastated to hear the news of Ki'Anthony's death.
"With all of his challenges," said Chris 2X, "he's just too young to lose his life in a violent way like he did. Why in this space and time so close to the holidays, did he have to lose his life in such a violent way?"
Copyright 2018 WDRB Media. All rights reserved.