LOUISVILLE, Ky. (WDRB) -- A federal grant will help keep some local at risk youth moving in the right direction.
The AmeriCorps grant aims to help the youth both grow and give back.
On Friday, about a dozen youth from YouthBuild Louisville worked a mobile Dare to Care Food Pantry in a parking lot on 7th Street in south Louisville.
"If I wasn't here, I would have never thought about stopping up here to, you know, help feed 200 people who really need help," said Raven Gregory, YouthBuild Student.
The people in the mobile food line were getting a hand up.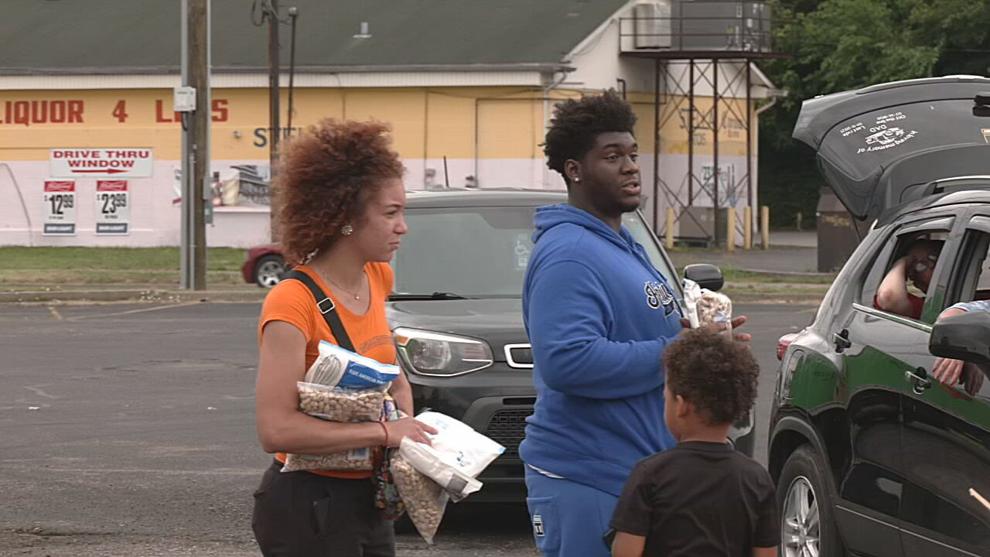 "Just being able to help always brings joy to me," said Gregory. "To better us is to better the community."
Youthbuild Louisville provides education and job training for at risk youth between the ages of 18 and 24.
"I came here to get my life together," said Khaleid Bobbitt, a YouthBuild student.
Four years ago, Bobbitt dropped out of high school. 
"At that time I was a man, I was 18 years old. So, at that point, I had responsibilities that I had to handle," he said. 
But four months ago, he came to YouthBuild to fulfill a promise he made to his mother and himself.
"She said, 'promise me you'll even get your GED or your high school diploma,' she said 'get you something that you can carry on for the rest of your life,'" Bobbitt said. 
For 20 years, YouthBuild Louisville has been changing the lives and trajectory of at risk youth like Gregory and Bobbitt.
"Our recidivism rate is about 5% when the nations is about 50%," said Evie Schuster, AmeriCorps Coordinator for YouthBuild.
Schuster said a recent $211,106.38 AmeriCorps grant will be used to continue the mission.
"That just gives us even more opportunities to give them even more fulfilling service projects, where we can help even more community members," said Bobbitt.
Despite their own previous struggles, Gregory and Bobbitt say giving back  is what motivates them the most.
"If I see people, I'm like 'are you hungry' and I'm giving out stuff," said Gregory. "Because this is what we do Monday through Friday — so, now when I go home, that's what I do."
"It feels good building a house for a family that doesn't have anything," said Bobbitt.
The youth said giving back has also changed their perspective. 
"It's something in this building that changes you and makes you look away from all the other stuff," Bobbitt said. "It does change your life and it also gives you other opportunities."
"I love it and it's been great. It has been a wonderful experience," said Gregory. "I'm really learning more about myself being here."
Gregory is also learning that the sky is the limit when it comes to her future and careers.
"I'm doing construction right now and I am working on my CNA. So, wherever it takes me," said Gregory. "You know, I'm feeling myself out to see what I want to do in life."
The current YouthBuild class graduates in August and the next group starts in September. To find more about the program or to enroll, click here. 
Copyright 2021 WDRB Media. All Rights Reserved.