LOUISVILLE, Ky. (WDRB) -- Not enough buses and no communication left students at Greater Clark County Schools stranded and parents upset on the first day of school on Wednesday.
It's not uncommon for there to be a few bumps in the road on the first day of classes, but parents posting on a Facebook group said the issues weren't just minor hiccups.
Multiple parents posted saying their children's buses were seating three students in a single seat. Others commented saying students were standing in aisles. 
One parent said her daughter told her her bus wasn't running the A/C and temperatures inside reached over 90 degrees. Several parents commented their children came home red and over heated after wearing masks on hot and overcrowded buses.
Eighteen hours after schools let out Wednesday, GCCS Chief Operating Officer Chad Schenck send a voicemail to all parents, apologizing for the transportation issues. 
"New Greater Clark families, we know you trust us with the safety and wellbeing of your children and we consider that a privilege. We fully recognize that changes made over the summer to transportation routes has caused some parents in our community. For this we sincerely apologize," said Schenck on the recording. 
Shortly after the voicemail was sent out, the school system also released a statement via email, laying out ways to prevent overcrowding issues moving forward: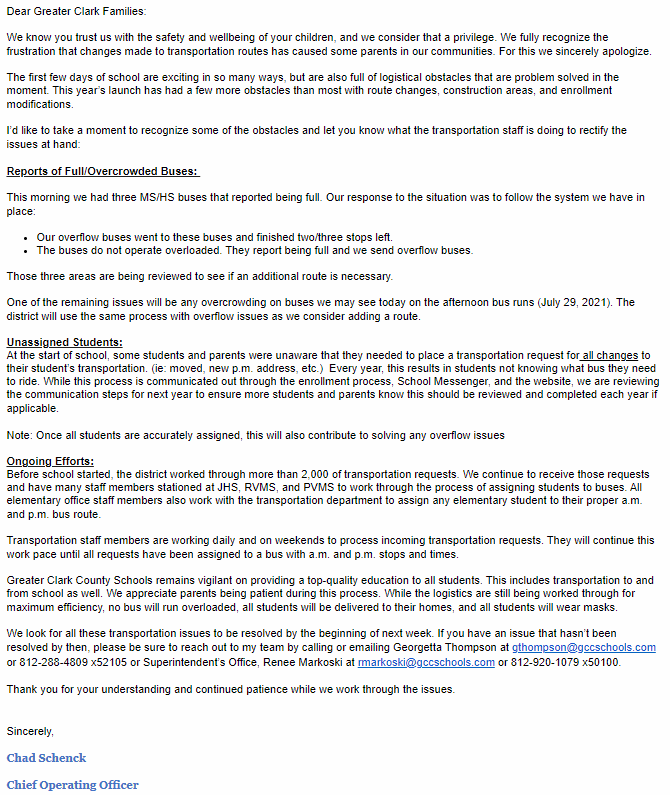 "I'm glad that they finally have put a statement out, just knowing that they're hearing us," said Riverside Elementary School parent Katherine Norris.
Norris is one of many parents who reached out to GCCS to determine what the issue was with her child's transportation after her youngest son's morning bus didn't show up when it was scheduled.
"His bus is scheduled to be here at 8:55 a.m. which is 5 minutes before school starts, but she didn't show up until about 9:35 a.m." said Norris. 
Norris said after he waited for several minutes past the start of school, she eventually decided to drive him herself and was able to drop him off and return back home before his bus ever showed up.
"It's frustrating just for me because yes, I'm a stay at home parent but I got things to do," said Norris.
Norris says her son has special needs and enjoys riding the bus and was sad when he wasn't able to ride like he normally does, especially on the first day of classes.
After trying the school system's transportation line (812-288-4809) but reaching a dial tone, Norris placed a call to GCCS' administrative offices Thursday morning. 
She said a staff member helped her fill out a form to submit in order to get help solving her child's transportation issues. 
"I got a phone call from Jeff Brooks at transportation. I told him what the situation was, said, 'Hey is there a way we can get him picked up earlier, is there a way we can get him on the Gen Ed bus with my older son, what can we do?' He took down my information, my concerns and said somebody will be working on it," said Norris.
As she waits for answers, Norris says she will try to remain patient, noting she is the daughter of a bus driver and is well aware of the challenges school systems face during the first week of classes.
"My kids aren't middle or high school so they're not riding the big bus for long periods of time, they're not on an overcrowded bus but I know transportation takes safety seriously so hopefully they get the rest of everybody's concerns taken care of too," said Norris.
Copyright 2021 WDRB Media. All Rights Reserved.