LOUISVILLE, Ky. (WDRB) -- Thieves who robbed an ATM in Shelbyville early Tuesday morning pulled off the crime in about 60 seconds.
Shelbyville Police are looking for two or three people they believe broke into two ATMs over the past four days.
The first ATM robbery happened about 5 a.m. Saturday at the Commonwealth Credit Union on Boone Station Road. The second robbery happened about 1 a.m. Tuesday at a Commonwealth Bank & Trust on Mt. Eden Road.
Surveillance video of Tuesday's robbery shows two people in sweatpants and hoodies get out of a silver pickup at a bank drive-through. One used a crowbar to pry the front off the ATM. The suspects then attached a chain to the ATM and the truck bumper. The truck was used to pull the ATM apart, so the suspects could gather cash. The whole operation took about a minute.
Shelbyville Police believe the same people are responsible for both robberies. Sgt. Kevin Cable says in both cases the culprits ripped the door of the ATM using stolen trucks, hooks and cables.
"You're used to seeing people take the whole machine, you know, and that type of thing, so they're getting more intelligent in how they're committing these crimes," Cable said.
Surveillance did capture images of at least two people. Both were wearing hoodies and had their faces covered except for the eyes. Police released the images in hopes someone would recognize the suspects.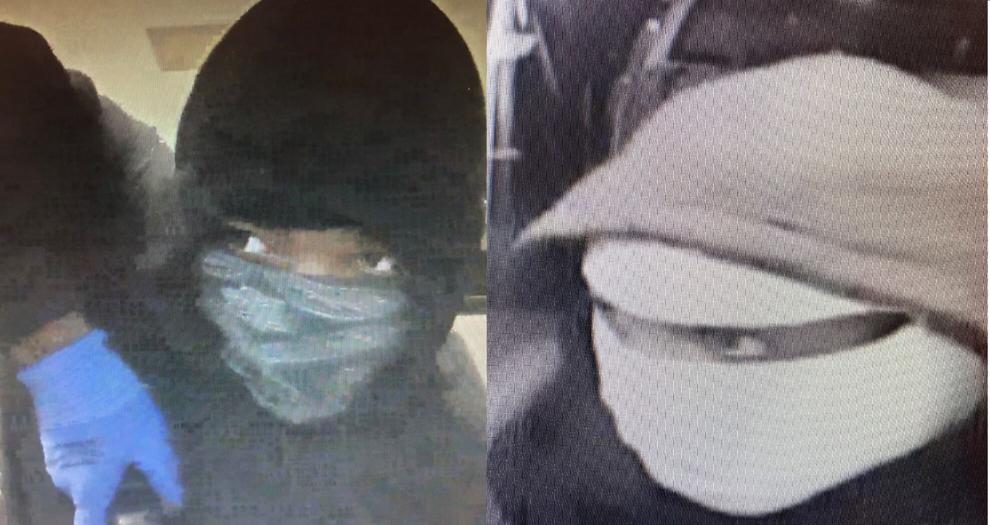 "Crime doesn't pay, you know, they may get away with it for now but eventually they do get caught," Cable said.
Repair crews spent Tuesday installing a new ATM at the credit union. One of the repairmen says the suspects likely knew the ATMs were older models because the newer versions can't be ripped apart the way the two targeted in the robberies were. Newer models have four steel cylinder bars, which is a lot tougher to break-in.
Crews say the new ATM at Commonwealth Credit Union should be up and running by the end of the day Wednesday. It's unclear when the replacement ATM will be ready at Commonwealth Bank and Trust.
Cable said anyone with a tip can call Crimestoppers at 502-633-4500. He also recommends people be vigilant at their local bank and watch for anyone who might be surveying how the ATM or bank operates.
Copyright 2021 WDRB Media. All Rights Reserved.