LOUISVILLE, Ky. (WDRB) -- To move into the future, Kentucky is taking a page out of the past. 
New driver's licenses and other state identification cards set to go into circulation next year will feature laser-engraved, shaded gray images instead of color photographs. 
And they will include a myriad of symbols and icons, such as the goldenrod state flower, Kentucky seal and tulip state tree, meant to deter efforts to make copies.  
"These are created in a complex digital pattern that is very difficult to reproduce," said Matt Henderson, the commissioner of Kentucky's department of vehicle regulation. 
Speaking at Louisville International Airport, Henderson and other officials released the design of two new credentials that the state plans to roll out in January. The changes will let Kentucky meet new "Real ID" security standards enacted after the 9/11 terrorist attacks.
The "voluntary travel ID" will provide the same functions as a current driver's license, allowing its holder to drive, make age-controlled purchases, board domestic flights and enter military posts, such as Fort Knox. No other documents would be needed. 
A "standard driver's license" still will be accepted for driving, purchases and entering federal buildings for essential services, but starting in October 2020 it no longer will be enough on its own to fly within the U.S. Instead, a passport or other federal ID would be needed.
The two credentials are mostly identical, although the travel ID has a clear star on the front, while the standard ID denotes "NOT FOR REAL ID PURPOSES" on its front.
Within the next month, Kentucky plans to announce when each county will begin to offer the new licenses.
Circuit clerks around the state are preparing for the changes, which not only involve new licenses but will shift the production from local clerks to Massachusetts-based Idemia Identity & Security USA. Neither the company nor state officials will say where the documents will be manufactured.
Bourbon County Circuit Clerk Beverly Smits acknowledged that the new process may be "confusing," but she said she is training her staff to help people choose the best credential.
She said she expects some older residents who don't fly regularly might select the "standard" license, for example.
"I am going to try and encourage people who do travel -- who are younger, who might by chance travel --- suggest that they go ahead and get the 'travel ID,'" she added.
The two-tiered ID system is a result of legislation passed in 2017 to bring Kentucky into compliance with the Real ID Act of 2005. A bill passed the previous year but ultimately vetoed by Gov. Matt Bevin would have created just one license.
Getting the new licenses will mean extra steps for Kentucky drivers who long have been used to a quick renewal every four years. For instance, citizens must bring at least three documents proving their identity, residency and social security number when they apply.
DOCUMENTS NEEDED FOR THE 'TRAVEL ID'
Drivers who want to stick with their standard driver's license will need to simply turn in their existing license and take a photo. People applying for the standard license for the first time will need to provide multiple identity documents, however.
Kentucky also is doubling the lifespan of the licenses, from four to eight years. The standard license that won't provide aircraft access will cost $43, up from the $20 now charged for a four-year license. The travel IDs will cost $48 for eight years. (Through 2023, Kentucky will offer a half-priced, four-year version of both of the new types of driver's licenses.)
Lawmakers of both political parties have criticized the names given to the two licenses in recent months and raised concerns that the process might confuse Kentuckians.
Henderson said that as he travels the state he hears from people with varying perspectives.
"The key principle behind this for us is choice," he said. "There are people in different circumstances that have different needs, and so we want to offer a choice that fits your lifestyle.
"Some people don't travel on planes. They don't see the need to have a voluntary travel ID, so they have that option," he added. "There are others that are on planes every week, and so it's cumbersome for them to have a passport and a driver's license."
Reach reporter Marcus Green at 502-585-0825, mgreen@wdrb.com, on Twitter or on Facebook. Copyright 2018 WDRB Media. All rights reserved.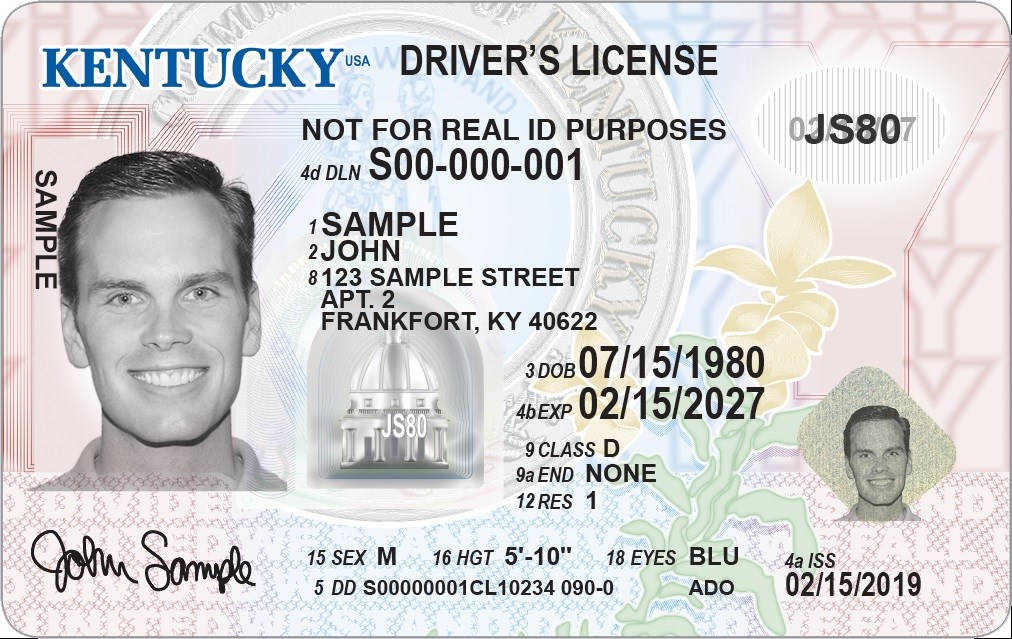 Copyright 2018 WDRB Media. All Rights Reserved.