LOUISVILLE, Ky. (WDRB) -- Indiana health officials are creating a new tool to help provide guidance to schools and communities during the COVID-19 pandemic. 
Indiana's State Health Commissioner, Dr. Kristina Box, announced plans for a new color-coded map at the end of August, during Governor Eric Holcomb's weekly COVID-19 briefing. 
"Many school districts and local officials have asked for metrics to help them better understand what's happening in their communities so that they can make better operational decisions," said Dr. Box. 
On Sept. 2, she announced the map would launch on the state's website "overnight." 
"Today's map looks different than what I presented last week, and we expect it to change from week to week," she said, showing a slide during the Sept. 2 briefing. 
The map color-codes each county in Indiana based on two metrics: new cases per 100,000 residents and percent positivity.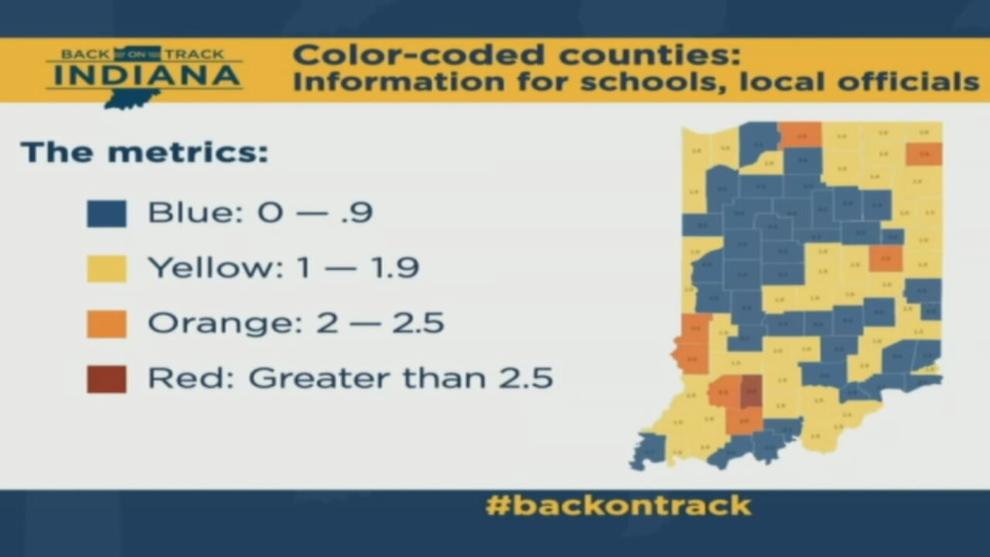 Each county then gets a color based on the average of those numbers. The colors range from blue (least community spread) to yellow, orange and red (most community spread).
Dr. Box said the map would be updated on a weekly basis and serve as guidance for schools when deciding what to do about in-person or virtual instruction, or how to handle extracurricular activities. 
"I want to emphasize that this score does not trigger a requirement of action, but it provides information and recommendations," she said. 
Still, schools are expected to stay in communication with local health departments to keep up with any daily changes or recommendations. 
"I think we'll still be in constant communication (with schools) and the state (has) been very clear that they don't mean that to overtake the local guidance," said Dr. Eric Yazel, Clark County's health officer. 
"There may be scenarios where what we're doing may not be necessarily consistent with (guidance based on map color) but we will have an explanation for why in those scenarios because like I said, (local health departments) react within hours," he added. 
Dr. Box said Indiana is seeing spread right now from school-aged children having sleepovers and parties and is urging people to follow state guidelines.
The state recommends that all school systems make "every effort to keep one school building open, even during high community spread, to assist students with remote learning and ensure a safe environment and provide food security." 
Dr. Box said the color-coded map is expected to launch online overnight on Sept. 2. 
Copyright 2020 WDRB Media. All Rights Reserved.