LOUISVILLE, Ky. (WDRB) -- A bill patching a gap in Kentucky's law on violent defendants who aren't deemed fit for trial may get its first test Thursday, hours after Gov. Andy Beshear signed it.
Online court records show a hearing is scheduled for 1 p.m. in the state's case against Cane Madden, who is accused in the 2019 beating and rape of a Louisville child until he was found incompetent to stand trial on March 11.
State law says a judge has 21 days to hold a final hearing to determine whether or not someone like Madden should be involuntarily hospitalized for treatment. April 1 is the 21st day since Madden was ruled incompetent.
As dictated by state statute, the Thursday hearing in the Madden case is confidential, and there are currently no other details available about it.
In multiple instances in the past, however, Madden failed to meet Kentucky's criteria for involuntary hospitalization — meaning he repeatedly walked free — dodging both prison time and mental health treatment.
Even though he is limited in what he can legally say, Commonwealth's Attorney Tom Wine said Thursday his office plans to file a petition under the new law seeking the involuntary commitment of Madden.
"Generally speaking, we're glad that we have this tool available to us to protect our community and to ensure that Mr. Madden's due process rights are protected," he said.
House Bill 310 aimed to close a gap in state law exposed by the Madden case, and prevent similar revolving door episodes from occurring elsewhere in Kentucky.
Under the new law — according to Sen. Morgan McGarvey, D-Louisville, one of its architects — a defendant found incompetent will have an evidentiary hearing, in front of a judge, to determine if there is a probability the person committed the crime. The defendant will have an attorney for this hearing.
If a judge finds there is a preponderance of evidence of guilt, there will be another hearing to determine whether it is in the best interest of the defendant and the community for the person to be involuntarily hospitalized using four new criteria:
The respondent presents a danger to self or others as a result of his or her mental condition
The respondent needs care, training, or treatment in order to mitigate or prevent substantial physical harm to self or others
The respondent has a demonstrated history of criminal behavior that has endangered or caused injury to others or has a substantial history of involuntary hospitalizations under KRS Chapters 202A or 202B prior to the commission of the charged crime; and
A less restrictive alternative mode of treatment would endanger the safety of the respondent or others.
If the defendant is hospitalized, a judge would periodically review the status of the person.
The bill, HB 310, won wide bipartisan support from lawmakers in both the House and Senate.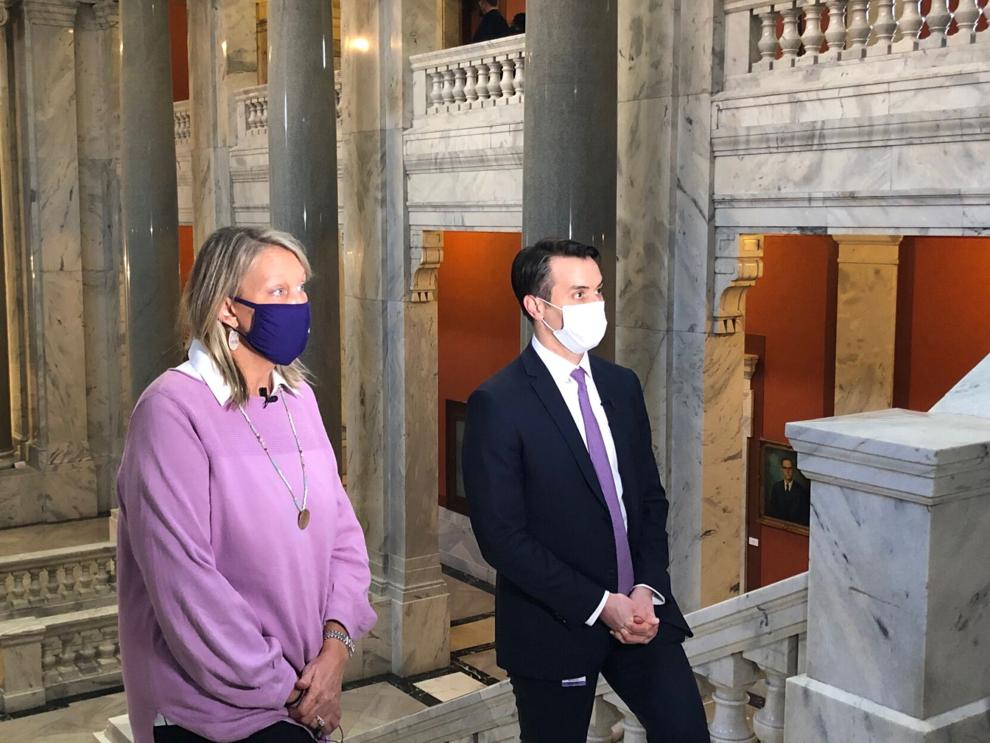 "In the last two days of the legislative session, there will be a lot of stories about some of the fights, some of the things that go on, some of the things that people see," McGarvey said Monday. "I just hope this is held up as an example of when rural and urban, Democrat and Republican legislators work across the aisle to get a good piece of legislation that has been thought out across the finish line."
According to the Secretary of State Michael Adams' office, Beshear signed the bill some time early Thursday morning. It was received and filed by Adams' office at 8:17 a.m.
Since it includes an emergency provision, HB 310 went into effect immediately after Beshear signed it. Other bills don't become law until later this year.
"I wish to publicly thank Governor Beshear and his legislative team who worked hard to review the final bill after it was presented to him on Tuesday," Commonwealth's Attorney Wine wrote in a statement Thursday morning. "I am equally grateful for the bipartisan efforts of the Kentucky General Assembly, and especially for the work of Senators Morgan McGarvey and Julie Raque Adams and Representative Jason Nemes. Work on this bill began last year through a cooperative effort involving the Office of the Commonwealth's Attorney, local defense attorneys, public health officials and Senator McGarvey. While the legislation did not pass in 2020 due to the COVID pandemic, the groundwork was laid for this year's successful work."
"The passage of this important bill is an excellent example of what good can be achieved when we all work together for the benefit of the Commonwealth," he continued.
Copyright 2021 WDRB Media. All Rights Reserved.