LOUISVILLE, Ky. (WDRB) -- Three years into the COVID-19 pandemic, hospital systems are still considering whether to mask up or take them off.
Starting next week, masking will no longer be required at UofL Health. 
"It wasn't a 'We're going to do this,' it's been a long process for us," Dr. Jason Smith, with UofL Health, said.
Dr. Smith says they consistently monitor state and county COVID numbers, as well as their own. Since Thanksgiving, Smith says their COVID patient numbers have remained low, around 40.
Cases within their workface have been in the single digits.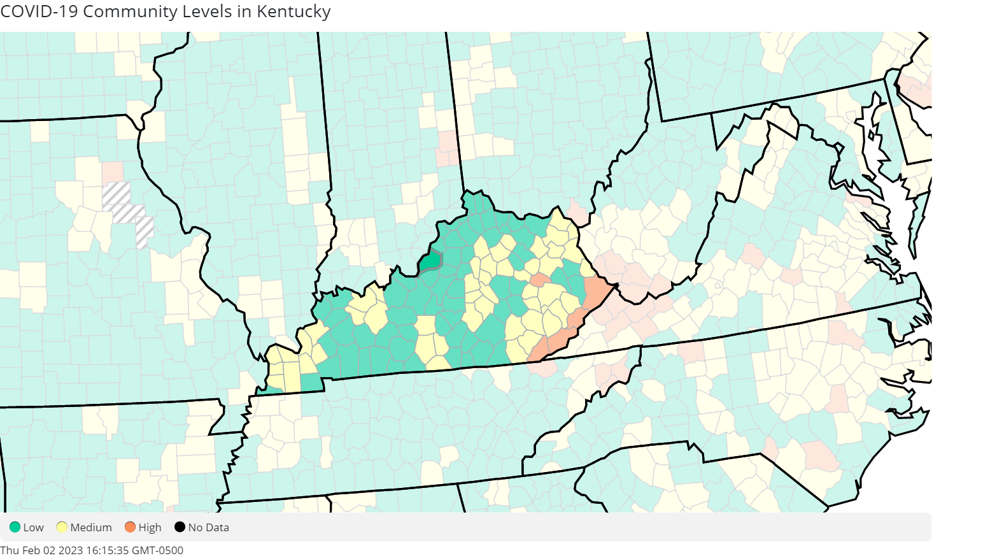 "So with all of those factors that we kind of looked at, we decided that we had met the criteria that we had set forward for being able to get rid of the mask mandates within our healthcare system," Dr. Smith said.
Meanwhile, Norton Healthcare is reinstating its masking policy starting Friday. They based the decision on the county's current transmission rate, which the latest CDC Community Transmission map shows is high.
"Things have changed throughout COVID," Renee Murphy, Norton Healthcare Senior VP of Communications, said. "It's always been a very fluid situation so we'll continue to stay in contact, take a looking at the transmission rates and take it from there."
Baptist Health is masking currently, also basing its policy on the high transmission rate throughout the county.
"We do have patients that don't have an immune system, we do take care of other patients, so it's our responsibility to take acre of them as well," Dr. Karan Shah, with Baptist Health, said.
CDC's COVID Community Map shows Jefferson County in the green. It considers number of new COVID cases as well as hospitalizations. But the transmission map, which shows Jefferson County in the red, is based on the number of new cases and positive tests, according to Dr. Shah.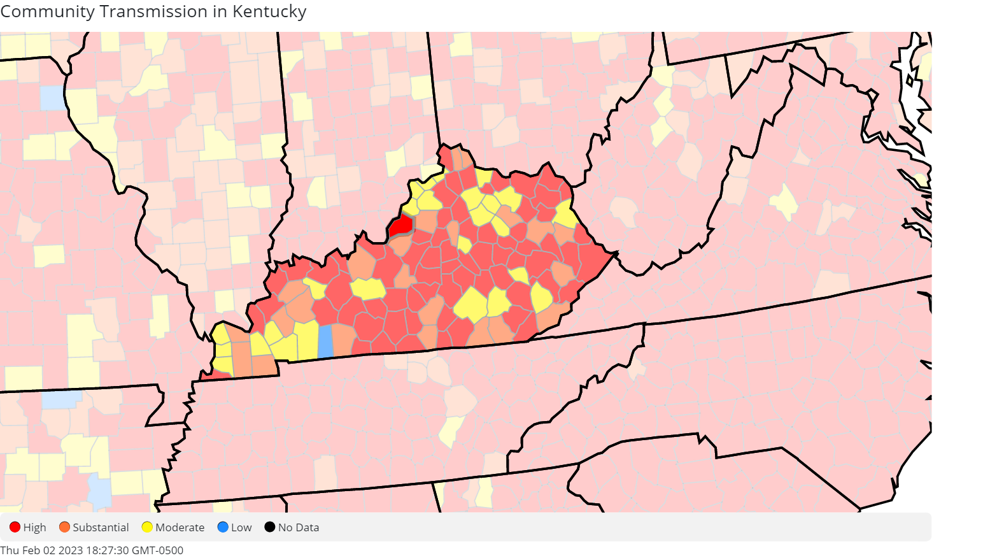 "I just want the public to know that 'Hey, there is a rhyme and reason for the way these decision are made,'" Dr. Shah said. "And there are two different maps even though they're called very similar things. There's a difference."
According to Dr. Smith, community transmission may show an elevated number since at-home negative tests aren't reported.
"The transmission levels have still been high. They were hovering right around 12 and a half to 12.7% right around Christmas time. But that has dropped consistently every week since Christmas up until now," Dr. Smith said. "I think right now we're sitting at right around like 10.05% or 10.1%, somewhere around those lines. So you've seen almost a 2% drop and community transmission levels." 
UofL Health will continue to monitor COVID levels in the community.
"It's a period of time we're going to drop masking but it doesn't mean it may not have to come back again and people need to be prepared for that," Dr. Smith said.
Dr. Shah says while there's been an "overall downtrend" in COVID, it's hasn't gone completely away. He encourages people to get vaccinated if they haven't done so and consider masking when in big crowds.
"You never know who it's going to protect so it is important that (people remember) COVID is not gone," said Dr. Shah.
Copyright 2023 by WDRB Media. All rights reserved.