LOUISVILLE, Ky. (WDRB) -- A local nonprofit needs volunteers to mentor young refugees as they adjust to life in America, but one pair with the program said their time together impacted both in positive ways.
Catholic Charities mentoring programs for refugee youth aim to help acclimate refugees between the ages of 9 up to 24 adjust to life in Louisville. 
For Hank Evans, he helped his mentee, Kashindi Pablo for over a year.
The "New Horizons" program serves students nine to 17 years old, with the main goal to help strengthen skills in school. The "PAVE the Way" program helps students 16-24 years old transition to college or the work force.
Pablo and Evans initially participated in the New Horizons program, and continued on through PAVE the Way.
"It kind of happened by chance," Evans said.
While proof-reading his church bulletin, Evans took notice of the advertisement from Catholic Charities looking for mentors.
Evans said after reaching out and some training, he was paired with Pablo, by accident.
"I was actually supposed to be a mentor for his brother, but I didn't know what his brother looked like so when Kashindi came to the door I said, 'Hey, I'm your mentor,' and he was like, 'Okay,'" Evans said.
Pablo moved to Louisville from a refugee camp in Tanzania four years ago. His family originates from the Democratic Republic of the Congo.
While paired with Evans, Pablo said he benefitted from asking questions to improve his English.
"If I don't know something, I can ask him, he can tell me, he's not going to laugh at me," Pablo said.
But the two said possibly the highlight of their time spent together, was Evans teaching Pablo how to drive.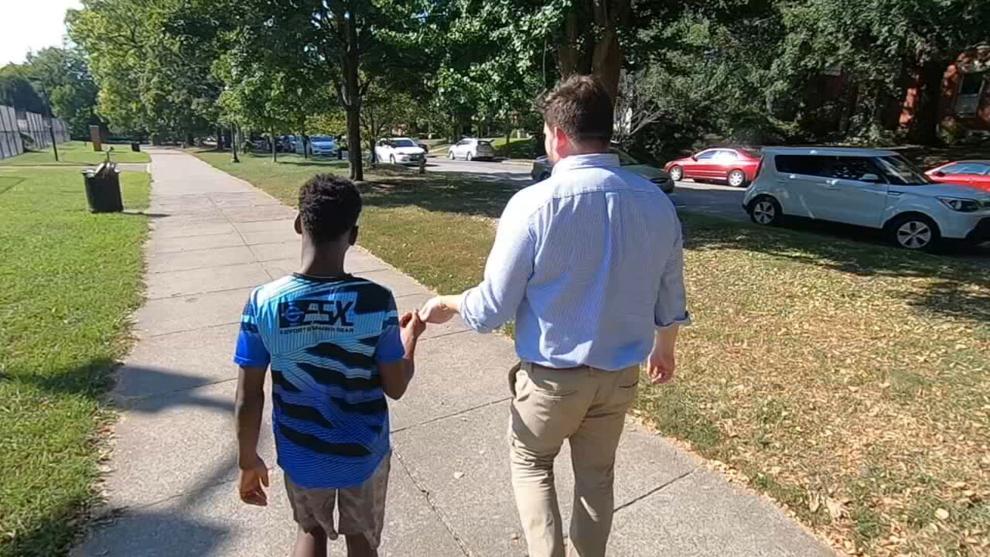 "It was my idea," Pablo said. "I wanted to learn how to drive and he was so nervous."
"I remember sitting there, kind of holding on tight to the edge of the car, kind of hands-off because I didn't want to micro-manage because he was doing food, and deep breathing, and I think he thought it was pretty funny," Evans said.
But learning how to drive and improve English skills isn't all the two did. Evans took Pablo to his first Louisville City FC game, tried new dishes around Louisville, and take other adventures around the city.
Rachel Van Dyke, youth mentoring coordinator at Catholic Charities, said the relationship looks different for each pair, but the main goal is for a mentor to be a resource.
"Just to have somebody you can have to call if you have a question and know is rooting for you and cheering for you," said Rachel Van Dyke, youth mentoring coordinator at Catholic Charities.
Van Dyke said for people who have reservations, to know the organization will support the matches and thoroughly train them.
While partnerships are limited to six months to one year, Pablo and Evans plan to keep in touch as the years go one, because of the relationship they developed.
"I hope I made a difference in Kashindi's life, he's definitely made a huge difference in mine," Evans said.
If interested in mentoring with Catholic Charities, email Van Dyke at rvandyke@archlou.org.
Copyright 2022 WDRB Media. All Rights Reserved.