HARRISON COUNTY, Ind. (WDRB) -- A regularly used cut-through road in Harrison County will likely be closed for months after a slide-off during recent heavy rains.
Doolittle Hill Road is often used by Harrison County residents as a cut-through of sorts to get to Horseshoe Southern Indiana or New Albany.
"It is a big inconvenience for people that live in that area," Harrison County Highway Department Director Kevin Russel said. "It's a major cut-through road. It can cut a lot of time off on a commute."
The slide-off was discovered this past weekend as some "sinkage" was discovered on the road itself. One section of the road appears to be breaking away and sinking into the hill.
"It's not maybe as bad as some slides we've had in the past, but with continued rain in the forecast, it could get worse," Russel said.
The worry is that more rain could cause the road to wash away entirely.
"We've had a history of these types of problems on the road," Russel said. "Sometimes, we've put temporary fixes on to just try and extend the amount of time. "
Russel doesn't believe that will be an option in this case.
"To actually fix it, we have to dig down to the sloped rock face, cut a key way in that rock, put some footers in and then come in with a retaining wall behind it," he said. "And that is a permanent fix that will last."
Given the terrain of Doolittle Hill, the slide-offs are not uncommon. Most recently, a significant slide-off happened in 2006. Fixing that issue led to a three-month long closure and a $180,000 price tag. Russel expects something similar in this case.
"We don't have enough additional funding in our budget to move to this and fix it without additional funding," Russel said.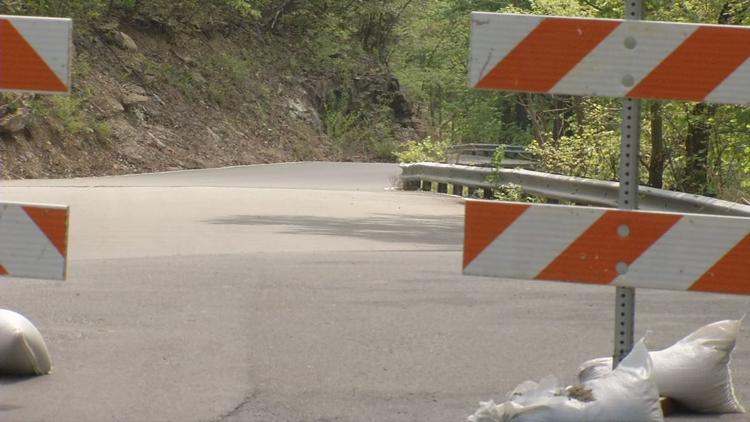 Harrison County Commissioners next meet on May 6 and are expected to discuss next steps for a repair.
Copyright 2019 WDRB Media. All Rights Reserved.