BEDFORD, Ky (WDRB) – What is being dubbed a "sludge farm" could be the newest business to open up in Trimble County.
Monday night hundreds of people packed into the Bedford Elementary gym to talk about zoning in the area.
118 of 264 acres along Highway 421 North is proposed to be a distribution area of food byproduct. The property would also include a 4.8 million gallon holding pond, when land application is not possible.
R&R Septic and Excavation Services applied for a permit so some of the land could be used to dispose of the by-product and wastewater from TreeHouse Foods, Inc. onto the land.
"I am very emotional about it. That's because I love my little home," said Jackie Goode, who lives across the street from the proposed property. She moved into her home six weeks ago and is very nervous of what could be her new neighbor. "It took blood sweat and tears to get here only to find out this is going to be across the road from me."
Many neighbors are calling it a "sludge farm" that could bring in 15 tanker trucks a day.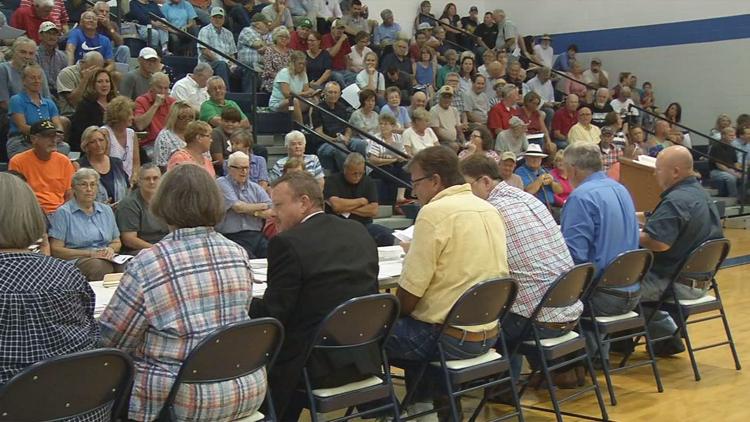 Six months ago, Trimble fiscal court suspended planning and zoning ordinances until it could be revised and reassessed – halting home and agriculture restrictions.
Because of the suspension, many nearby are looking at zoning differently now that they know what could be their neighbor – while others still welcome anything to let the county grow.
"More regulation does not mean it is better. It doesn't make you any safer. You talking to your neighbors - that's what makes you safe," said Justin Long, who opposes zoning.
Although currently Planning and Zoning can't stop the project from happening, local county land fill and environmental ordinances could.
R&R Septic and Excavation refused to comment on the project to WDRB News.
"For me it's devastating. I know it is for everyone else around here, too," said Goode.
Neighbors will wait until August 1st during a special meeting when they hope to know more about zoning and any updates to the project.
Copyright 2019 WDRB News. All rights reserved.