LOUISVILLE, Ky. (WDRB) -- The Louisville Metro Police Department is backtracking on its previous statements that a SWAT vehicle was rammed by a protester's vehicle Tuesday night.
Sgt. Lamont Washington, an LMPD spokesman, initially said on Wednesday that one vehicle in a caravan of protesters hit an armored LMPD SWAT vehicle near a Chase bank by Jefferson Square. He said the driver of the vehicle and four others tried to take off, but were eventually captured and arrested.
But on Thursday morning, Washington reversed his statement from the previous day.
"Now that we have had time to more thoroughly review the video of incidents Tuesday night, it appears our SWAT vehicle was not rammed by a protest vehicle as released earlier," Washington said. "Our vehicle did hit a car attempting to leave the area of Chase bank."
Washington identified the driver of that vehicle as 30-year-old Cortez Dickerson. He said police stopped the vehicle because it matched a description of a vehicle that had been involved in a previous incident that night.
"Fearing for the safety of the pedestrians on the sidewalk, we [LMPD] struck the vehicle in [an] attempt to preserve human life," Washington said.
According to court documents, Dickerson was arrested and charged with reckless driving, first-degree wanton endangerment, first-degree criminal mischief and first-degree fleeing or evading police.
Police say 23-year-old Alpintino Antonio Johnson was also arrested after he was found with a stolen AK-47 rifle. He was charged with fleeing or evading police on foot, possession of a handgun by a convicted felon, receipt of stolen property (firearm) and unauthorized parking in a handicapped zone, according to court records.
On Wednesday afternoon, WDRB was contacted by phone by a woman identifying herself as Courtney Dickerson, the sister of the driver. She said the police SWAT vehicle "t-boned" Dickerson's Jeep, and that he didn't hit anyone before the crash.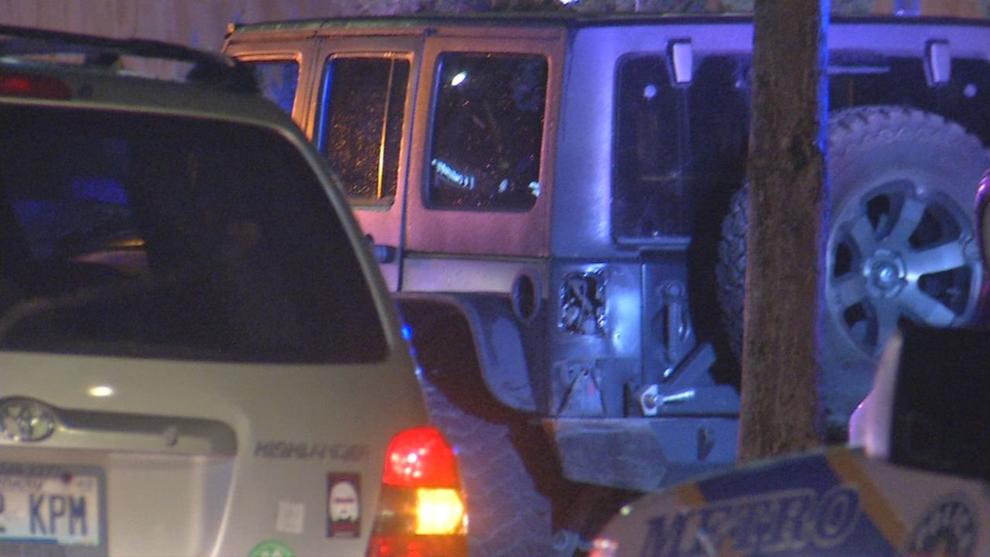 A woman identifying herself as Kenzie Fox said she witnessed the event and posted a video on Facebook. Her video begins after the vehicle collision.
"You guys, we just watched a [EXPLETIVE] Bearcat hit a -- someone in our caravan," she said. "I'm gonna turn the camera around. You can see -- this is the Bearcat that hit the man, and this is the car that was hit. They were hit right next to us. They had full [EXPLETIVE] guns drawn a second ago, pointing the guns at the driver."
The woman gets out of the car and asks someone what their name is. A few moments later, police appear to arrest her.
WDRB is reaching out to police to learn why police initially tried to stop Dickerson's vehicle.
Copyright 2020 by WDRB Media. All rights reserved.