LOUISVILLE, Ky. (WDRB) -- Road crews in Louisville have been busy patching potholes, but some drivers are paying for thousands of dollars in damage before the roads could be fixed.
Oto Garcia, whose truck was damaged by a pothole, is still paying for it weeks later. His tire snapped while driving 55 miles per hour on I-71.
"I just saw this pothole, tried to avoid it, tried to just go around, but I couldn't do it. It was huge," Garcia said. "It scared me a lot."
Garcia said he felt his tire shake before hearing a loud snap. He lost control of his truck and his brakes.
The single dad had just dropped off his son at day care.
"What excuse are they gonna tell my kid if something happened to me?" Garcia asked. "Thank God it didn't, but what was going to be the excuse? A pothole killed your dad?"
While Garcia is thankful it didn't cost him his life, it will cost over $1,200 to fix his truck.
"It's got of be out of pocket, because it's my working truck," he said. "And I've got to work every day."
Inside Samuel's Collision Repair on Taylor Boulevard, mechanics are busy making similar repairs.
"A pothole is very hard to see, especially with the weather we've been having," owner Jeff Embry said. "With the wet roads at night (potholes are) just almost invisible."
Embry said he's seen damage from $60 up to $6,000 from potholes.
"Bent rims, broken struts, bent lower control arms, tire rods — It can even lead to bumpers, fenders and hoods," he said.
He said one customer hit a massive pothole in her brand new car.
"Within 142 miles (of driving), it had $1,200 worth of damage on it from potholes," Embry said. "And then she returned two months later with 3,000 miles on it, with $2,500 worth of damage on it from potholes."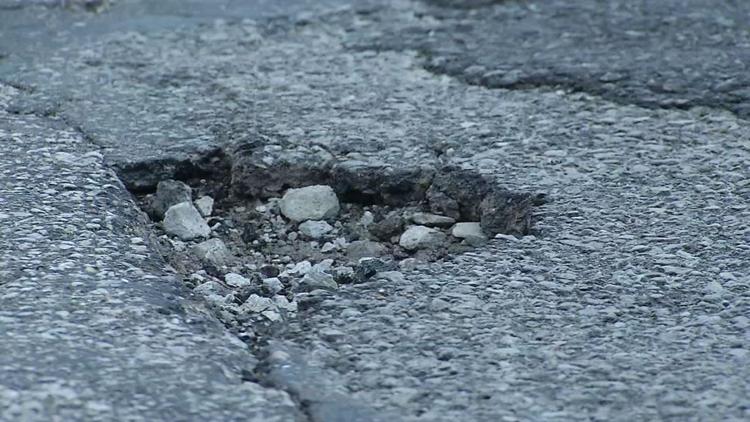 Crews with Metro Public Works were patching potholes Thursday. KYTC did the same thing this week on interstates across the region. In Louisville, KYTC covers potholes on the interstates. Metro Public Works repairs both local streets and state routes, according to its contract with the state.
To report a pothole in Metro Louisville, call 311 and a crew will come out and patch it.
Copyright 2019 WDRB Media. All Rights Reserved.