CHARLESTOWN, Ind. (WDRB) -- Indiana Attorney General Curtis Hill has filed a lawsuit that could allow the State of Indiana to remove the animals from a controversial southern Indiana zoo and place them in "court approved animal sanctuaries."
The lawsuit comes just days after a judge with the U.S. Department of Agriculture decided to take action against Wildlife in Need, a small zoo that offered "tiger baby playtime" sessions and still offers other events that allow visitors to get up close and personal with exotic wildlife.
After documenting more than 120 violations of the Animal Welfare Act, the USDA judge pulled the zoo's license to exhibit warm-blooded animals, which include the big cats, monkeys and bears. A 183-page report written by the USDA says the zoo's owner, Timothy Stark, over the years, has harassed federal inspectors, failed to provide proper veterinary care to some sick or dying animals, and even beat a young leopard to death with a baseball bat.
Considering that history, Hill is now taking separate action. He filed his lawsuit just days after an animal advocate asked for his intervention in a Friday interview with WDRB News.
His suit, filed Tuesday on behalf of the State of Indiana, profiles a history of abuse at Wildlife in Need.
According to the lawsuit:
Animals such as primates have been forced to live in dog cages and bird cages
Stark has had numerous tigers declawed when there was no medical need to do so and has stated "declawing them just makes it easier to play with them."
In 2017, Stark punched a sloth in the face when the animal did not want to come out for pictures with guests
In spring 2017, Stark housed a sick camel in a muddy enclosure where the animal died
In April 2018, Stark put an ostrich in an emu enclosure. According to the suit, "the emus killed the ostrich and the ostrich's body was left to rot inside the emu enclosure for multiple days."
At an animal show in spring 2018, Stark was bit by a teething tiger cub while playing with it. "Stark threw the cub on the ground, kicked it, and repeatedly stomped on it," the suit reads.
In July 2019, Stark attempted to transport about 100 animals to Oklahoma where he'd planned to launch a for-profit zoo. "Stark placed approximately 100 animals in a 28-foot enclosed trailer with no water, no air conditioning, and no air circulation," the lawsuit says. "By the time Stark arrived in Oklahoma, over 30 animals had died in the trailer and several others sustained heat-related injuries."
The attorney general also argues that Wildlife in Need, a non-profit, has strayed from its original mission of animal rescue and rehabilitation.
Stark responds
Tuesday evening, Stark responded to the lawsuit, which, at that point, he hadn't read.
"Only guilty people are scared. I'm not scared of it. You know, I know who I am and what I stand for. I stand for the animals," said Stark, who was calmer and more reserved than in past interviews. "Not sure how we'll fight it, but you're damn right I will fight it."
Stark says he feels he's being judged as guilty before he's had a chance to appeal the USDA's recent decision or battle the new challenge by the attorney general.
Despite the allegations, Stark says no animal has ever been intentionally mistreated at Wildlife in Need to his best recollection. However, Stark admits that he sometimes disciplines animals by hitting them.
"I don't live in this fairy tale land where you think you're supposed to give everything a time out, because if you give a lion or tiger or bear a time out, all you're teaching it is that it's in charge," Stark said.
Stark also defended Wildlife in Need's status as a non-profit. The establishment generates money from entertainment events such as animal encounters, but Stark maintains that he's not using the animals to enrich himself.
"They're here to educate people, entertain people. We educate through entertainment," he said.
Stark said that the nonprofit deals mostly in cash and doesn't deposit its earnings into a bank account.
"Do I spend the cash that comes through?" he asked rhetorically. "No."
As for rehab work, he said it's slowed drastically during recent court battles. He estimates that three to five birds of prey were rehabbed during 2019. A few were successfully released, and others were euthanized.
Stark said he hasn't euthanized an animal with a baseball bat since the incident that involved the young leopard. Since then, he said he's used a firearm or enlisted a veterinarian to administer lethal injections.
During the Tuesday interview, Stark couldn't give WDRB News a count of how many animals he currently has at Wildlife in Need.
Stark brushed off concerns expressed by animal advocates and others that animals might start to disappear from the zoo, given the actions against the zoo's owner.
"I carry a full inventory at all time," Stark responded.
He said he could not provide WDRB with a count, "Because I haven't looked at the number."
Stark brushed aside the criticisms against him.
"I am true," Stark answered. "I take full responsibility at least for my actions. You know, and I've always said, am I 100% innocent? No. But am I guilty to these charges to where it validates having my license revoked or the attorney general filing lawsuits against me ... or any of that stuff? No."
An uncertain future
If successful, the attorney general's lawsuit against Stark would, among other things, remove him as director of Wildlife in Need, issue an order requiring him to return misappropriated funds and assets and issue an order dissolving the nonprofit and appointing a receiver to wind down its affairs.
Hill also filed a motion for an injunction, which would prevent Stark from removing or disposing of any of the animals during the lawsuit. Hill also requested immediate access to the site so state inspectors can see if any animals need care.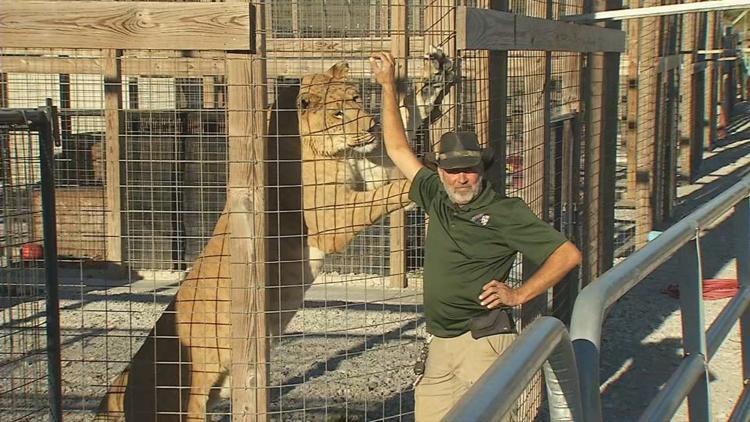 Stark said he will allow inspectors access to his property. However, he said he won't allow his animals to be taken under any circumstances.
"Am I going to start shooting animals or turning animals loose? No. I love these animals more than life itself," he said. "I'm just going to have to stand here and, one way or another, fight the battle. How? We'll have to wait and see how it turns out."
Copyright 2020 by WDRB Media. All rights reserved.