LOUISVILLE, Ky. (WDRB) -- Surrounded by barricades and blocked streets, a smaller group of protesters marched on a calm Tuesday night in downtown Louisville as they and the city await a decision in the Breonna Taylor case.
Tuesday night, Louisville Metro Police Department officers remained throughout downtown, supported by concrete barriers and squad cars with blinking lights.
The agency had declared a state of emergency on Monday in anticipation of an announcement from Kentucky Attorney General Daniel Cameron, who is conducting the investigation into Taylor's death.
Though it remains unknown when the announcement will come, the city began preparing late Monday into Tuesday. 
LMPD has blockaded a square mile in downtown, stretching from Second to Ninth streets and Market Street to Broadway, allowing pedestrians and some vehicles to enter and exit at limited access points for "legitimate business."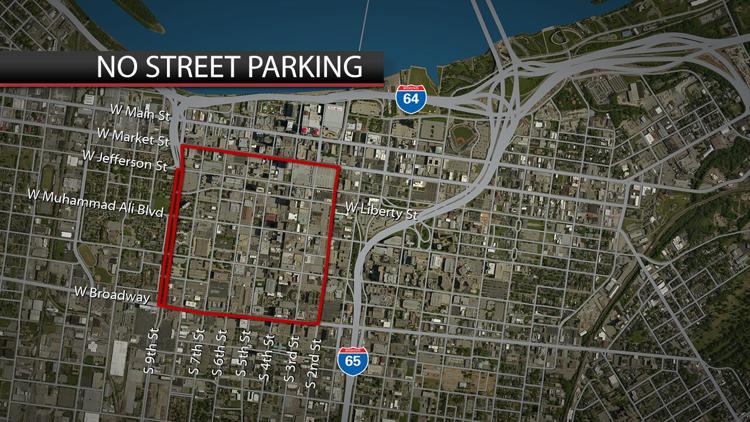 Street parking is prohibited, and the five downtown parking garages are closed.
LMPD's interim police Chief Robert Schroeder said he wished LMPD could have given more advance notice of the downtown closures, but he wanted the department to be ready to protect the public and property.
Mayor Greg Fischer on Tuesday also declared a state of emergency, issuing two emergency executive orders which allow him to implement curfews and other restrictions if he deems necessary.
"One declares a state of emergency, which basically just allows me to use emergency powers with procurement or hiring if necessary. The second restricts access to downtown parking garages as an extra layer of security near Jefferson Square Park," Fischer said in a recorded statement.
He apologized for the inconvenience but said that protecting the safety of people and property was crucial.
Fischer said he has not been told when a decision in the case will be announced or what the decision will be. Fischer acknowledged that most of the previous nights of protest have been peaceful and said it's his hope demonstrations will remain peaceful no matter the decision Cameron announces.
Protesters have been gathering at Jefferson Square Park downtown for 118 days to demand justice in the Taylor case and charges for all officers involved in her death.
For a breakdown of the downtown road and parking garage closures, click here.
Related Stories:
Copyright 2020 WDRB Media. All Rights Reserved.