LOUISVILLE, Ky. (WDRB) -- There was a time when looking at videos and pictures once tempered the pain that chills Marie Hughes each January. The Louisville postal worker spent nearly eight years processing the loss of her three grandchildren in a fire that sent four people to prison.
But recently, that pain gripped her again.
"There's been a knot sitting in my stomach for eight years, and that knot just kind of like grabbed me and grabbed me from my stomach to my chest," she said.
Trinity, 2, Tyrese, 4, and Tai'zah, 6, died in January 2014 when a group of teenagers shot a flare into a New Albany home. Investigators said the teens didn't know the children were in the home. They said Cody Cashion —  who ultimately pleaded guilty and received a 65-year sentence for murder and other charges — fired the flare gun into the home over a debt involving property from a person who lived there. The children were houseguests.
The driver of their getaway car, Kylie Jenks, will be released from prison Monday, eight years into a 20-year sentence.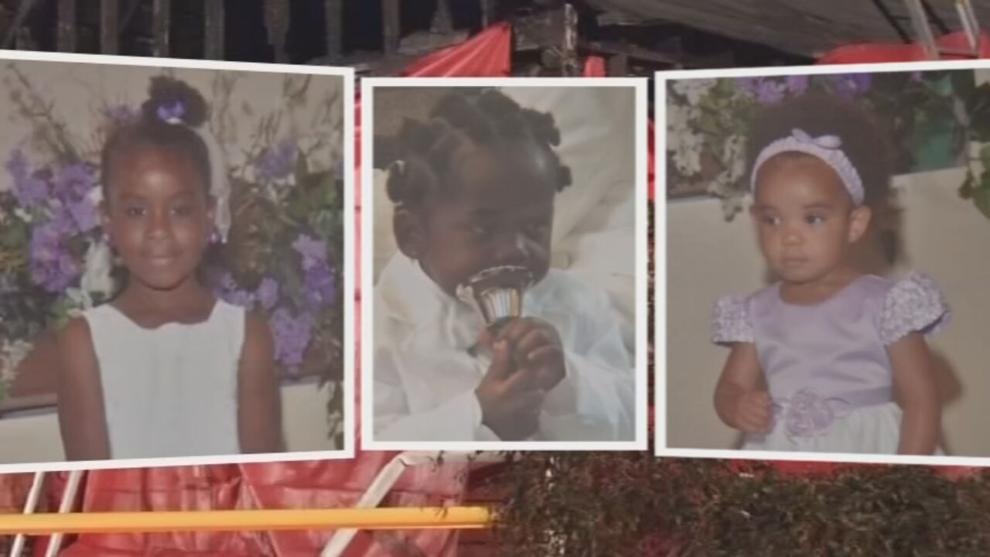 "I dropped my phone, fell to my knees," Hughes said of the moment she found out Jenks would be released.
Indiana laws in 2014 allowed some offenders two days off their sentence for every one day served. In addition, the Indiana Department of Corrections gave Jenks more credit for a program she completed behind bars.
Floyd County Prosecutor Chris Lane released a statement saying DOC gave Jenks additional credit after a judge denied her 2019 request for a sentence modification. 
"On October 16th, 2014, Kylie Jenks was sentenced to 20 years in the Indiana Department of Correction, under Floyd County Prosecutor Keith Henderson. Under the old statute, she would receive day for day credit, in accordance with Indiana Law. On February 28th, 2019, the Defendant requested a modification of sentence and the Floyd County Prosecutor's Office objected to the modification. Judge Terrance Cody denied the modification of sentence on July 29th, 2019. The Indiana Department of Correction (IDOC), in its sole discretion, awarded the Defendant additional credit time for completing programming while incarcerated, resulting in an early release. Under Indiana Law, the IDOC determines and controls credit time when a defendant is eligible, not the Prosecutor's Office or the Judges. The Floyd County Prosecutor's Office objects to the early release of this defendant by the IDOC, however, we cannot stop it from happening. We continue to express our sympathies to the family of the victims in this tragic case."
That's what prompted an earlier release.
The state has discretion to issue credit time within limits. When asked what classes Jenks took, what they entailed, how many hours they lasted and how much credit she received, a spokesperson claimed that isn't public information, assuring that the department followed the law.
Lena Righthouse's parents feel the same pain as Hughes. Jeremy Jones, the Indiana man who stabbed 14-year-old Lena 15 times, is due to be released from prison the same day as Jenks. Jones will serve 26 years of a 60-year murder sentence after getting the standard half-off his time behind bars plus four years more years of credit for completing a college degree.
"It's like you got a wound that's healing, and all of sudden, it's ripped back open again," Gary Righthouse said.    
"Who's to say he won't do it again?" Christine Righthouse added.
But there's another perspective in these stories: rehabilitation. And it came from someone you'd least expect.
Tatyana Hughes was the sole survivor of the New Albany fire. She was just 5 years old at the time and suffered burns over 35 percent of her body.
"Everybody deserves a second chance in life," Tatyana said, adding that she forgives Jenks. 
Hughes wants to get to that place of forgiveness. But she's not there yet.
"You stole three whole lives," she said through tears. "Three whole lives you took away from this world, and you didn't get nothing. You didn't get enough.
"My precious, loving, just sweet, sweet grandbabies don't get to have a life. They didn't deserve what they got, and these people didn't get what they deserve."
Related Stories:
Copyright 2022 WDRB Media. All Rights Reserved.