NEW ALBANY, Ind. (WDRB) -- The Floyd County Sheriff's Office is urging people to lock their car doors after a suspicious vehicle led to a police chase Monday. 
Sheriff Frank Loop said the area of Charlestown Road and Countyline Road with subdivisions like Cobbler's Crossing, Wolf Lake and Koehler Place keep the sheriff's department busy with its highest volume of calls.
"We have so many people living in a close proximity to each other, so you have one subdivision after the next," Loop said. "So we have a lot of calls there."
A lot of those calls are to report a theft, typically from an unlocked car. 
"Do not leave your keys in your car," Loop said. "Do not leave your valuables in your car, clean out your garage, put your car in the garage, and make sure everything is locked up."
Just days after Christmas, around 4 a.m. on Dec. 28, the sheriff's office got a call about a suspicious vehicle driving around neighborhoods off Charlestown Road. 
According to Loop, deputies were already patrolling the area and tried pulling the car over, but the driver sped away. Loop said at that point, the Clark County Sheriff's Office and Indiana State Police joined in on the chase.
"The person did not know where they were going," Loop said. "They ended up ditching the car, leaving the car in the middle of the road and fleeing on foot."
He said police did not catch the man, but they do know his identity and will issue a warrant for his arrest. 
"The car had actually been stolen out of Louisville, and it was full of stolen items from those subdivisions," Loop said. 
Loop said authorities are still trying to identity all the stolen items, which he believes came from unlocked cars. He said he believes two people were involved Monday morning. 
Neighbors caught the chase on home security cameras.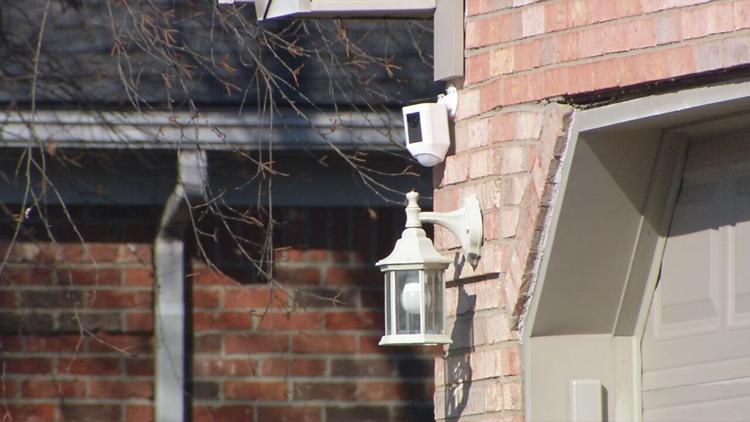 "It was quite shocking," said Wendy Kaiser, who's lived in the area about eight years. "It's just really surreal and you think, 'How can this be happening in our quiet little neighborhood?'"
Kaiser said over the years, she's heard of several car break-ins in the neighborhood, and that's why she has multiple home security cameras. 
"It's a scary world, and it makes me sad, really," she said. 
The noise of the police chase woke her up Monday morning, and Kaiser said police ended up in her yard looking for one of the suspects involved. She said at least four or five times each year she hears of break-ins and said many neighbors have also invested in security cameras hoping to put an end to this problem.
Loop said more cars themselves are also being stolen, often because they were left unlocked with the keys inside.
"We have taken over 20 stolen car reports this year, and every single one of them, which is unusual, the keys were in the car," Loop said. 
Loop said as for the situation Monday morning, once caught, the person responsible could faces charges of resisting, possession of stolen vehicle and numerous charges of theft from automobile. 
Copyright 2020 WDRB Media. All Rights Reserved.