LOUISVILLE, Ky. (WDRB) -- A proposed development that would add more than a dozen new homes off Newburg Road has concerned those who live nearby.
The Upper Highlands Neighborhood Association held a community meeting Wednesday with representatives from the developer, Metro Council, the Louisville Metro Police Department and MSD.
Neighbors have concerns about an increase in crashes, excessive speeding and distracted drivers along Newburg Road. 
"Watch the speed coming around that curve. It's frightening," one resident said during the meeting. "You gotta do something."
The neighborhood association is pushing for safety improvements like signage, flashing lights and possibly even a stop light. 
Some of the neighbors at the meeting said they believe the proposed development, which would add 15 new homes and keep one existing home, would only add to the traffic issues.
The developer said the project would be called "Highland Preserve" and would result in a private community.
"It's going to be high-end homes on a private road," Kelli Jones with Sabak, Wilson & Lingo Inc. "It's going to be a gated community."
The development is still in the early planning stages, but some neighbors at the meeting didn't think it would the right fit for the area.
"Now we're going to have a gated community, with no trees, and there will be a bunch of homes that are not accessible to the people who live in this neighborhood," one neighbor said.
The developer said the new subdivision wouldn't have a significant impact on traffic. The Kentucky Transportation Cabinet said it doesn't anticipate any changes to the roadway due to the limited size of the project.
Not everyone at the meeting was against the project. Debbie Williams lives directly across from the site and supports the plans.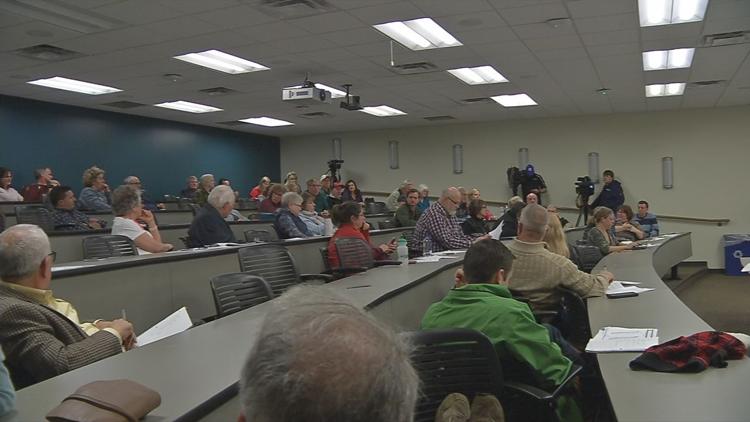 "Anybody else who is opposed to this, they could've purchased that property when it was for sale," Williams said. "Somebody has purchased it and is going to do something good with it. So I think it's going to be a good thing."
Copyright 2020 WDRB Media. All Rights Reserved.