INDIANAPOLIS (WDRB) -- Indiana State Police is releasing new evidence it hopes will lead to the killer of two Delphi girls.
State Police Superintendent Doug Carter was emotional as he talked about the murders of 14-year-old Liberty German and 13-year-old Abigail Williams. The girls' bodies were found in February 2017 near the Delphi Historic Trail, which is about 60 miles north of Indianapolis.
Carter's voice cracked as he read a message to the person who murdered the girls. "Directly to the killer who may be in this room, we believe you are hiding in plain sight. For more than two years, you never thought we would shift gears to a different investigative strategy, but we have. We likely have interviewed you or someone close to you," he said. "We know that this is about power for you, and you want to know what we know. One day, you will."
ISP released a new sketch of a suspect and previously unreleased video and audio from Libby's phone. Carter says, "we believe this person is from Delphi, currently or has previously lived here, visits Delphi on a regular basis or works here." He adds, "We believe the suspect is between 18 and 40 years old but may appear younger."
Carter's statement included several direct statements to the suspect. "What will those closest to you think of when they find out that you murdered two little girls - two children? Only a coward would do such a thing." He believes the suspect may have confided in someone, "Or at the very least, they know, because of how different you are since the murders."
"We have a witness. You made mistakes," Carter said. "We are coming for you and there's no place for a heartless coward like you to hide that gets his thrill from killing little girls."
"I believe you have just a little bit of a conscience left. And I can assure you how you left them in that woods is not - is NOT - what they are experiencing today," Carter said.
Investigators also want the public's help in finding the driver of a vehicle left at what Carter calls the old DCS/CPS Welfare building in Delphi near the Hoosier Heartland Highway between noon and 5 p.m. on Feb. 14, 2017.
The video from Libby's phone that was released will be familiar to those who have followed the case. Still images were widely circulated of a man in a blue jacket and jeans and a hoodie with a hat that casts a shadow on his face. But Carter wants people to watch the video and pay attention to how the man moves. He noted that the suspect was walking on a deteriorating railroad bridge, but people may recognize his mannerisms.
Carter thanked the Delphi community for helping support police and the families of both girls. "I'm going to ask for continued support, empathy and compassion."
"I just want the family to know when I take my last breath on this earth I'm going to be thinking about them," Carter said.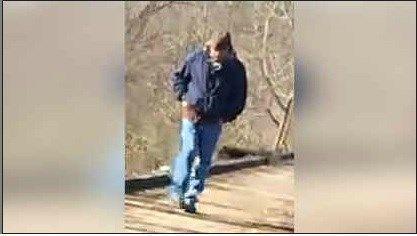 He said there will be questions about the release of the evidence, but he said there will be no media response for at least two weeks. "Please be patient with us please. We're just beginning. We're just now beginning. We will not stop."
Carter says the evidence is the result of "thousands and thousands of hours" of work by the multi-agency task force that includes the FBI and the Carroll County Sheriff's Office.
Anyone with additional information is asked to contact the task force by email: Abbyandlibbytip@cacoshrf.com or phone. The telephone Tip Line is (844) 459-5786. Tips are also accepted by the Indiana State Police at (800) 382-7537, or by the Carroll County Sheriff's Department at (765) 564-2413.
Related stories: 
Copyright 2019 WDRB Media. All Rights Reserved.