BOZICH | Basketball Notebook: Roadhouse blues; Pitino/UCLA; IU injuries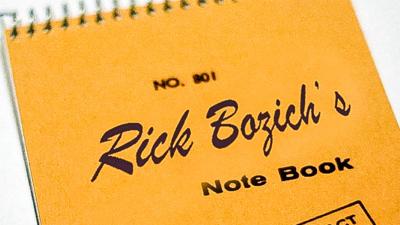 LOUISVILLE, Ky. (WDRB) — Chris Mack, John Calipari and Archie Miller all howled after their teams played conference games away from the friendly confines over the previous five days.
Mack used the "D" word when talking about his team's "D." That would be deplorable, not dazzling. You don't want to carry a loss from Pittsburgh to North Carolina.
Calipari wondered why his guys let Tevin Mack shoot like Klay Thompson, splashing three after three after three. Alabama is a road game Kentucky should win.
Miller wondered when his guys are going to give him more than 32 assertive minutes and actually deliver the first blow. Indiana spotted Michigan a 17-point lead and chase the Wolverines all afternoon.
Road losses are not the road to a conference title.
The days of handing Central Arkansas a check in exchange for a double-figure victory will not return until November. To be somebody, you have to beat somebody away from home.
How difficult is it?
Let the record show that on Wednesday, road teams from the six power conferences went 7-10. Of the seven teams that won two were underdogs, Iowa at Northwestern and Marquette, which needed overtime to handle Creighton.
A ranked Auburn team burped badly at Ole Miss.
A ranked Ohio State team floundered at Rutgers.
A ranked TCU team lost (as totally expected) at Kansas.
Toss it Kelvin Sampson removing his tie as No. 17 Houston slipped to 15-1 with a four-point loss at Temple and four Top-25 teams settled into cold and quiet buses for the trip away from the arena Wednesday night.
Duke and Virginia are considered the teams to beat in the Atlantic Coast Conference, but North Carolina deserves legitimate consideration because the Tar Heels (Louisville's opponent Saturday) have opened with two road wins.
South Carolina's overall record of 7-7 is less than inspiring, but the Gamecocks have the league's best conference road win, the one they earned at Florida last weekend.
In the Big Ten, Michigan State separated itself by winning at Rutgers and Ohio State. Maryland also has two road wins but the Terps were unable to win at Purdue. Michigan sits at 4-0 but the Wolverines have benefited from playing three home games.
About Those Pitino Rumors
The surest sign that Rick Pitino will NOT be the next basketball coach at UCLA: Even ESPN analyst and Pitino confidante Dick Vitale has tweeted that Pitino won't be taking his Brioni wardrobe to Westwood.
Yes @Rick_Pitino was wanted by many boosters but administration @UCLA said NO ! No doubt he would have brought national SUCCESS to Bruins & would have given them STAR BILLING to compete for the entertainment dollar in Hollywood!

— Dick Vitale (@DickieV) January 10, 2019
For the record, the Bruins won their first two Pac-12 games at home last week by a combined 37 points. If they sweep their trip to Oregon and Oregon State this week, maybe Murry Bartow will … nah, he won't.
Indiana Injuries By The Numbers
It appears Indiana freshman point guard Robert Phinisee will miss his fourth consecutive game Friday night at Maryland. Football is not the only sport that has upgraded concussion protocol. Every sport has gotten serious about head injuries.
Archie Miller has been without eight different players for a combined 45 games this season. If Phinisee does not play against the Terps, he'll be the fifth Indiana player to miss at least five games.
Arrow Up
Making judgments on teams is tricky considering the gaps in comparative strength of schedules. That's one reason that I subscribe to Ken Pomeroy's web site.
Not only are the analytics terrific, Pomeroy provides game by game scores and statistics from every season starting with 2002.
After Pitt defeated Louisville on Wednesday night, I wondered how much better the Panthers were than last season.
A lot better.
According to Pomeroy, these are the three most improved teams in the ACC: Pitt, which finished last season ranked 227 and moved to No. 80 after defeating Louisville, and Georgia Tech, which has improved from 119 to 78 and Virginia Tech, ranked eighth after finishing last season at 33.
In the SEC, the top climbers are Ole Miss, which is plus-74 while jumping from 108 to 34; Mississippi State, up 30 (54 to 24) and Louisiana State, plus 23 (66 to 43).
The Big Ten is paced by Richard Pitino and Minnesota, which has advanced 60 spots (117 to 57); Wisconsin, plus 57 (70 to 13) and Iowa, plus 53 (88 to 35).
Arrow Down
High fives are not in order for everybody. Some teams have work to do. Here are the three teams in each league that have taken the biggest fall:
ACC — Wake Forest, minus-73 (89 to 162); Boston College, minus 42 (77 to 119) and Notre Dame, minus-39 (35 to 74).
SEC — Missouri, minus-48 (40 to 88); South Carolina, minus-28 (80 to 108) and Georgia, minus-26 (65 to 91).
Big Ten — Penn State, minus-42 (19 to 61); Purdue, minus 12 (5 to 17) and Ohio State, minus-11 (16 to 27).
What do the numbers show for the locals?
Louisville has slipped one spot, from 38 to 39.
Kentucky has advanced six, from 17 to 11.
Indiana has gained 43 spots, advancing from 71 to 28.
Western Kentucky has slipped 58 positions from 105 to 47.
Copyright 2019 WDRB Media. All Rights Reserved.