LOUISVILLE, Ky. (WDRB) -- It's risky racing to conclusions after two full weekends of the college football season — unless you are the athletic director at USC.
I don't have the responsibility of hiring and firing coaches, so I'll splash one early conclusion on the 2021 season:
Jeff Brohm is still one of the best at teaching and directing the passing game.
Brohm's Purdue squad is an early frontrunner for the bounce-back leader in the Big Ten. And, most importantly, Brohm and the Boilermakers have their shot to bang the world's largest drum Saturday when Purdue visits wobbly Notre Dame.
Win that one — Purdue is only a seven-point underdog — and the Boilermakers will be solidly positioned for a 5-0 start. When Purdue returns from South Bend, it will play Illinois and Minnesota in West Lafayette, Indiana.
Brohm, remember, was recruited to play quarterback at Notre Dame when he led Trinity High School to Kentucky state titles. So was his brother, Brian. Both Brohms, as well as older brother, Greg, and their father, Oscar, played at Louisville. But Brohm understands what a massive opportunity this is Saturday in the first game he has coached against the Fighting Irish.
"You know, I respect the tradition of Notre Dame just like everyone across the country," Brohm said. "They've played a lot of big football games, a lot of great players, a lot of great coaches. It's a unique place to go and visit.
"They're playing at a high level right now and they've had a good run over the last couple years and they've been able to recruit well and they've got a lot of talent on their team. It's a special place to play for a lot of people."
Both teams are 2-0.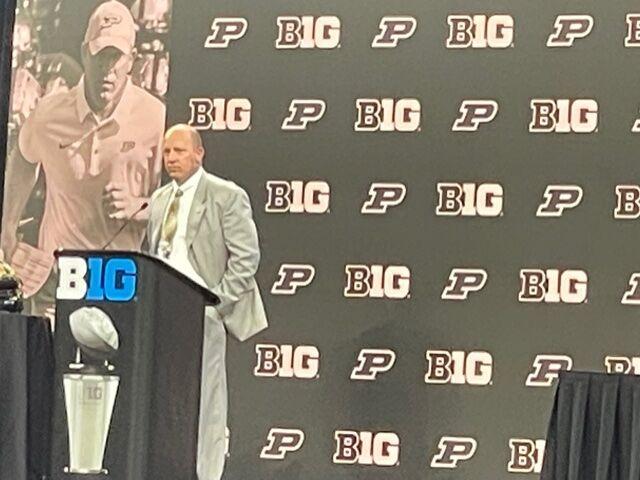 At Purdue, it's a 2-0 that has jump-started the fan base even though it's dangerous to overreact about the Boilermakers. Purdue has outscored Oregon State and UConn, 79-21.
Full disclaimer: Oregon State is projected to be one of the three worst teams in the Pac-12, and UConn lost to Holy Cross in its season opener and dumped coach Randy Edsall.
At Notre Dame, it's a 2-0 that has inspired skeptics to question if the Irish deserve their No. 12 ranking in the Associated Press Top 25, which is down three spots from where ND started the season. Notre Dame survived an ordinary Florida State team in overtime and rallied from a five-point deficit to beat Toledo, 32-29, in the final 69 seconds.
"Coach Brohm is a really good play caller," Notre Dame head coach Brian Kelly said. "He's going to utilize every different misdirection, play action, trick play. He's got creativity on the offensive side of the ball."
In two games, Brohm's team has shown the same crisp passing game that he learned from Howard Schnellenberger: high-percentage throws that move the down markers. It's the same passing game Brohm ran at Western Kentucky when he won back-to-back Conference USA titles.
Purdue ranks fourth nationally in completion percentage at 75.6%, but the Boilermakers are second among teams with at least 50 attempts. Their quarterbacks have thrown eight touchdown passes with a single pick, while averaging 344 yards per game.
But is Purdue good enough to beat Notre Dame for the first time since 2007? The Irish have won seven straight in the series, four in a row in South Bend.
A victory would be the biggest for Brohm since Purdue upset Ohio State and Urban Meyer in 2018. Rattled by injuries and an ineffective defense, Purdue finished 4-8 in 2019 and 2-4 last season.
A win over Notre Dame would change the narrative around a Purdue team picked to finish fifth or sixth in the Big Ten West.
"I know our fans," Brohm said. "I've heard it for the last six months, that they're looking forward to this game and getting a chance to go up there and watch Purdue play at Notre Dame.
"You know, I'm happy that we get that opportunity, and hopefully we can take advantage of it."
There's another interesting story line: the crowd. Notre Dame announced a crowd of 62,009 for its home opener against Toledo. That was about 15,000 less than capacity. Considering Notre Dame played in the national playoff last season and started the season ranked in the top 10, Kelly was asked if he was concerned about the empty seats.
"I mean, how much time do I really have to worry about getting fans in?" Kelly said. "Would I like 76,000 or whatever capacity is? Yeah, but we're living in a time where there's electronic tickets. There's COVID. Did people see it as a marquee match? I don't know.
"I have so many problems that I have to deal with on a day-to-day basis that I got to hope that our marketing people and everybody else takes care of that.
"I don't want to be in here when we play other teams and there's more fans in the stands than our fans. That's when I'll really be concerned."
Jeff Brohm and Purdue have their shot to raise Kelly's concerns Saturday.
Copyright 2021 WDRB Media. All Rights Reserved.