LOUISVILLE, Ky. (WDRB) -- This is the narrative that hung in the air longer than a half-court buzzer beater as Darrin Horn and his Northern Kentucky University basketball team chased the Horizon League Tournament title and a place in the NCAA men's basketball tournament in Indianapolis this week:
The Norse coughed up a 16-point lead in the final 12 minutes of the 2022 Horizon title game and handed the NCAA trip to Wright State on a shot with 10 seconds to play. And the Norse also lost their trip to the 2020 NCAA Tournament, because, after Horn's team won the Horizon during his first season on the job, their journey was canceled by COVID-19.
This is how many times Horn talked to his team about those unsettling narratives:
"Never," Horn said.
Never?
"Never," Horn said, with more authority.
I'll stick with the narrative, because the ESPN television crew that worked Northern's semifinal victory over Youngstown State and championship game win over Cleveland State gave those storylines plenty of oxygen, working them into the conversation whenever things got tight at Indiana Farmers Coliseum.
Up 15 at halftime against Youngstown State, the Horizon regular-season champs, Horn watched his team's lead shrink to six in the final five minutes.
Uh-oh.
NKU won by a dozen.
Up by seven with less than 10 to play against Cleveland State, the Norse found themselves ahead, 52-50, after a five-minute scoreless streak.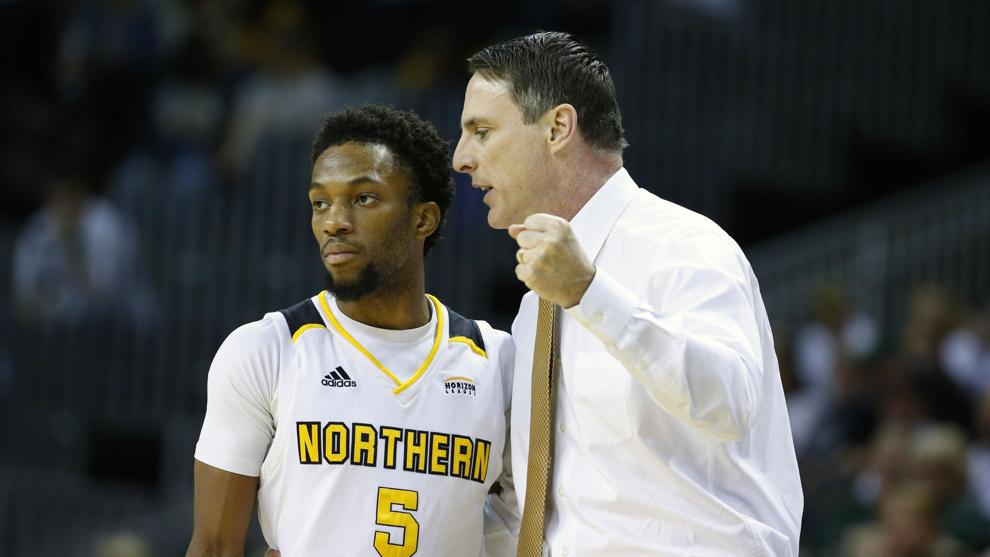 No talk about what happened last season?
"None," Horn said.
Why?
"Because this is a different group, a different team playing different opponents," Horn said. "I've got a really mature, grounded team that plays with a tremendous amount of poise and passion.
"I was confident they could handle the moment, because that's what we have trained for since last summer."
They handled the moment. All the moments. At 22-12, NKU has won five straight and seven of its last eight.
Now, the Norse are the first Kentucky team to earn a spot in the 68-team NCAA field. On Thursday morning, NKU was slotted as a 16-seed but not one of the four 16-teams booked for a First Four game in Dayton next Tuesday and Wednesday. Joe Lunardi of ESPN.com has NKU matched against Southeastern Conference champion Alabama, a 1-seed, in Birmingham, Alabama, next Thursday.
NKU is a Kentucky team with a Kentucky flavor. Horn's top three scorers are all Kentucky high school products.
It begins with guard Marques Warrick of Henry Clay High School in Lexington. Warrick was one of Horn's first commitments after the coach watched him at a summer high school event in Shelbyville not long after he took the job.
Warrick has developed from a guy who thought about scoring first, second and always to a player who averaged 19.1 points and led NKU is assists. he teams with Sam Vinson, a 6-foot-5-inch guard from Highlands High School in Fort Thomas, who is second on the team in scoring, rebounding and assists.
Then, there is wing Trevon Faulkner, who won Kentucky Mr. Basketball at Mercer County High School in 2018. In an era when dozens of mid- and low-major players rush into the transfer portal, Faulkner returned for a fifth season for NKU even though Horn transformed his role from four-year starter to high-energy substitute.
"He's just a great kid who came back because he wanted to win," Horn said.
NKU figures to be a king-sized underdog next week, but Horn's resume in the NCAA Tournament deserves several paragraphs. He excelled for the 1993 Western Kentucky team that defeated Memphis and 2-seed Seton Hall while advancing to the Sweet Sixteen. Coached by Ralph Willard, the Hilltoppers took Florida State into overtime before losing by three.
Then, in 2008, in his fifth season as the head coach at Western Kentucky, Horn and WKU made another Sweet Sixteen run, toppling Drake and San Diego as a 12-seed. WKU ran into Kevin Love, Russell Westbrook, Darren Collison and UCLA's other future NBA players before losing by 10 points in Phoenix in the semifinals of the West Regional.
Hard to believe that was 15 seasons ago. Horn's path took him to four seasons as the head coach at South Carolina, three seasons as a television analyst and four seasons assisting Shaka Smart at Texas before NKU hired him in 2019.
At 50, Horn remains close to Willard, talking to his former coach several times a week. Horn credits Willard for developing the "Fist," man-to-man, switching defensive scheme that NKU used to lead the Horizon League in defensive efficiency and turnovers created this winter.
Horn said that he also does not fuss about the challenge of competing in a conference that typically earns only a single bid to the NCAA Tournament.
"You train your guys all year that what matters the most is playing your three best games of the year in early March," Horn said. "That's all that matters. Being at your best then. If you lose a game in December or January, there's no reason to worry about whether it's a good loss or a bad loss. You just move forward."
And this season, Horn and Northern Kentucky will move forward into the NCAA Tournament next week.
Copyright 2023 WDRB Media. All Rights Reserved.