LOUISVILLE, Ky. (WDRB) -- I'm not certain if Yogi Berra played quarterback in addition to his work for the New York Yankees. But I know what Berra would say about this University of Louisville football team:
It's getting late early for the Cardinals.
They've already lost a pair of what figured to be the more winnable games on the 2022 schedule.
The next three games — South Florida here Saturday, followed by trips to Boston College and Virginia — are the most winnable games remaining for Scott Satterfield's 1-2 club.
That's no misprint: The computer power rankings at Pro Football Focus, ESPN and Jeff Sagarin all report that James Madison, the FCS power transitioning into the Sun Belt Conference this season, is a higher-ranked squad than U of L's next three opponents.
Gulp.
Nearly every preseason path to an eight- or even seven-victory season for the Cardinals included a victory over Syracuse or Florida State.
Didn't happen.
The Cards were not competitive against the Orange, who remained one of the surprise teams of 2022 by moving to 3-0 with a victory Saturday against Purdue.
As I wrote Friday night, the Florida State loss was an unsettling flashback to last season, when the Cards put themselves into position to win but lost.
What ails Satterfield's team?
I would start with the offense, particularly the passing game. It's not generating enough yards or points. It's far from what it needs to be for the way the game is played today.
For the fifth consecutive season, Louisville ranks in the bottom half of the Atlantic Coast Conference in passing yards per game.
Yes, it's early, only a quarter of the season has been played. But Louisville ranks 13th in the ACC and 98th in the nation in that statistic at 211.7 yards per game.
That is a drop of 24 yards per game from last season. It is also the program's fewest passing yards per game since 2018, Bobby Petrino's final season when the Cards finished at 211.1 yards per game.
More alarming is this statistic: In 180 minutes of football, Louisville has one passing touchdown, which is tied for last, with hapless Georgia Tech, in the ACC.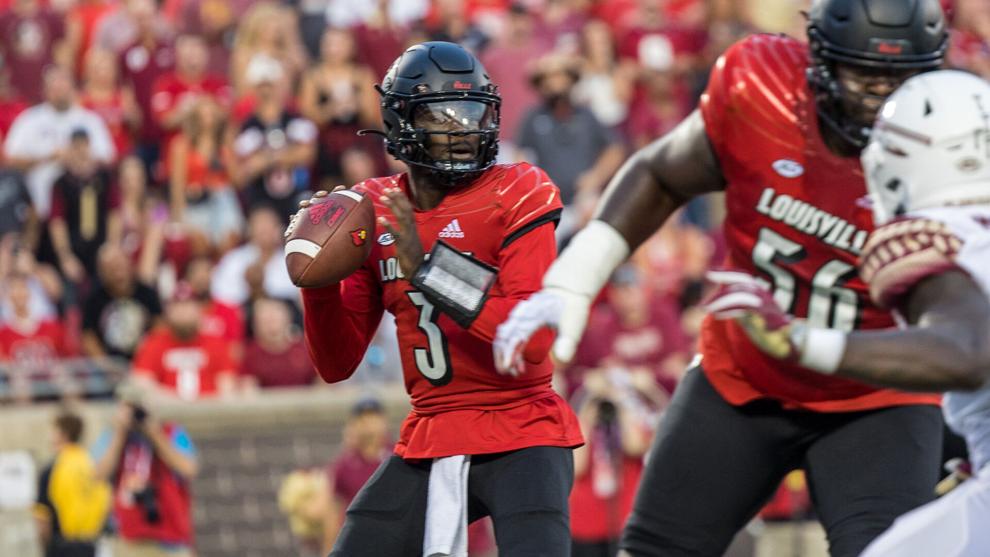 The player rankings at ProFootballFocus, reflect that. Cards quarterback Malik Cunningham is ranked No. 130 at his position. His grade as a passer is more alarming. PFF scores him at 59.4, No. 172 among the 240 quarterbacks that it ranks.
The PFF rankings at receiver are less encouraging. The Cards' highest ranked player at that position is Tyler Hudson — at No. 312. Tight end Marshon Ford is ranked 262nd at his position. Ford has been under-utilized with eight catches for 65 yards.
The Louisville defense has also contributed to the Cards' malaise. U of L ranks last in the ACC, and 117th in the nation in rushing defense, allowing 201.7 yards per game.
That's an increase of 45 yards per game from 2021. Syracuse, UCF and FSU all averaged better than 5 yards per carry.
It's no surprise, then, that PFF as well as ESPN's Football Power Index, have downgraded their projected season victory totals for Louisville.
ESPN now forecasts 5.6 victories. At PFF, the number is only 4.1. The PFF projection gives Louisville a 21% chance of making a bowl game.
A bowl bid requires six wins, not 4.1.
Any reasonable path to six victories figures to require wins in the next three games.
South Florida looked dangerous during its 31-28 loss at Florida on Saturday night, but the PFF, FPI and Sagarin numbers all place the Bulls outside of the nation's top 100 teams. Favored by 13, Louisville can't lose that game.
Then come the trips to Boston College (1-2) and Virginia (2-1). The Eagles, with losses to Rutgers and Virginia Tech, do not have a computer ranking higher than 87th, while the Cavaliers are No. 74 (PFF), No. 82 (FPI) and No. 86 (Sagarin).
After that?
Don't ask.
Pitt, Wake Forest, Clemson, North Carolina State and Kentucky are all ranked in the top 25 at ProFootball Focus and the top 33 at Sagarin.
James Madison, a buy-game, has outscored Middle Tennessee and Norfolk State, 107-14, while winning its first two.
The Dukes' Todd Centeio is graded the No. 1 quarterback in the nation by ProFootballFocus. He's thrown nine touchdown passes without an interception. We'll find out how formidable James Madison is Saturday when the Dukes visit Appalachian State.
We'll also find out where this Louisville football season is headed over the next three games. For the Cards to deliver this season, it's now or never.
Copyright 2022 WDRB Media. All Rights Reserved.