LOUISVILLE, Ky. (WDRB) -- Noah Locke had a one-on-one telephone conversation with former North Carolina head coach Roy Williams before Locke decided to transfer from Florida to the University of Louisville.
Jarrod West talked seriously with Chris Holtmann of Ohio State and Jeff Capel of Pittsburgh before leaving Marshall for Louisville.
El Ellis grew up in Durham, North Carolina, cheering for (don't get upset) Duke. The Blue Devils never offered. But Ellis did pick Louisville over seven Power 5 programs as one of the nation's top junior college players at Tallahassee Community College.
Don't forget Matt Cross, the forward from Massachusetts who wears No. 33 to honor Larry Bird. His phone vibrated relentlessly after Cross put his name in the NCAA transfer portal last winter.
Cross had a string of Power 5 offers and plenty of coaches who told him Louisville would be a risky choice. Too much NCAA noise that might lead to probation and no NCAA Tournament. Too much silly stuff going on with the coaching staff. Too much this. Too much that.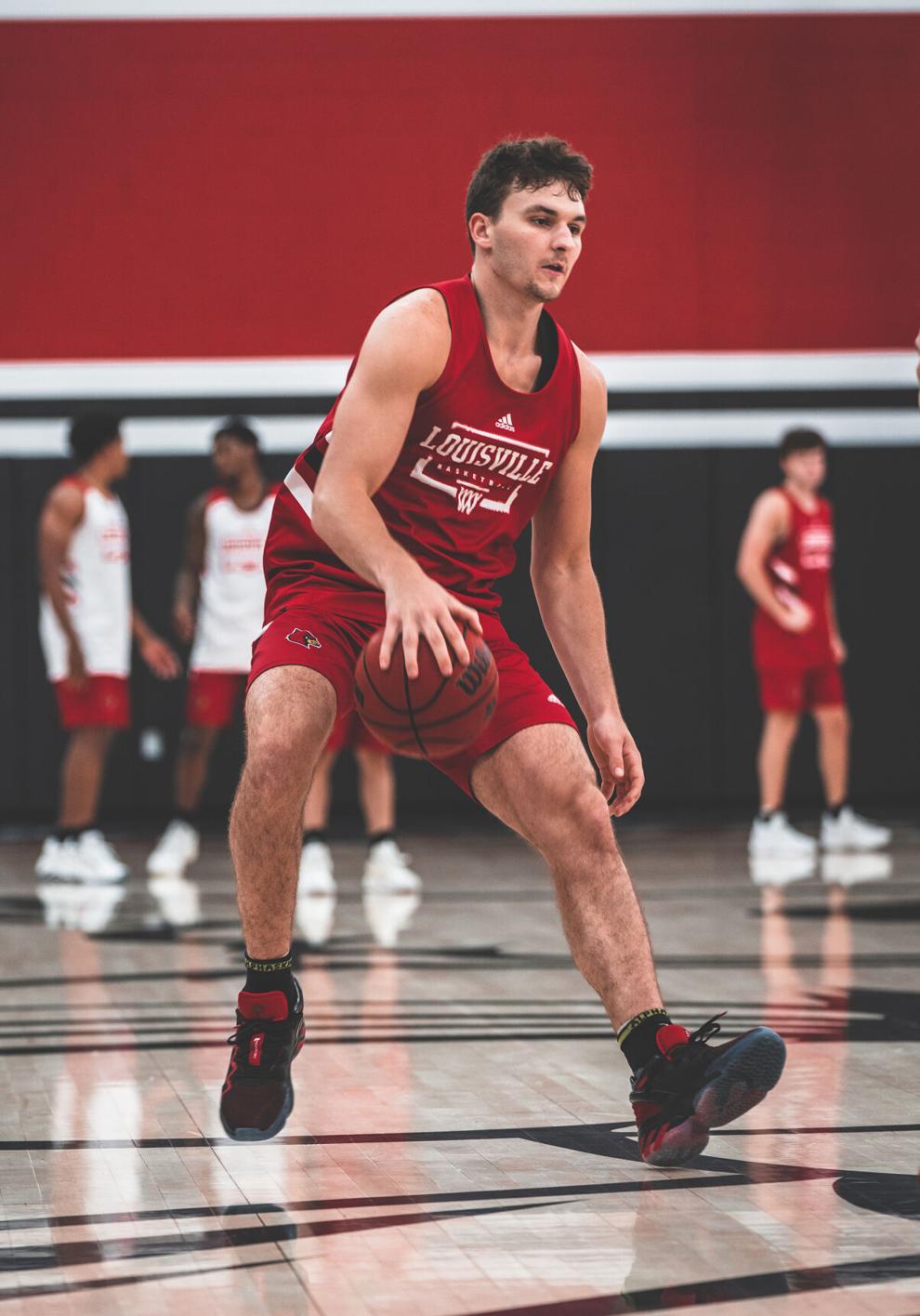 "Definitely," Cross said. "That was definitely one of the things that some of the schools were using (in recruiting)."
Things like?
"Don't go there," Cross said.
Why?
"They talked about (missing) the tournament," Cross said. "They said the only reason (Louisville) had a chance at the tournament last season was because everybody had a chance (at the tournament) because of COVID. But they wouldn't be able to go this season.
"Coach Mack cleared all that up and clarified all that with me way before I made my decision. I didn't think it was a problem."
For Cross, it was not a problem. He picked Louisville over Ole Miss and two more programs that he strongly considered. Locke, West and Ellis had similar opportunities and made similar choices.
As a group, they give Mack one of the top collections of transfers in the nation.
Cross is an excellent three-point shooter committed to expanding his game. Locke can also shoot from distance but believes he can handle either guard position. During the Red/White scrimmage Saturday, Ellis showed the skills to make plays for others. West is a natural leader who plays with the poise and determination that comes from being the son of a coach.
Locke, West and Ellis said opposing coaches did not negatively recruit against Louisville while talking to them. Cross said that negative recruiting did not work with him.
"Not really," Cross said. "It was the same way when I was in high school. It's only a few that aren't talking bad about the others ... I'm not going to say names, but there are a lot that talk about all other schools and give you reasons not to go there.
"It definitely turned me away. If they are more focused on other schools instead of talking about entertaining their own school, that's not something that I'm looking for."
All four said they made the call to play for Louisville because they wanted to play in the Atlantic Coast Conference, because they respected the tradition of Louisville basketball and because Mack convinced them he could make them better players.
West said that Mack telephoned him "five minutes" after he put his name in the transfer portal. It was his first telephone call.
West said that he recognized the number was from Louisville but had no idea who was calling. When he answered, West was surprised that it was Mack.
That, he said, made an impression.
Ditto for Cross. He said Mack was the first coach to connect with him after he went into the portal in February, only weeks after Cross made four three-point field goals when Miami upset Louisville. Cross said his performance in that game impressed Mack. With recruiting visits limited because of COVID-19, Cross did not come to Louisville until June.
"The second time around, I didn't really take a visit," Cross said. "I wasn't really looking at the facilities. I feel like they're all pretty similar.
"Really, I was looking for a team where the biggest thing was a fit. And I felt like Coach Mack was kind of a no-nonsense guy. He kind of told me what he was expecting.
"I felt like he was the most honest and truthful guy that I talked to in my process."
A process that included people that tried to talk him out of joining the Cardinals.
Copyright 2021 WDRB Media. All Rights Reserved.