BOZICH | The reason Louisville is ready for its ACC schedule upgrade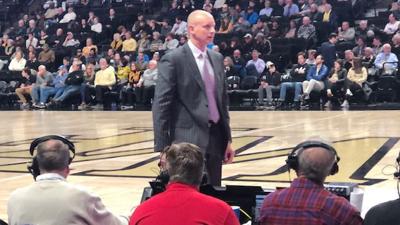 WINSTON-SALEM, N.C. (WDRB) — Do you trust the Atlantic Coast Conference standings?
The skeptics do not. I do.
Do you?
The skeptics see the University of Louisville basketball team is parked on the top line with Duke and Virginia, and they whisper that the Cards' 7-1 record is a creation of a favorable schedule from the league office.
Five wins against teams in the bottom half of the league, including the Cardinals' thunderous 82-54 dismantling of Wake Forest in half-empty Lawrence Joel Memorial Coliseum Wednesday night.
Five wins against teams with losing ACC records.
A homecourt victory against North Carolina State, which has split eight ACC games.
And that signature 21-point rout of North Carolina at the Smith Center 19 days ago. That game serves as the exclamation point for the 16-5 record that Chris Mack's first Louisville team has built as well as the backdrop for the rematch the teams will play Saturday at 2 p.m. in the KFC Yum! Center.
"It's conference play," said Louisville guard Ryan McMahon. "It's a competitive league. Of course, we look at the ACC standings.
"But we also look at the game ahead of us and we know we have a good team to play against on Saturday so it's going to be a fight."
This is Louisville's fifth run through the ACC and the first time the Cardinals have started 7-1. Rick Pitino never started better than 6-2. David Padgett's team went from 6-2 to 6-5 to 9-9 last season.
The skeptics point at the schedule. I understand what they're saying but I believe this team is built to go the distance as a legitimate ACC contender.
I did not say champion. I said contender.
If I'm tossing my February lunch money into a pool, I'm picking Virginia or Duke as the ACC regular-season champ.
The Cavaliers and Blue Devils have more talent. They've got more veterans. They've got their culture in place with every guy on the roster and coaches who know what it takes to win in The Carrier Dome, Cameron Indoor, John Paul Jones Arena and beyond.
But through eight ACC games, Mack's team has played as if it is organized, motivated and determined to go the distance in this league.
"I had the utmost confidence coming into the season that we could be at the top of the league," said U of L forward Dwayne Sutton, who contributed 17 points and 10 rebounds.
"I think we were predicted 11th and right now we're going to keep winning and not listen to the outside media."
The Cards should not be considered the favorites, but I'd be surprised if the Cardinals fail to finish third, fourth or maybe fifth. There is no longer any chatter about whether this group will make the NCAA Tournament. There is only discussion about its seed -- and they have the credentials of a three or four seed, something nobody around the ACC was forecasting in October.
I say that knowing Louisville will play six of its final 10 against teams currently in the upper half of the standings, including Virginia, Virginia Tech and Syracuse on the road.
What Louisville did against Wake Forest was win in a way that will translate against better teams on the road. Their defense was persistent and unrelenting. Their approach against a team that had won only one ACC game was mature and productive.
"I feel very fortunate when you go on the road in the ACC (and win), I don't care who you play," Mack said. "This is the same team that beat NC State. Our guys were aware of that."
Wake made less than 27 percent of its shots. That was easily Wake's worst shooting performance of the season, worse than the 30.9 percent the Demon Deacons shot at Virginia, worse than the 33.8 percent they shot in this building against Duke.
If you force an ACC team to miss more than 70 percent of its attempts in both halves on its homecourt, you're playing defense that will carry you into March.
Get this: Wake was the fourth ACC team in the last six games that failed to make better than 38 percent of its shots against Louisville.
That's a prime-time number.
That's only one part of the formula that Mack has used at Louisville. His team also values the ball and avoids silly shots.
"I think it really puts pressure on the other team after we're hitting tough shots because they know they have to go down there against our pack line, go against our tough defense and try to match us," McMahon said.
But the defensive element is the element that convinces me that the Cardinals are ready for the upcoming four-game stretch that features North Carolina (Saturday) and Duke (Feb. 12) at home and Virginia Tech (Monday) and Florida State (Feb. 9) on the road.
More challenging than winning the last four against Georgia Tech, N.C. State, Pittsburgh and Wake?
Absolutely, positively.
But Mack and his players appear primed for the upgrade into the first-class part of the schedule.
"You can say stretch of games," Mack said. "People are going to analyze our schedule. The only thing I'm going to do is try to figure out how to beat North Carolina, which isn't an easy task."
Copyright 2019 WDRB Media. All Rights Reserved.