LOUISVILLE, Ky. (WDRB) -- For the first time since 1969, two seasons after they played in the Rose Bowl, the Indiana Hoosiers will start the college football season ranked in the AP Top 25.
Confirmation came Monday afternoon when Indiana was ranked No. 17 in the AP preseason poll. IU finished 2020 ranked No. 12 in the final AP poll after completing a 6-2 season.
"It's a preseason poll," IU coach Tom Allen said. "It doesn't mean anything in regards to the season. It's how you perform and the outcome of the games.
"But it's a testament to where we are as a program, I guess by perception, by those that made those decisions. Using that, to me, as ammunition to our team to just be able to continue to block out the noise, obviously positive noise, but block it out nonetheless.
"People can have their opinions about whether that's right or not. It doesn't really matter. I just know that our program is perceived a certain way right now and we just have to continue to find ways to keep getting better. September 4 is coming and we've got a lot of work to do."
Indiana was the only local program ranked in the top 25. The Hoosiers were ranked as high as No. 10 on three ballots but they were also unranked by two voters.
Jack Ebling of WSYM in Lansing, Michigan; Jon Wilner of the San Jose (Calif.) Mercury News and Pete Martini of the Salem (Oregon) Statesman Journal voted IU 10th. They were not ranked by Kellis Robinett of the Wichita (Kan) Eagle and Ryan Thorburn of the Eugene (Oregon) Register-Guard.
No. 1 Alabama tops the preseason AP Top 25 while Oklahoma, Clemson, Ohio State, Georgia round out the top five. Cincinnati, Iowa State and North Carolina all make the top 10.Full poll presented by @askRegions: https://t.co/7dTTUiSC1j pic.twitter.com/lQS5VIjDcU

— AP Top 25 (@AP_Top25) August 16, 2021
The top of the poll was led by defending national champion Alabama. The Crimson Tide received 47 of 63 first-place votes.
Bama was followed by Oklahoma and Clemson. Both schools received six first-place votes. Ohio State and Georgia completed the top five teams. Ohio State earned one first-place vote while the Bulldogs received three.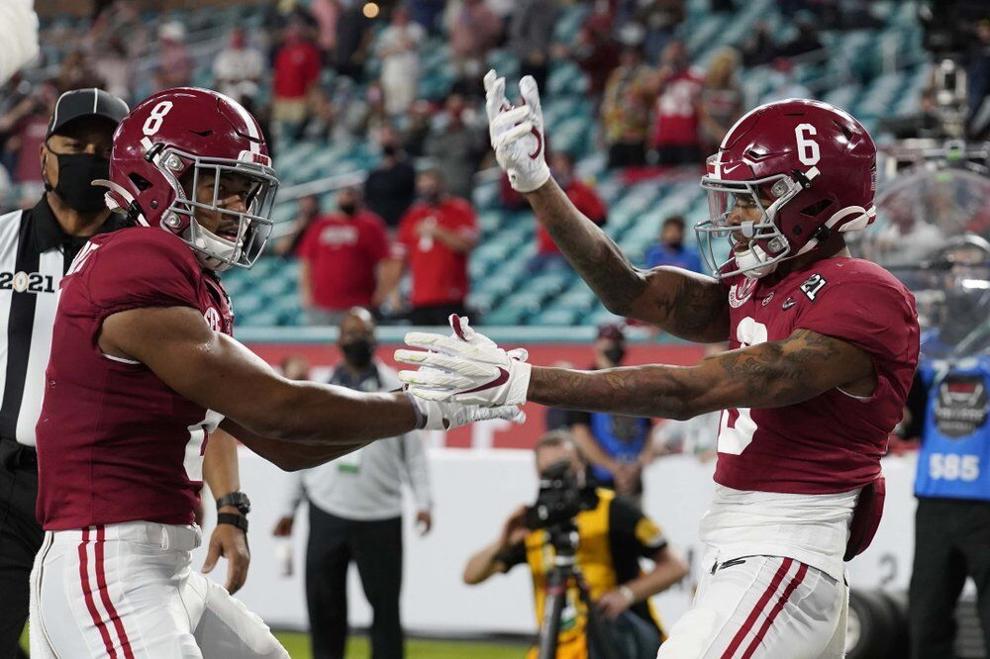 Louisville will open its 2021 season on Sept. 6, facing Ole Miss in Atlanta. The Rebels were ranked 27.
Indiana is scheduled to visit No. 18 Iowa on Sept. 4, the same day Kentucky will play host to Louisiana-Monroe. Although the Wildcats received 20 votes in the USA Today coaches poll, Kentucky did not earn any votes in the AP media poll.
According to the poll, Louisville will play one Top 25 opponent this season -- Clemson. Kentucky is scheduled to play three ranked opponents -- Georgia, Florida (13) and LSU (16). IU will face four ranked teams -- Ohio State, Cincinnati (8), Iowa and Penn State (19).
Preseason 📈 @AP_Top25. pic.twitter.com/3CXXEtOFgf

— Indiana Football (@IndianaFootball) August 16, 2021
Allen also said that the offense outplayed the defense in IU's scrimmage last Saturday. He said that halfback Stephen Carr, a transfer from USC, separated himself at running back during the scrimmage. Carr averaged 5.5 yards per carry for the Trojans in 2019 before losing the starting position last season
Allen also said the Hoosiers must continue to build depth on the offensive and defensive lines. 
Here is the complete AP Top 25:
Alabama
Oklahoma
Clemson
Ohio State
Georgia
Texas A&M
Iowa State
Cincinnati
Notre Dame
North Carolina
Oregon
Wisconsin
Florida
Miami (Fla.)
USC
LSU
Indiana
Iowa
Penn State
Washington
Texas
Coastal Carolina
Louisiana-Lafayette
Utah
Arizona State
Others receiving votes:
Oklahoma State 107, Ole Miss 106, TCU 40, Liberty 36, Auburn 32, North Carolina State 14, Michigan 12, Northwestern 8, Boise State 7, Nevada 7, Brigham Young 6, Ball State 6, Houston 5, Boston College 5, UCF 5, West Virginia 3, UAB 2, Army 2, UCLA 2.
Copyright 2021 WDRB Media. All Rights Reserved.