With all the warm air we've had recently, the question is coming up more often "is it safe to plant my spring garden yet?" NO! There are two days in the forecast this week with temperatures dipping below freezing and tonight patchy frost is possible. 
Image Credit: NWS Louisville
The latest Louisville has ever experienced a spring freeze is May 10. On that date in 1966 the temperature dropped to 32º. The latest we've ever had a frost (which is 36º and can kill sensitive plants) is May 27. Statistically speaking, though, our average last frost and freeze come a little earlier. If you're a person who likes to gamble, keep reading. If you plant AFTER April 3, you have a better than 50% chance of no more frosts or freezes happening. April 3 is the "normal" latest date of the last spring freeze in Louisville. That means just as many "final freezes" have happened after April 3 as have happened before April 3, so beware.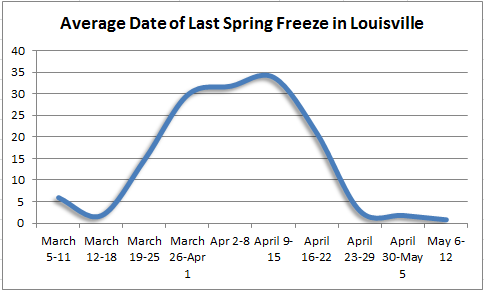 Image Credit: NWS Louisville
If you want to play it safe, wait to get your garden in the ground until after Mother's Day. Yes, that feels a long way away right now, and you might be fine planting as early as mid-April. But if you want to play it safe, mid-May is for you.