Looking into the night sky and seeing the International Space Station fly overhead is mind-blowing! Just think, you are watching something that is 230 miles above you, flying at nearly 5 miles per second. If you've never taken the opportunity to check it out, it's worth a few minutes of your time...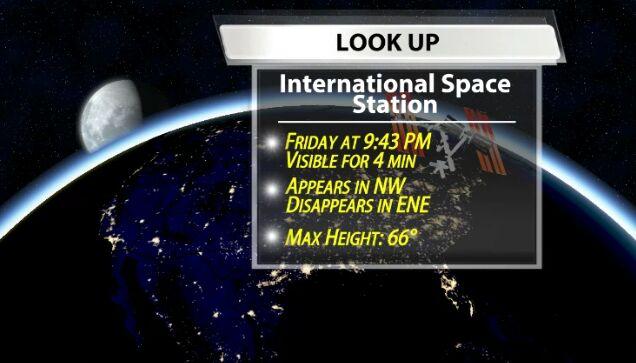 How To View The International Space Station
Friday:
When To Look...
The ISS will be visible in our area this evening at 9:43 pm for 4 minutes! 4 minutes should be more than enough to view it, but remember it will be moving FAST.
Where To Look...
At 9:43 pm, the ISS will appear about 10 degrees above the horizon in the northwest part of the sky and move toward the east-northeast. The ISS will reach a peak elevation of 66 degrees above the horizon, so look about 2/3's of the way up in the sky...
Weather
Cloud cover won't be an issue at all and low dewpoints will make it appear to shine even brighter. Grab a jacket and enjoy the show as temperatures fall into the low 40's...