April 3, 1974: The Super Outbreak. A day that many of you today still remember vividly. The air felt hot and sticky and it was windy, all of which got worse through the afternoon. Some of you say it felt ominous, like something bad was coming.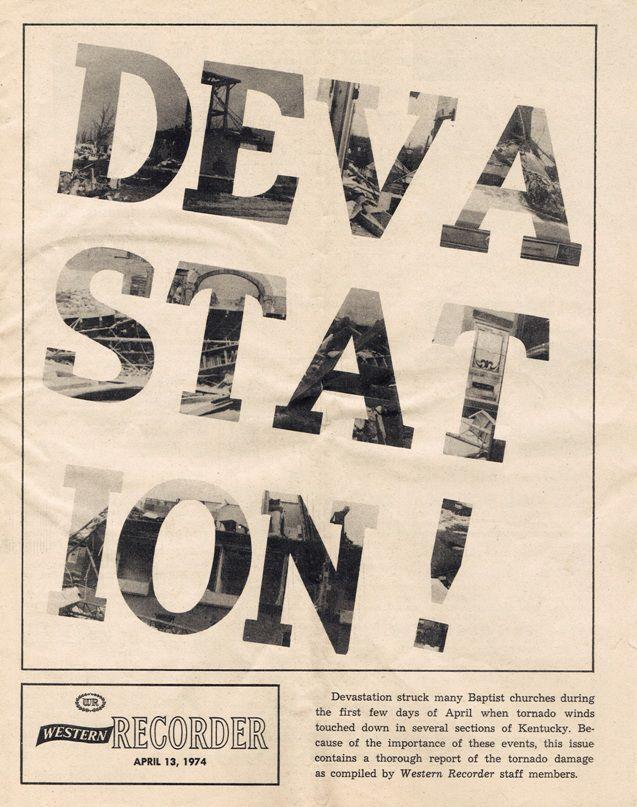 Image from Western Recorder via National Weather Service
THE SETUP
The initial forecast for Wednesday, April 3rd, 1974 was windy and warm with a chance of showers, but as the morning unfolded, forecasters grew more concerned about the potential for strong thunderstorms. Just two days earlier, on April 1st, Campbellsburg was devastated by an F-3 tornado and Sandy Hook, Kentucky by an F-1.
On April 3rd, an almost tropical air mass here at the surface of the earth was a result of an unusually warm Gulf of Mexico and wind blowing just the right way from there into our region.
The upper level jet stream winds were moving at a very fast pace as were the lower level winds a few thousand feet above our heads. In between those two levels was a layer of dry air that had been pulled into our region from the desert southwest.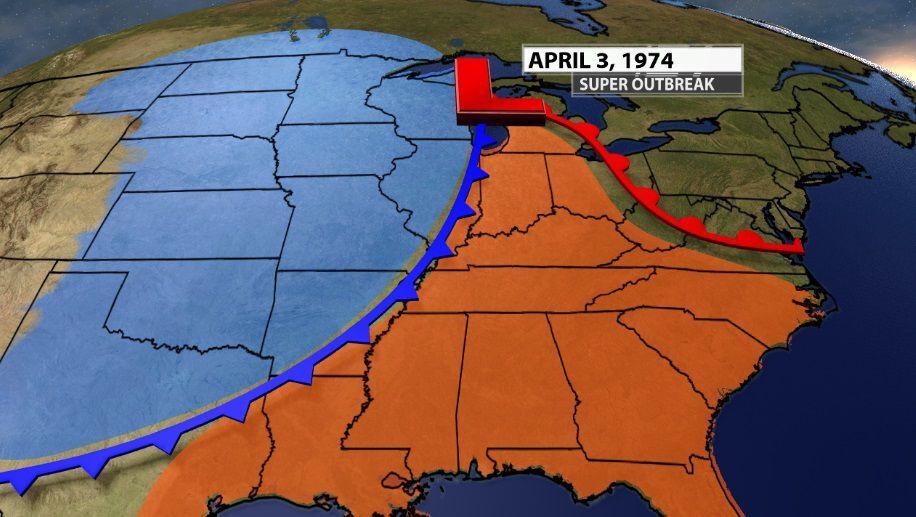 That dry layer of air acted as a "lid" and initially suppressed the development of storms. But it also allowed energy to build from daytime heating and that increasing moisture from the southeast.  Eventually that energy became too much for the lid to suppress and it broke. That sudden release of energy created the explosive thunderstorms on Wednesday afternoon.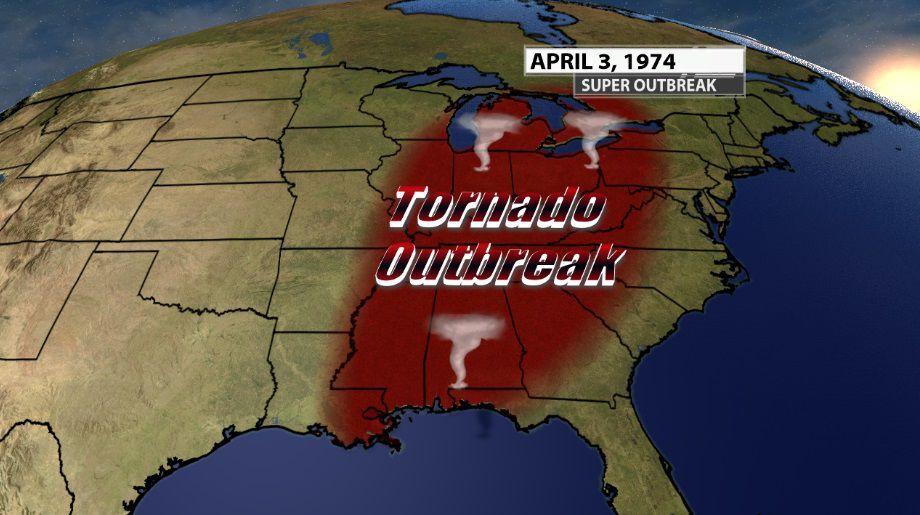 WHAT HAPPENED
The slides below are in order during the course of the day. Notice the slight wind shift in Louisville. We call this "backing": the wind switched from south to southeast then back to southwest. This subtle change in wind direction in the course of six hours proves the environment is spinning and that made the difference in this event. This is a key factor we look for when diagnosing tornado potential in the atmosphere. 
Wind Shift
In total, 37 tornadoes struck Indiana and Kentucky that day including the F-4 in Louisville and F-5 in Brandenburg.  Brandenburg was hit harder than anyone as the town of 3,000 was completely leveled by an F-5. The extremely violent storm killed 31 people while sweeping much of the town into the Ohio River.  
"I still to this day wonder how come we were spared and so many people weren't," said Brandenbug Mayor David Pace.
"It's a scary thing and it's something you don't ever forget," said Brandenburg Resident Carol Wood.
In Meade County, 31 people were killed that day, and another 300 were injured.
Jim Greer, Meade county judge in 1974, recounted taking cover in the county courthouse vault, then walking out of the wrecked courthouse to townspeople running to help. "I never had seen anything like that, and I never want to see it again," Greer said. "We have the most bold, helpful people in Meade County. Everything you could think of was bad. People were really hurting."
Brandenburg's recovery became a national news story. "We were Walter Cronkite 'story one.' This is how a town comes together," said state Rep. Jeff Greer.  "We handled it, and the world got to see us handle it...And I know of no better place to live."
"Every time a storm warning is issued, everyone remembers the tragic events of April 3rd," said storm survivor and Brandenburg mayor David Pace
The tornado that hit Louisville started at the fairgrounds, tearing holes though the roof at Freedom Hall, and traveled 20 miles. It tore across Eastern Parkway and Bardstown Road and ripped a path of destruction through Cherokee and Seneca Parks. 
Dave Reeves, a meteorologist for the National Weather Service, was on duty that day.
"Someone yelled into where I was, 'Come look at this!'" Reeves recalled. "And I just took four or five steps and I could see out the front of the terminal building at Standiford Field. And I just saw a shaft over, a black shaft over Freedom Hall."
"It wasn't like the little small tornadoes that you would see. This thing was so huge," said Doug Keisker, lineman for South Central Bell.
The tornado tore across Eastern Parkway and Bardstown Road.
"All those tall poles, 80-foot poles, every one of them were just snapped and were just lying across the road," Keisker said. "It looked like a war zone."
The twister ripped a path of destruction through Seneca and Cherokee parks, taking down every tree in sight.
Meanwhile in Crescent Hill, the Denker family was settling in for the night.
"I just remember how dark it became outside," Brian Denker said.
"It was huge, it was black. I don't remember it twisting or anything, I just remember seeing it and in the house I went and got mom," said Crescent Hill resident Trini Lunsford.
"I just yelled, 'get to the basement.' And so everybody ran," said Jean Denker.
"My grandparents and I just made it to the bottom of the steps and into the store room when it hit," Lunsford said.
"You can hear things moving around, things breaking.  But you're in the store room, trying to stay alive," said Crescent Hill resident Kathy Bridwell. "Heard it, felt it, I mean the house was rumbling."
"Other victims say, they say you can hear that roar, and I definitely heard the roar," Brian Denker said. "It just sounded like a train, sitting on top the ceiling. I mean, just a huge wind tunnel, you could just feel it right on top you, and that's all you could hear, you couldn't hear anything else."
"Big sycamore tree in the yard next door fell on the house; which, when the tree fell, it blew out the walls, it blew out the windows, it made paint chips fall from the ceiling," Bridwell said.
The rampage continued into Indian Hills.
"I looked down the street and it was just total, complete devastation," said Indian Hills resident Gary Bockhorst. "It was probably, maybe about 400, 500-yard swath. But everything in that was just total destruction."
"The trees did an awful lot of damage. At the time I had these huge pen oak trees in the front yard, and about four or five of them hit the house," he said.
"My son at the time was here with his mother and to get out of the house they had to climb over some trees to get out a window."
His son, Gary Bockhorst Jr. said, "When we came back up from the basement, it took us a while to get out because there was so much debris."
"Literally, the basement door is on one end of the house and we actually had to crawl through stuff and we actually exited through this window here on the other end of the house."
"When we came up, I have such a visual memory of everything that was just destroyed," Lunsford said.
"I remember being so scared that you thought another tornado was going to come any minute," said Brian Denker, holding back tears.
"I just said 'don't cry,' I said 'we'll make it,'" Jean Denker said.
The Louisville tornado traveled 20 miles, from near the Fairgrounds to the east end. That's where it lifted into western portions of Oldham County. Three people were killed there and more than 200 others hurt. Three people were killed in Louisville with 200 others injured. And in southern Indiana, 16 people were killed. The storms broke out that day around 1 p.m. and lasted until 7 a.m. the next day.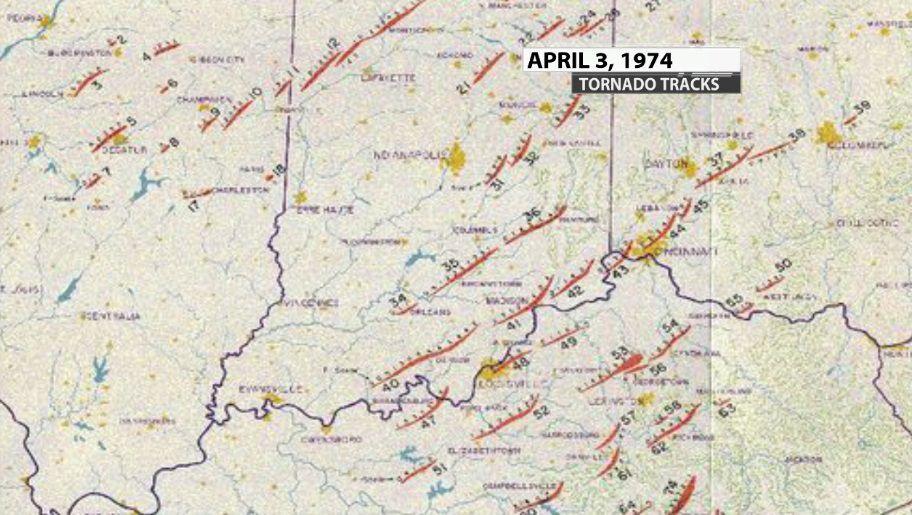 315 people lost their lives that day and another 5,000 were injured across the span of the entire outbreak which covered 13 states and even extended into Canada with a record 148 tornadoes. Interestingly, damage surveys are much better now than they were in 1974, so smaller tornadoes in 1974 could have been missed. The map below is hand-drawn by Ted Fujita, the creator of the F (and later EF-scale). He numbered each tornado from start to finish of the outbreak.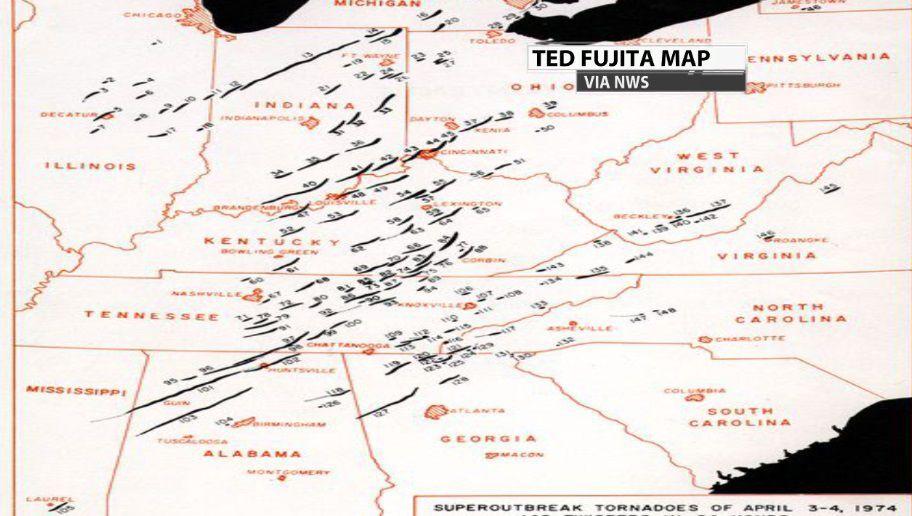 It wasn't just the shear number of tornadoes that made this outbreak stand out as one of a kind.  It was the strength and longevity of these storms.  In total, 64 storms reached at least F-3 in intensity with 23 F-4's and and unbelievably six achieved F-5 status! Two of those F-5's occurred in our WDRB viewing area that afternoon. Our area has only seen two F5s in recorded history, both in this outbreak. To put this into perspective, the United States on average sees less than one EF-5 each year, and on this day there were SIX of them.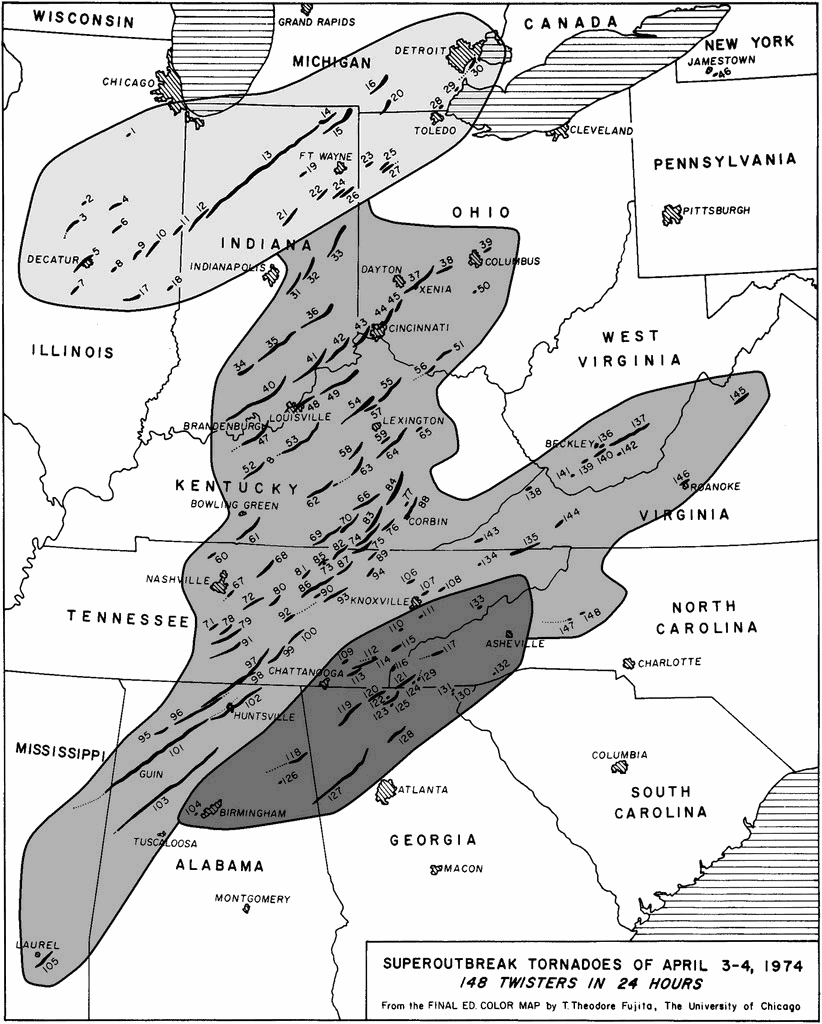 COMPARED TO OTHER BIG EVENTS
As technology and the study of weather have progressed, we are able to understand more about this outbreak now than we could then. Using data collected at the time, we can compare the Significant Tornado and Supercell products between events to get a general idea of how they measure up. These images of the significant tornado parameter in the area where the outbreak took place are in order chronologically evaluating the 1974 Outbreak, the 2011 Outbreak, and the day of the Henryville tornado in 2012. Numerically these are similar, all maxing out at 6, but geographically the 1974 Outbreak is the worst by far. 
Significant Tornado Comparison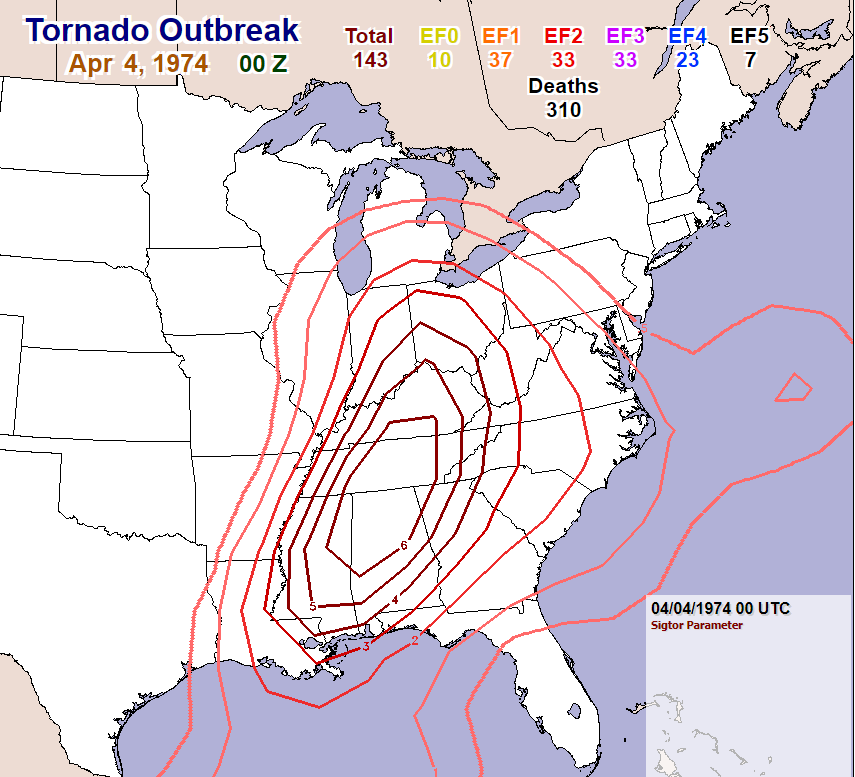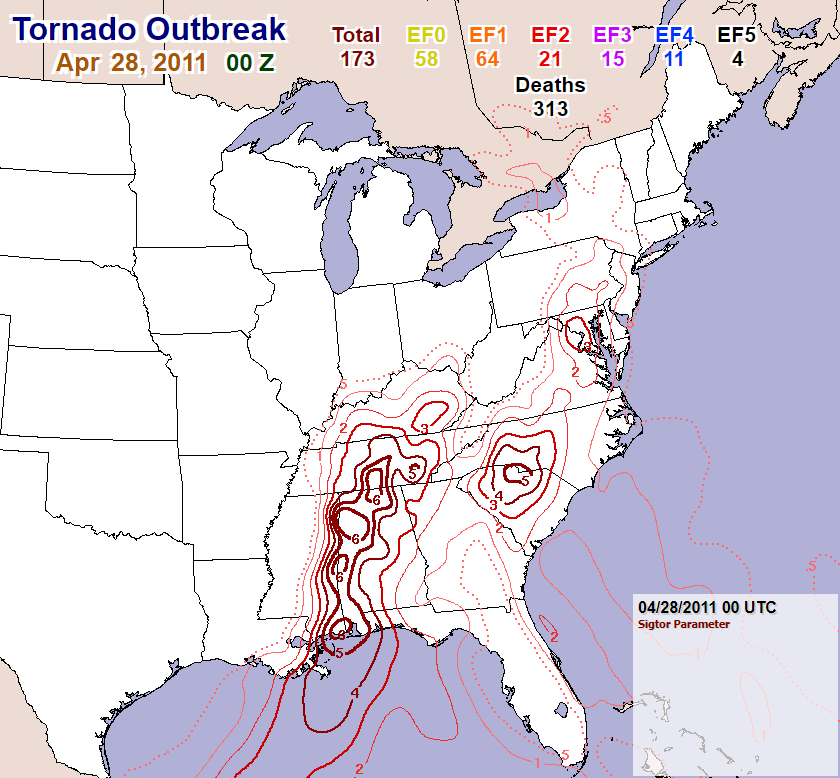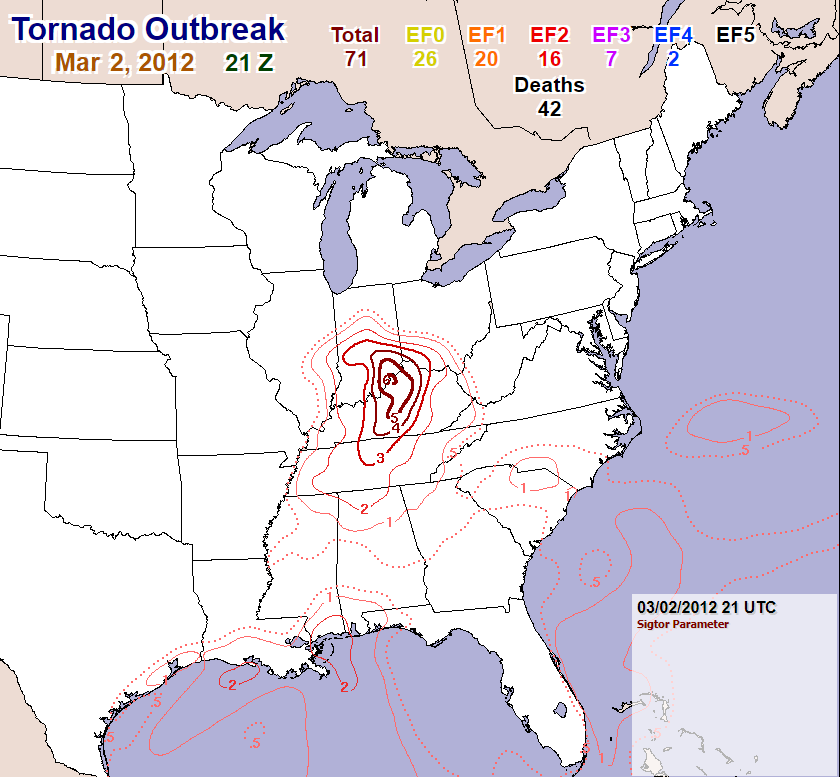 The difference becomes more striking when we look at the Supercell parameter. The ingredients that go into producing these parameters are what we look at to determine severe weather potential, so boiling it down to these two products is just a faster way to do the comparisons. Again geographically there is no comparison, but the numbers here show the stark difference between 1974 and everything else. The day of the Henryville tornado, the highest number is 18. It's around 30 for the April 2011 Outbreak, but it's 50 for April 1974. 
Supercell Parameter Comparison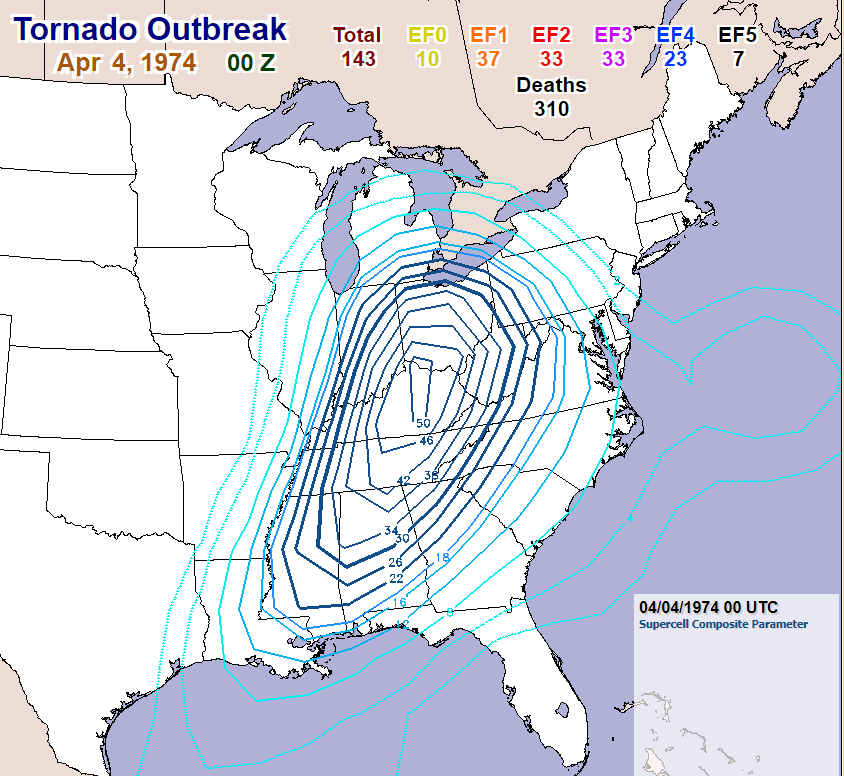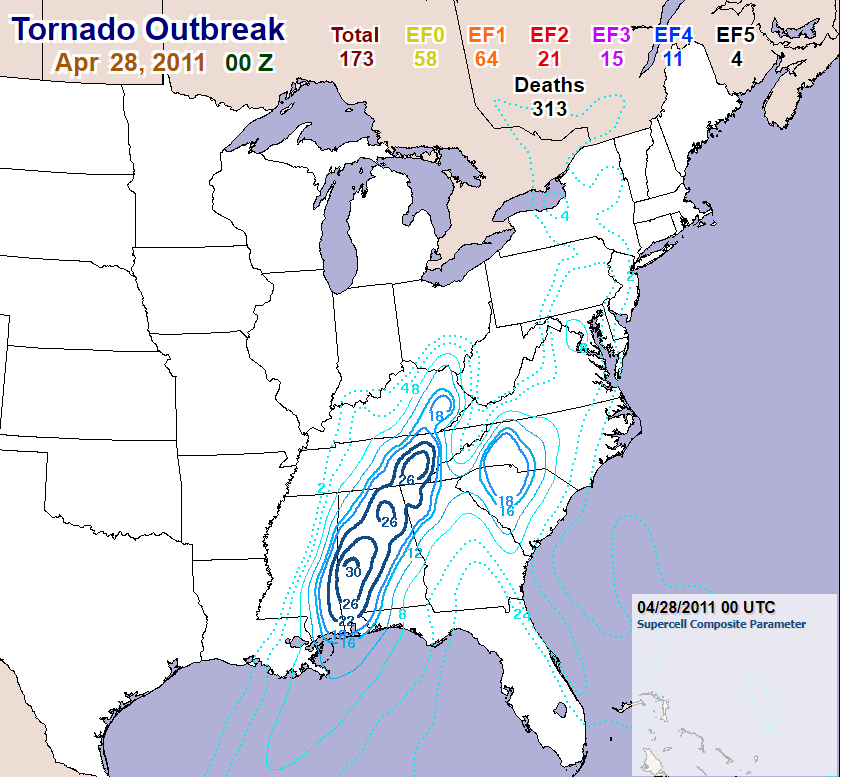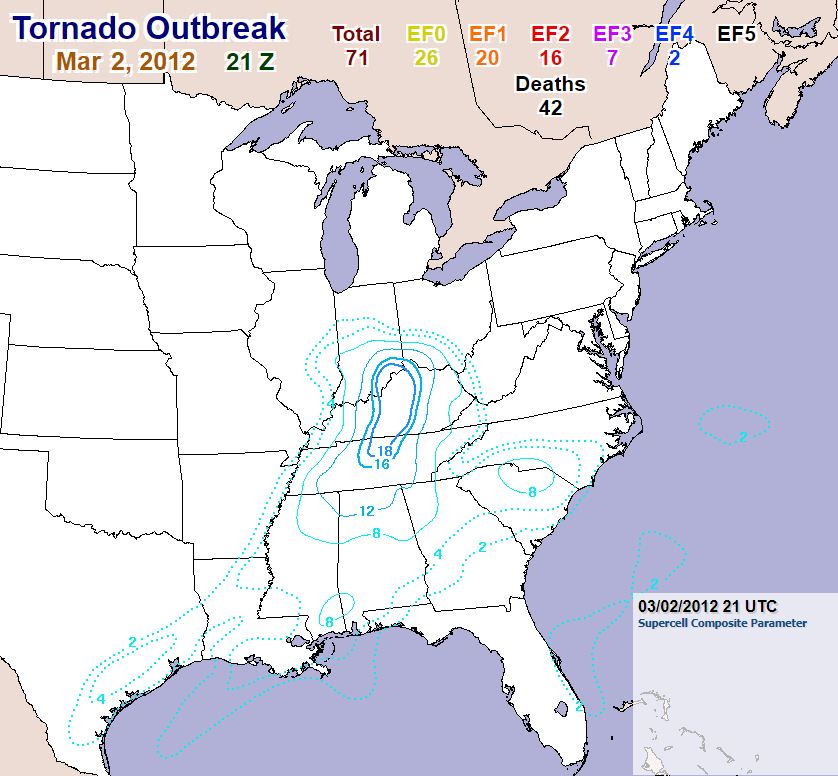 The overall scope of the event has been recently rivaled by the Dixie Alley Outbreak of April 25-28, 2011, only in terms of shear number of tornadoes. The Super Outbreak of April 3rd, 1974, still stands alone as the most widespread and violent tornado outbreak in recorded history. In terms of total number, path length, and total damage, the massive tornado occurrence of April 3-4, 1974, was more extensive than all previously known outbreaks.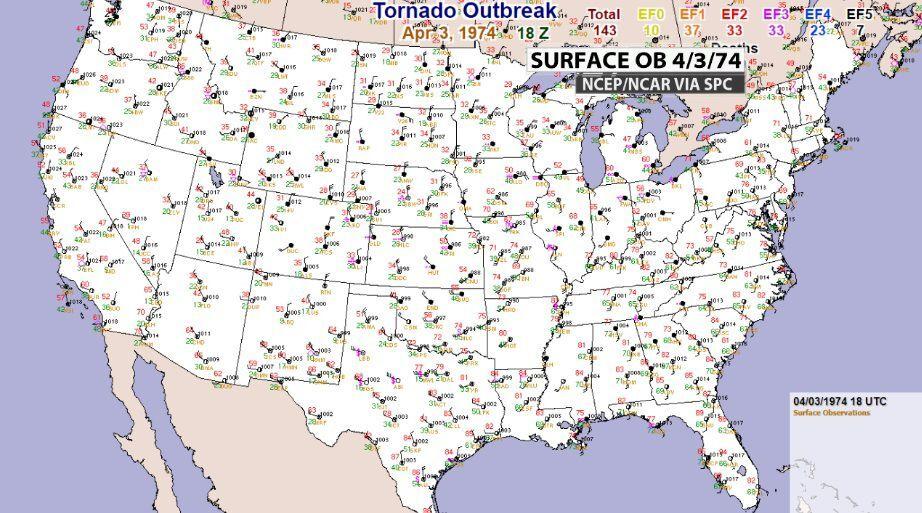 In Kentuckiana, April 3, 1974, was forecasted to be windy and warm, but it ended up being anything but that. Back then, Doppler radar didn't exist. There was no way to track winds or estimate the intensity of a storm. And warning systems have since improved. The lack of one 47 years ago is considered the main cause of deaths and injuries. Technology has progressed a lot since 1974, so if something like this were to happen again, we would be able to give you a heads up much farther in advance.