Another week, another opportunity for some to see snow and others to get left out with cold rain. This system moving into our area tomorrow is a very complex one, so we are going to dive into some of the science we don't have the time to talk about on TV in this blog and explain possible outcomes to you for what is on the way overnight. 
Low pressure to our Southwest has been moving across the country after having access to Pacific moisture. It is not currently using that and bringing rain and snow to parts of Oklahoma and Texas.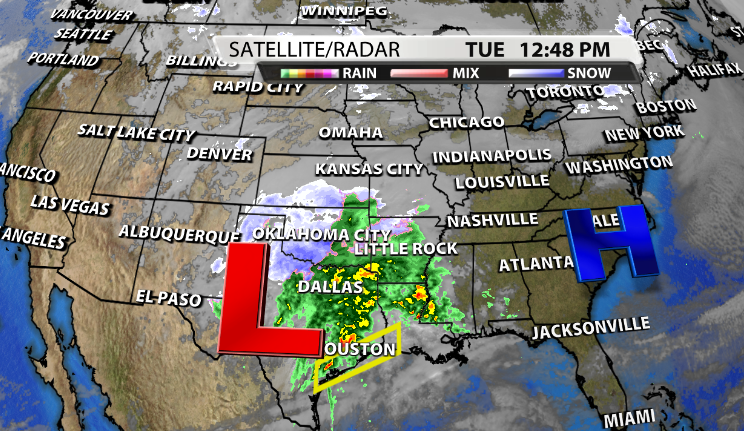 This same system is heading in our direction and there are multiple factors that are going to go into what you should expect to see falling from the sky overnight tonight. 
To start off, the NWS-Louisville has Louisville and all of our Southern Indiana counties under a Winter Weather Advisory from midnight tonight through 12pm EST tomorrow. 
There's a reason for the location of these advisories so let's get into it. 
Timing 
Most data is tackling where exactly to throw the dividing line between rain and snow. All of us will start with cold rain tonight, some of which could be heavier at times.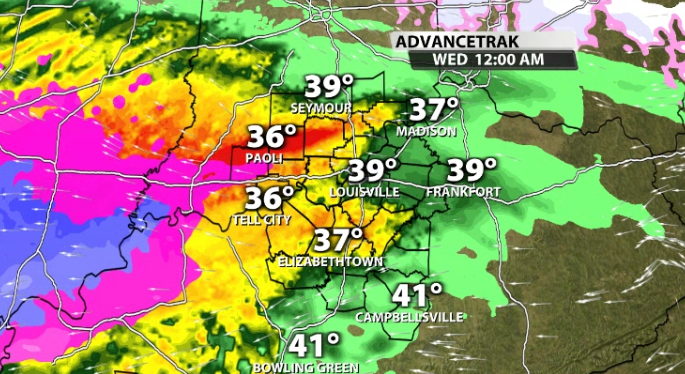 Over the following hours, temperatures fall, especially in Southern Indiana, many of which will be at or below freezing, allowing for an easier transition from rain to snow.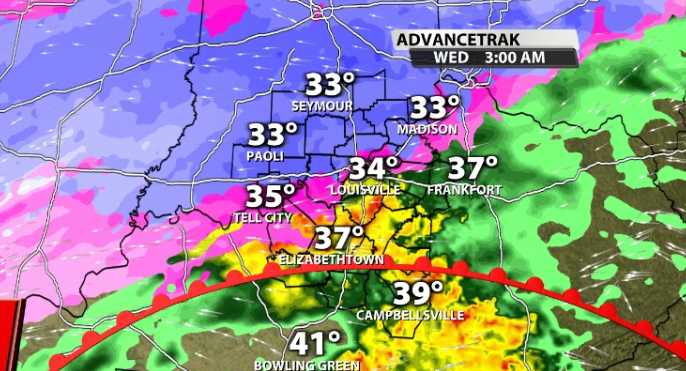 What you'll notice is that for Louisville, we are once again right along the dividing line between rain, sleet, and snow. What is really preventing us from seeing an easier transition is obviously above freezing temperatures, but also the fact that within the follow few hours, we will have what is called warm air advection.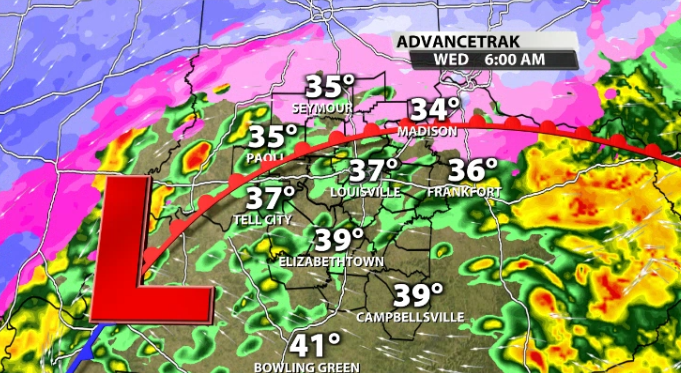 Winds will eventually shift further out of the  South and will bring in warmer air into the area and change anything that has tried to transition to snow right to sleet. This will end up warming our atmosphere too much to support snow anymore by the morning commute for most of our area, including Louisville.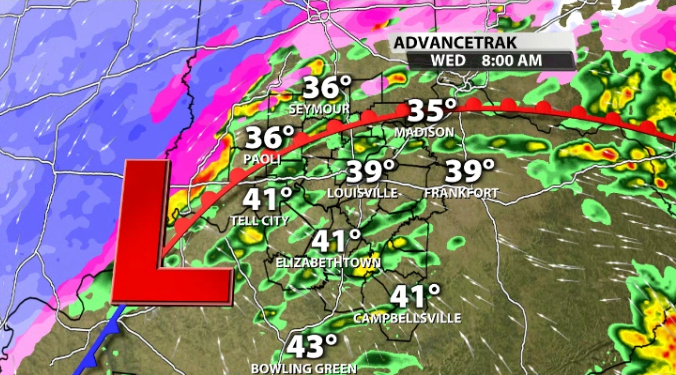 So, when you do the math, that leaves us a small window (around 2 hours possibly) of opportunity to see a transition to snow in Louisville. If we miss that window, then we will miss out on a lot and potentially any snow from switching over due to warmer air moving in and takes out the possibility for dynamic cooling.
The only problem is...as mentioned before, there will be a limited amount of time this could happen before temperatures climb too high due to Southerly wind and warm air advection takes over. This leaves us in Louisville with sleet overnight due to the warm advection moving in. That is what makes this forecast so complex and difficult.

Timing of Rain to Snow to Sleet Transition By Location
Meteorologists can get a better idea on what type of precipitation will be falling by looking at temperatures above our heads, which can dictate between snow, sleet, freezing rain, and rain. 
The transition from rain to snow to sleet in terms of the timing will depend greatly on where you are located. So, lets go through a couple cities covering areas that have a potential to see snowfall and go through the timing for those areas. 
1. Louisville: Based off of model soundings, Louisville has the chance of seeing dynamic cooling occurring only between around 1am-3am. That is when we have moisture falling and before warm air advection makes its way into our area. What we look at during this timeframe is what we call QPF, or basically how much precipitation falls between those hours when we could see that transition to snow. We compare that to what is called a snow ratio, basically the percentage of water to snow. This helps determine if snow is wet with large flakes, or light and dry snow. Looking at those factors helps us come up with our snow range for Louisville. 
By 4am-5am, Louisville should transition to sleet as warm air advection starts to punch it's way into our area. This sleet could be coming down heavy at times, and with rain to then follow the sleet, this would wash away any snowfall if any had fallen in that short window where it was possible. There does appear to be higher QPF when and after we go to sleet and rain compared to when snow is a possibility for Louisville. 
2. Henryville Area: Next we're going to include the Henryville area and counties near it, as snow totals will start to increase the further North we go. In this area of our region, there will be slightly more time for snow to fall. That window should be around 1AM-5AM. Around 5-6AM, sleet will likely be trying to mix into the picture and a rocking between sleet and snow could be possible for a few hours follow before going to rain around 6-7AM.  The total QPF during the snowfall timeframe is higher in this area compared to Louisville, therefore has the better chance of having higher snow totals.
3. Bedford Area
The far Northern half of our area has the best chance to see the most snowfall compared to the rest. For instance, the Bedford area should see all snow falling from around Midnight to 5-6AM before seeing the transition to sleet mixing in with snow. This should stay this way until after 9AM until temperatures warm enough to change into more of a rain/sleet scenario. 
How much could fall?
That is the million dollar question. Southern Indiana by far has the greatest chance of seeing accumulating snowfall once again, with the further North you go, the higher amounts possible. Below is an example of what could happen tomorrow. The grey shading represents no snow accumulation, but instead slushy conditions at times, but a mostly rain event. The white shading, which includes Tell City to Louisville and around Shelbyville represents up to 2". Remember that does include the number 0, as in 0-2". The blue shading in many of our Southern Indiana counties including locations like Madison, Henryville, and Southern Seymour represents 2"-4" of snow, and the purple shading in the far Northwestern portion of our viewing area represents where 4"-8" would be possible.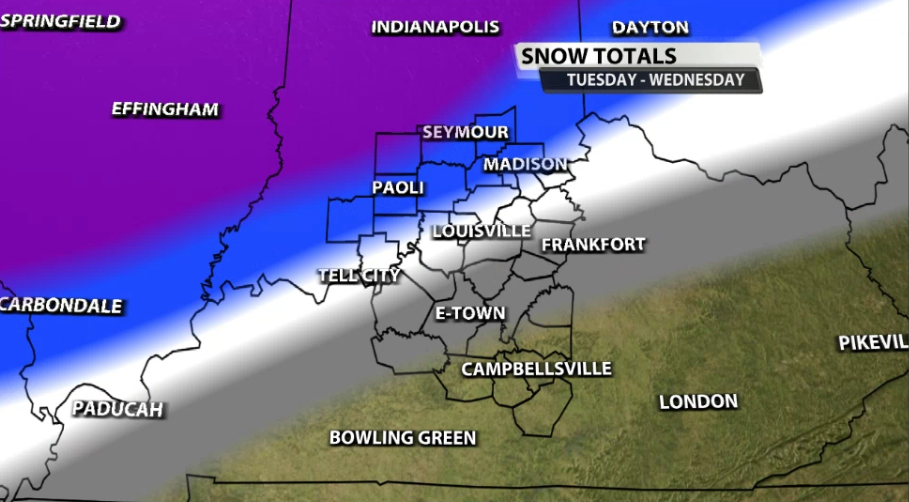 Wednesday into Thursday
Wednesday outside of the snow, sleet, and rain, will also be windy at times, especially in the warm sector where that warm air advection will be rushing in during the morning time. Wind gusts up to 45mph will be possible through the afternoon.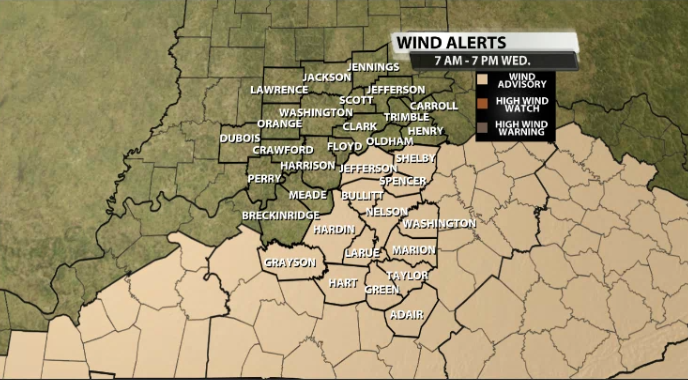 By late Wednesday and into Thursday, temperatures will fall down again and a little leftover moisture will swing its way back over our area on the backside of the low pressure. This could bring in a few more light to moderate snow showers Wednesday night and into parts of Thursday.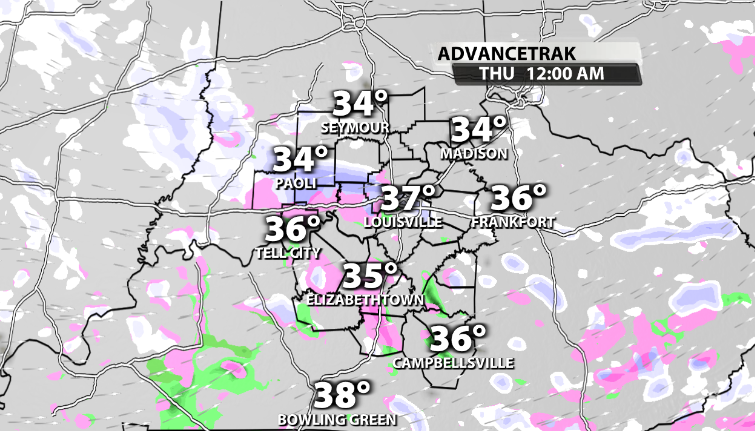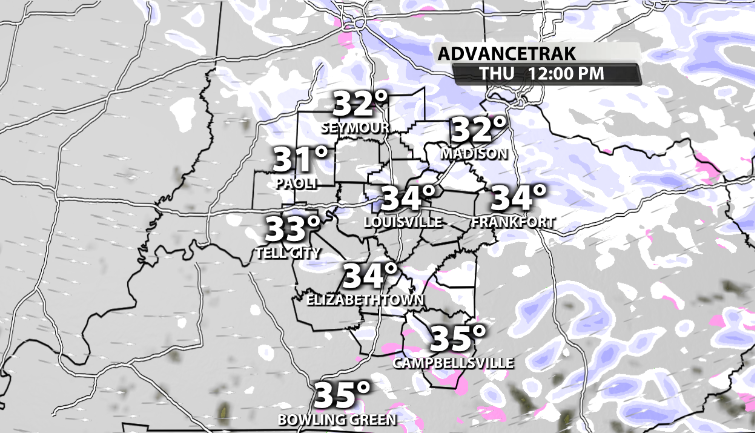 What could help vs prevent a rain to snow transition?
Even though we don't have a very long window for it to occur, there could be a couple things that could help that transition from rain to snow occur, but it will have to occur in that small time frame before the warm air advection takes over. 
One thing meteorologists look at is called a sounding. This gives us a 2D representation of a column of the atmosphere and can tell us a multitude of factors including dry air, moist air, and temperatures. 
One thing that we can see before this system moves in tonight is a lot of dry air aloft. For example, this sounding below is valid at around 8pm tonight for Louisville.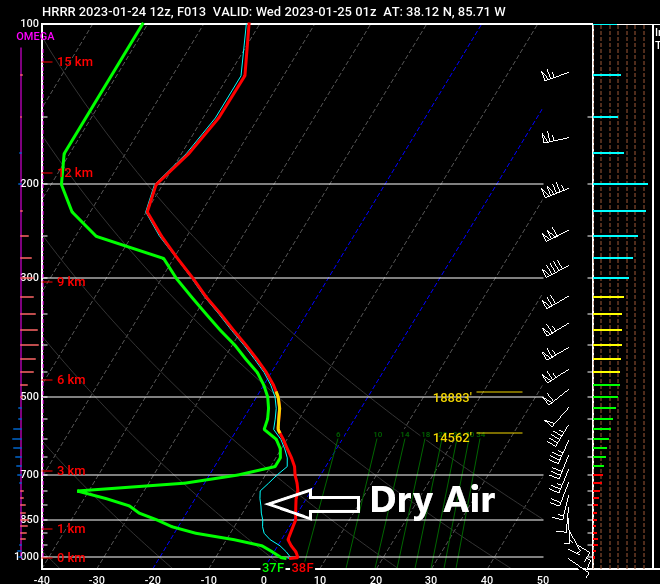 You can see the gap between the green line (dewpoint) and the red line (temperature), signifying that there is a lot of dry air above our heads. What you'll also notice is that those lines are close together above that dry slot. That signifies moist air, of which is below freezing. So what could occur is what we call evaporative cooling. 
Yes, I know that was a lot to digest so let's take it back a step for a second. Think of evaporation...if you put hand sanitizer on your hands and then wave your hands around, that evaporates the hand sanitizer, but it leaves your hands feeling colder. That is because evaporation is a cooling process. 
So, in regards to the sounding I showed you a second ago, what this would do is that it would decrease temperatures aloft and moisture begins to win over, which in term, lowers the overall temperature of the entire column of air above our heads, allowing for snow to reach closer to the surface. 
This sounding is now after that evaporative cooling has occurred, in this example, around 3am.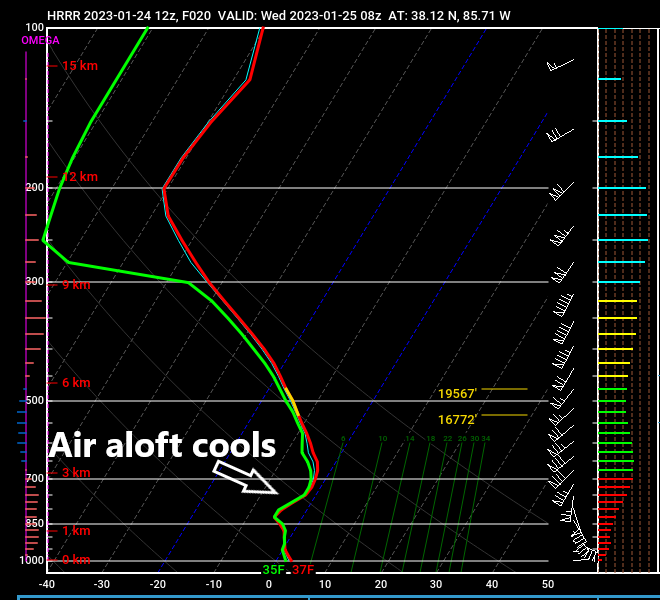 So, the air above our heads is below freezing, so what's the problem? Our next obstacle is that our air temperature in Louisville will likely be above freezing at this time. We saw those kind of temperatures in the morning this past Sunday, but we also didn't have to deal with warm air trying to punch its way in behind it.
This is where dynamic cooling once again comes into play. When you have moderate or heavy pockets of rain or snow, you can literally pull the colder air aloft down to the ground. When this happens, you dynamically cool the lower part of the atmosphere and this can swing the pendulum toward snow in a situation like this. However, in order for dynamic cooling to happen, we have to have at least some level of intensity with the precipitation falling from the sky. Without that intensity, dynamic cooling does not happen, and that is something that could determine if it occurs tonight. This concept is something we need to keep in mind as we look at the data.