With tonight's potential for snow, sleet, and freezing rain across the area, the NWS-Louisville hosted a conference call this afternoon to discuss more on the forecast and the timing for this system. Here's a little about what we discussed:
First of all, much of our area is under a Winter Weather Advisory from 7PM this evening through 1PM on Tuesday. This does include the Louisville area: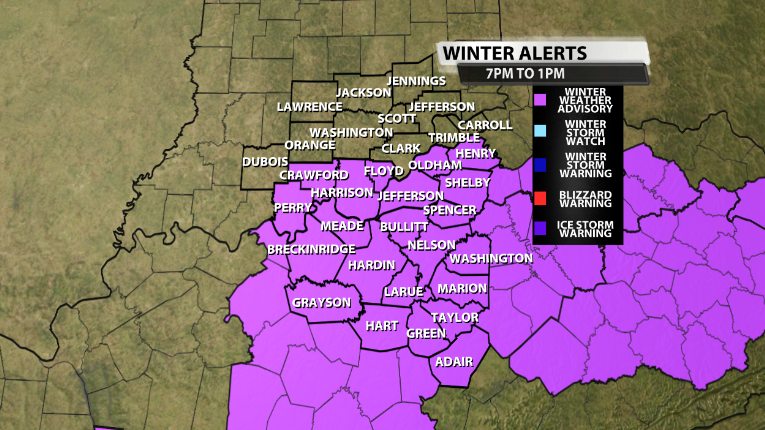 There will be a mix of precipitation depending on where you are in our area including snow, sleet, and even some freezing rain.
Here's some projected freezing rain accumulations across our area, favoring much more to our South: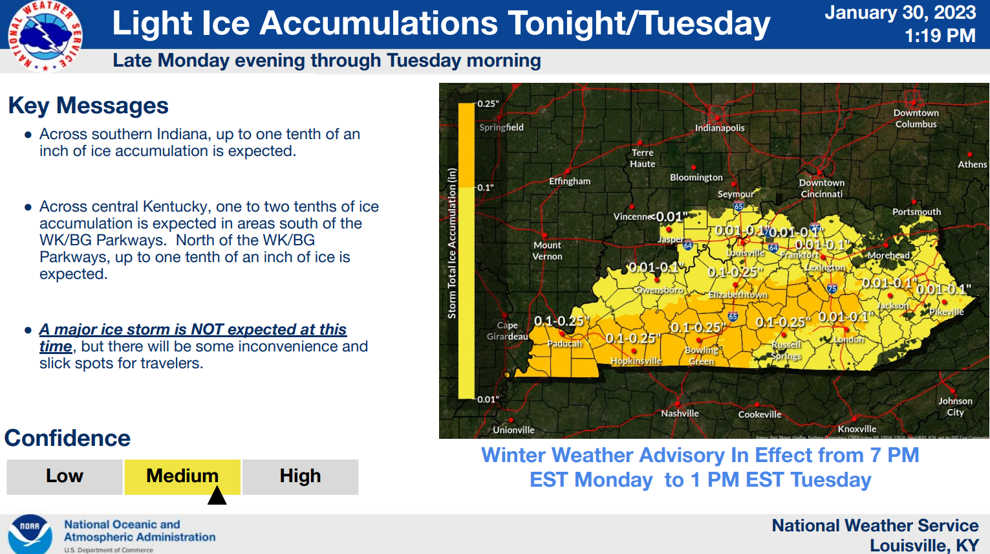 We'll have more on this further down in this blog post..
This will make way for some slick travel by tomorrow morning across most of our area, especially where freezing rain could end up falling. Here's a few tips from the NWS on staying safe on slick road conditions: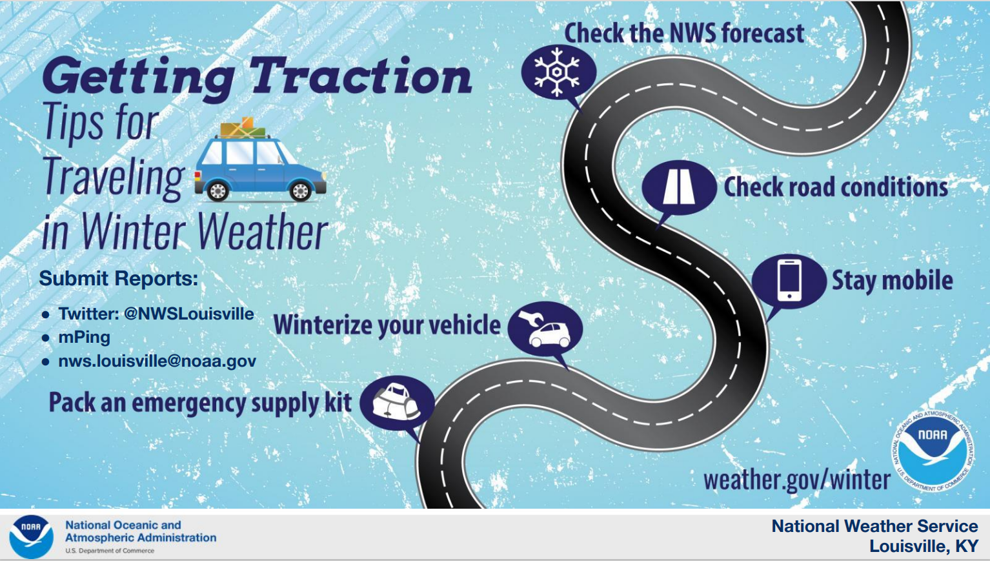 Much like discussed above, what form of precipitation falls will end up depending on where you are in our area once moisture moves on in. Before we dive into more on advancetrak, here's a reminder on the difference between snow, sleet, and freezing rain. Here's an illustration from the NWS: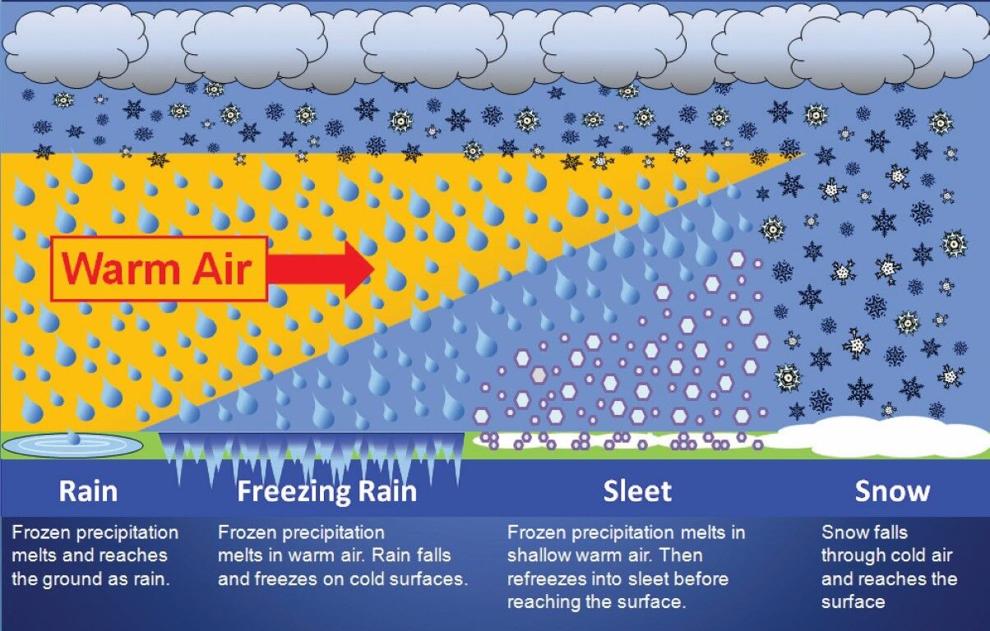 Another way to convey the difference is by looking at what we call a skew-t or an atmospheric sounding. You can tell that with sleet, there is a shallow area of warmer air above our heads that will briefly melt the snowflakes before reaching the ground. 
However with freezing rain, there is a deeper area of above freezing temperatures above our heads that melts any snow falling for longer until right before it reaches the surface with below freezing temperatures.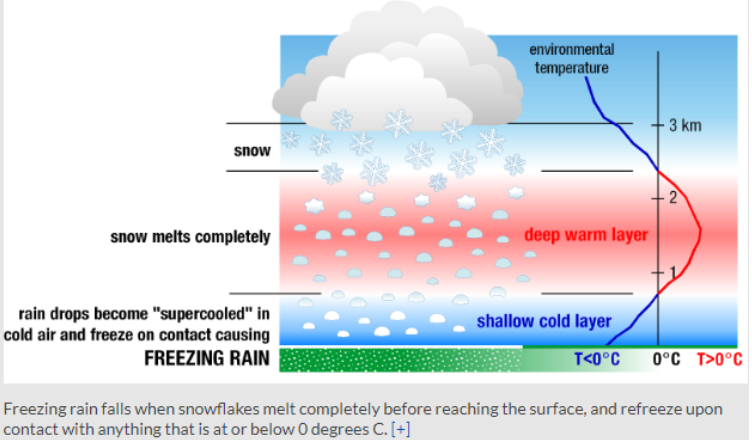 Now, lets get into more of the advancetrak on timing and locations again.
After sunset, moisture begins to make its way into our Western counties, with a lot of this falling as a mix of light freezing rain and sleet.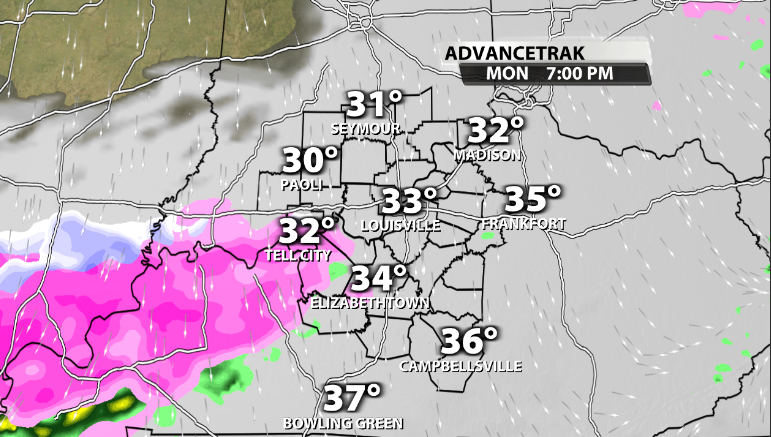 This continues to push its way into the Louisville area between around 7-8pm tonight, with the majority of it falling as sleet.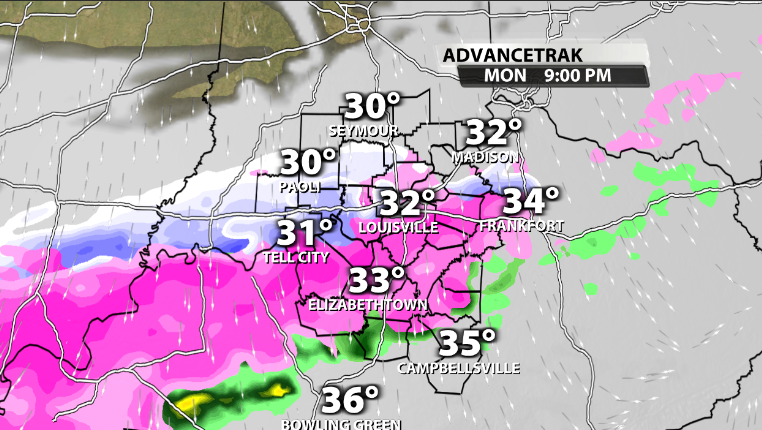 As more moisture starts to pile on in, there will be a fine line for areas to see snow, sleet, or freezing rain. The most likely areas to see snow falling and possible snow accumulation would be in Southern Indiana. Model data has been pretty consistent with that area having the greatest chance of seeing snow rather than anything else. Accumulations would be minor, but localized areas up to 1'"+ aren't out of question. Snow accumulation can't be ruled out for Louisville either, but again, totals wouldn't be a crazy amount, with up to 1" possible.
Louisville looks to be closer to the sleet/snow changeover closer to the river. Sleet does look like to be the main type of precipitation falling for the Louisville area tonight. Even though sleet may not sound like a big hazard, with the amount of moisture that could fall, say up to 0.5" of sleet, would still make roadways slick through the overnight hours. If Louisville were to see a brief switchover to snow at any point as well it would also make roads slick.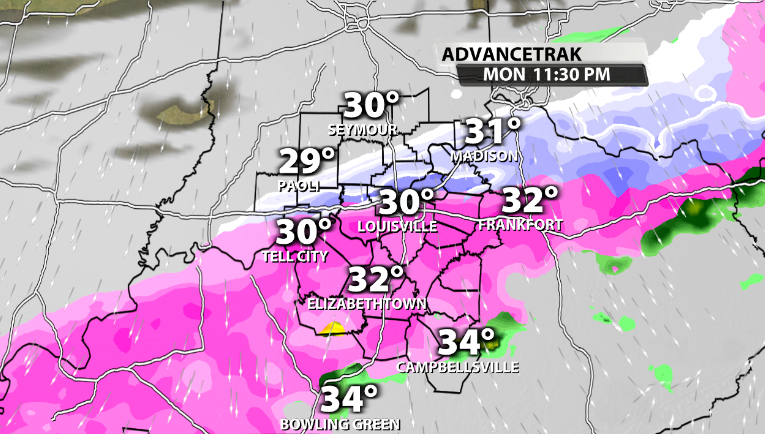 When we look further to our South for our Southern communities in Kentucky, this would be the most likely area to see more freezing rain mix into the equation. Now, while these accumulations wouldn't be crazy high, I think it is safe to say up to 0.15" of freezing rain is possible in some of our Southern communities. As the NWS also stated earlier, there could be a couple isolated locations that could end up with a little more. This would put a glaze on roadways and other elevated surfaces and once again, making way for some slick roads.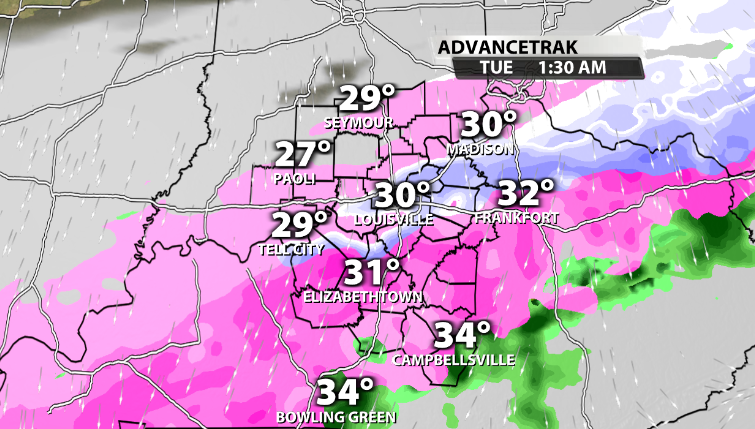 By the time the early morning rolls around and we head closer into the morning commute, there is still a likelihood that freezing drizzle could be falling across the area as moisture starts to make its way on out. Again, while this wouldn't be much of any accumulation, it wouldn't take much to put a quick glaze down across part of the area.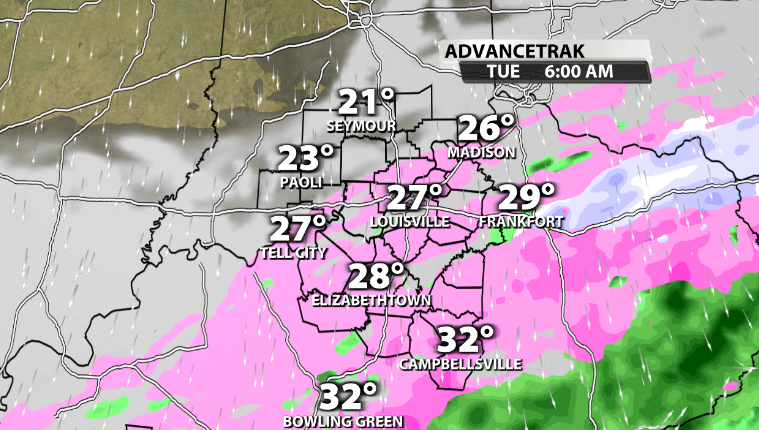 Summary:
At the end of the day, we are NOT expecting a major ice storm by any means for our area. Snow accumulations in Southern Indiana are possible, but won't be out of this world. Sleet looks to be the main precipitation type for the Louisville area, mixing in with a little bit of snow and some very light freezing rain. Our Southern communities have the greatest likelihood to see some freezing rain and everyone should take it a little slower on the roads tomorrow morning. We'll continue to update snow, sleet, and freezing rain accumulations on WDRB at 4pm, 5pm, 6pm, 10pm, and 11pm!