LOUISVILLE, Ky. (WDRB) – A Louisville police detective accused of providing false information to get a search warrant for Breonna Taylor's home told investigators he didn't intentionally mislead a judge but acknowledged he could have worded the affidavit "differently."
But an investigator with the police department's Public Integrity Unit drew a different conclusion after interviewing the officer who applied for the search warrant, Detective Joshua Jaynes.
"Investigators believe the wording on the affidavit is misleading," Sgt. Jason Vance wrote in a summary of the investigation released Wednesday. Vance concluded that, "given Jaynes statement related to the information, should be reviewed for criminal actions."
Jaynes acknowledged that he did not personally obtain information from a U.S. postal inspector, as he indicated in the search warrant.
Louisville police were repeatedly told there were no packages, "suspicious or otherwise," delivered to Taylor's home in connection to a drug investigation centered around Jamarcus Glover, according to testimony in an internal LMPD report.
But on March 12, a day before the raid on Taylor's Springfield Drive unit, a warrant affidavit written by Jaynes said he had "verified through a US Postal Inspector that Jamarcus Glover has been receiving packages" at Taylor's home.

That claim was one of several Jaynes presented to Jefferson Circuit Judge Mary Shaw, who approved the warrant.
Jaynes wrote in the affidavit that "it is not uncommon for drug traffickers to receive mail packages at different locations to avoid detection from law enforcement." 
In a May 19 interview with the department's Public Integrity Unit and released to the public as part of the entire investigation into the Taylor shooting, Jaynes said he didn't contact the postal inspector but instead asked Sgt. Jonathan Mattingly to check whether Glover was receiving mail at Taylor's home.
Jaynes told investigators he observed Glover leave the apartment on Jan. 16 "with a suspected USPS package in his right hand." He said several photos were taken for documentation.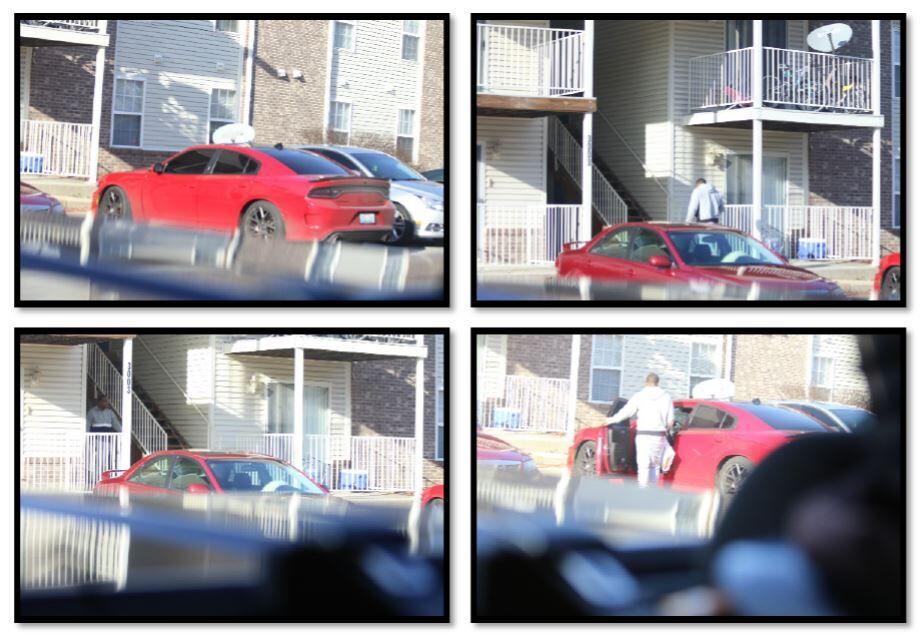 Mattingly told him in February that Glover was receiving Amazon or mail packages at Taylor's home, but nothing had been designated as "suspicious" by the postal inspector, Jaynes said.
Jaynes' interview shows that Mattingly never contacted the postal inspector directly. Instead, he submitted the request through the Shively Police Department, which serves as a liaison between LMPD and the postal inspector because of "bad blood" between the two agencies.
In an interview with Louisville police investigators, Shively police Sgt. Timothy Salyer said he and Shively Detective Michael Kuzma got a text from Mattingly on Jan. 17 asking they check with a postal inspector to see if packages were being sent to Taylor's home for Glover.
Both Shively officers say the postal inspector told them there were no packages being sent to Taylor's home and that information was promptly and accurately relayed to LMPD.
After Taylor's death, both Salyer and Kuzma became concerned when they read the warrant affidavit written by Jaynes. Salyer asked Mattingly about what Jaynes said in the affidavit.
"Sgt. Mattingly stated he told Detective Jaynes there was no package history at that address," Salyer told investigators.
In his interview with the Public Integrity Unit, "Jaynes emphasized that he did not write that Glover was receiving suspicious packages but was making the point that Glover was receiving … mail at that location," according to a summary.
"Was it – it – the way that you worded that specific bullet point in your affidavit, was it your intent to mislead the – the reviewing judge?" Jaynes was asked by the Public Integrity Unit in the interview.
"No, not at all," Jaynes answered. "And like I said, I could have – I – I could have worded a little bit differently in there."
In a summary of the police investigation released Wednesday, Sgt. Vance pointed out inconsistencies in what Jaynes told police.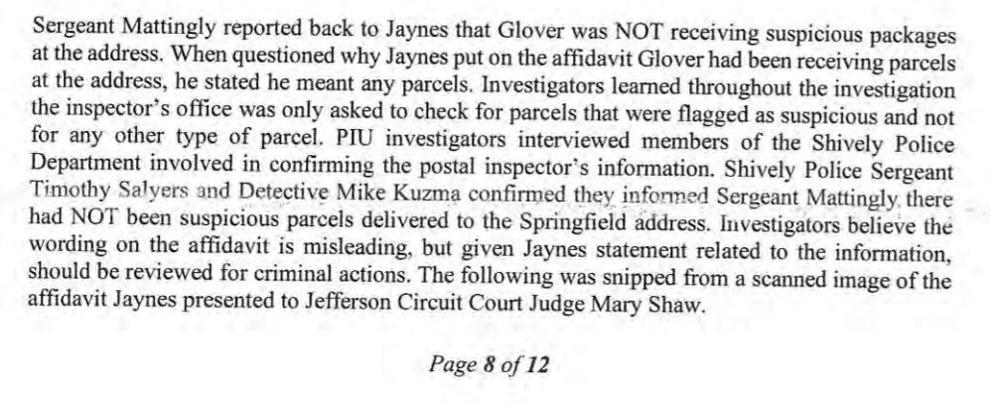 When asked why he didn't reach out to the postal inspector's office, as was written in the affidavit, Jaynes said he asked Mattingly to because Mattingly had a good relationship with the postal inspector's office.
But Vance noted that "LMPD and the USPS Inspector's Office do not have a working relationship due to previous incidents."
And after reaching out to Shively police so they could contact the postal inspector, Mattingly was told by Salyer and Kuzma that there were no suspicious parcels delivered to Taylor's address, according to interviews with the officers. 
In addition, Jaynes said, he reached out to Salyer about a month after Taylor's death to ask if Glover "was receiving parcels" at Taylor's home, according to a summary of his interview. He told investigators he asked Kuzma the same question and "the response I got was no," according to the summary.
Salyer said in his interview with police that he told Jaynes there were no packages in months delivered to Taylor's address and the location was flagged if any were detected and the postal inspector would be notified, according to the summary.
Jaynes also asked if Glover was receiving any "mail matter." Salyer said he would check.
"Sgt. Sayler (sic) was confused as to why Detective Jaynes contacted him almost a month after the shooting incident inquiring about packages being delivered to the address," according to the summary. 
In his interview, Salyer said "it seemed odd" Jaynes texted him a month after the shooting.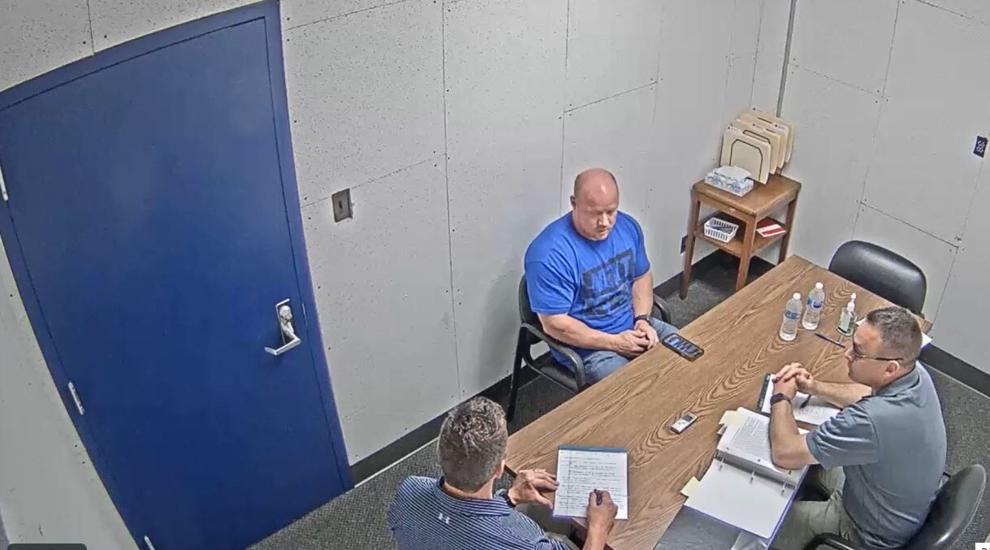 "It looks like you're trying to cover your ass is what it appears to me," Salyer told investigators, according to audio of the interview.
Jaynes, however, said in the interview that he was simply collecting more details as he finalized an investigative report about the raid.
As for Jaynes saying he wasn't specifically referencing "suspicious" packages in the affidavit, Vance wrote in his conclusion that "the inspector's office was only asked to check for parcels that were flagged as suspicious and not for any other type of parcel."
Asked if he "created any documents pertaining to this case 'after the fact,' to conceal shortcomings in the investigation, Jaynes said he did not," the summary of his interview concludes. "Jaynes said he did not receive any pressure from anyone to misrepresent any facts pertaining to this case."
Ultimately, Jaynes said he felt confident in his suspicions that Glover was using Taylor's apartment in his drug trafficking business.
"They get other people involved, and it's usually females," he said in his interview. "It's usually baby-mamas or one child in common or it's girlfriends that they can trust. They can trust them with their money and their stuff."
While Attorney General Daniel Cameron's office did not present evidence on possible false information in the search warrant, there is an ongoing federal investigation.
Jaynes said reached out to the Public Integrity Unit following a WDRB News interview with the Louisville postal inspector in May.
Tony Gooden said that Louisville Metro Police did not use his office to verify Glover was receiving packages at Taylor's apartment.
At the time, Gooden said a different law enforcement agency asked his office in January to investigate whether Taylor's home was receiving any potentially suspicious mail. After looking into the request, he said, the local office concluded that it wasn't.
"There's no packages of interest going there," Gooden said.
Last week, when asked if she was going to issue a show-cause order as to why Jaynes shouldn't be held in contempt for providing false information in an affidavit, Judge Mary Shaw, who approved the search warrant, said she was "concerned but deferring to the FBI investigation." 
Detective Brett Hankison, along with Mattingly and Detective Myles Cosgrove, with LMPD's Criminal Interdiction Division, burst into Taylor's Springfield Drive apartment around 1 a.m. March 13 to serve a search warrant, according to police reports. Taylor was inside the apartment with her boyfriend, Kenneth Walker.
Taylor, 26, was shot six times and died at the scene.
Walker thought they were being robbed, according to his attorney, and fired at officers when they rushed in, hitting Mattingly in the leg.
A Jefferson County grand jury indicted Hankison on Sept. 23 on three counts of wanton endangerment for firing into an apartment near Taylor's unit where a man, pregnant woman and child were at the time. 
No one was charged in Taylor's death. 
Copyright 2020 WDRB Media. All rights reserved.