LOUISVILLE, Ky. (WDRB) — Photos, video and audio released Thursday evening show the aftermath of a March 13 police raid at an apartment in south Louisville that ended with officers shooting and killing local EMT Breonna Taylor. 
The photos were released to WDRB News by Louisville attorney Sam Aguiar, who is representing Taylor's family in a wrongful death lawsuit against officers involved in the raid. They show bullet holes scattered throughout Taylor's apartment, from the bathroom wall to a set of curtains in the living room, other windows into the residence and sauce pans in the kitchen. 
The lawsuit filed by Taylor's family claims Louisville Metro Police Department officers "blindly fired" into her apartment, spraying bullets around the unit and neighboring units "with a total disregard for the value of human life."
Taylor was shot at least eight times during the raid, according to the lawsuit. Taylor's living room was "obscured by curtains" at the time of the raid, the suit reads, and "the officers could not see anything inside the home (past the curtains) within their line of fire when shooting into the home through the glass."
"The officers failed to use any sound reasonable judgement whatsover when firing more than 25 blind shots into multiple homes and causing the wrongful death of Breonna," the lawsuit claims.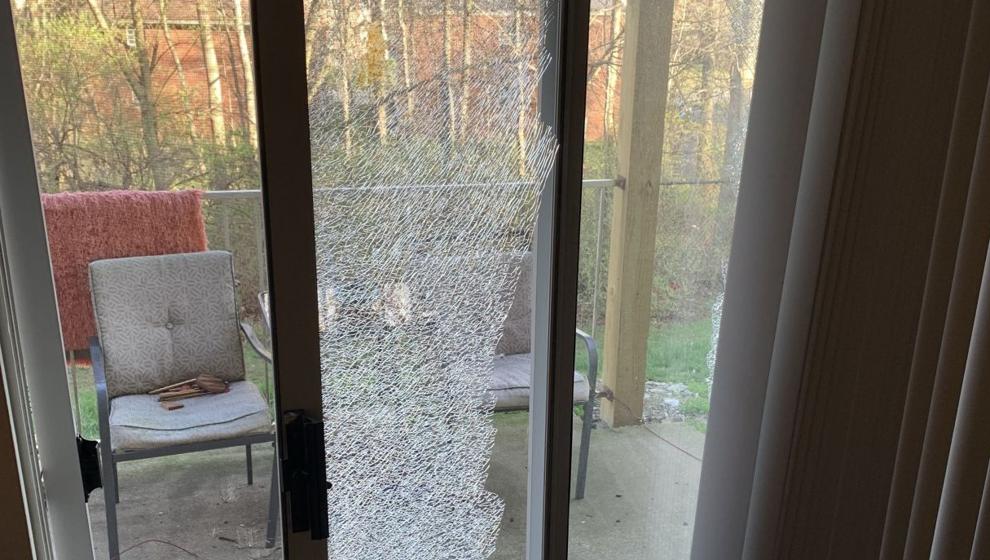 Detectives Myles Cosgrove and Brett Hankison and Sgt. John Mattingly, with LMPD's Criminal Interdiction Division, arrived at Taylor's apartment on Springfield Drive around 1 a.m. March 13 to execute a search warrant, according to police reports. Taylor was inside the apartment with her boyfriend, Kenneth Walker.
In the request for a search warrant, police said they believed suspected drug dealer Jamarcus Glover was using Taylor's apartment to receive mail and "avoid detection from law enforcement." The warrant on Taylor's apartment indicated police were looking for drugs, money, weapons, "paperwork that may be a record of narcotic sales" and any electronic records that may be evidence of drug trafficking.
Police said the officers repeatedly knocked on Taylor's door to announced their presence. In applying for the warrant, however, police requested a "no-knock" entry to the apartment "due to the nature of how these drug traffickers operate," including trying to destroy evidence and fleeing police.
According to an affidavit filed in court records, a woman who lives next door said she woke up to the sound of gunshots and Walker yelling for help. The woman said she never heard police announce themselves.
The officers used a battering ram to get into Taylor's apartment and were met with gunfire, according to police. Walker, according to the lawsuit, called 911 as officers "fired shots into the home from outside." According to Walker's attorney, Walker thought Taylor's apartment was being robbed and fired out of self-defense. 
Walker shot Mattingly in the leg, and officers returned fire. 
WDRB News obtained a video from the scene from Aguiar, who says it shows Walker surrendering to police. An officer instructs Walker to "walk back to me," and Walker can be heard saying, "I'm trying." 
Dispatch audio from the early morning raid obtained by WDRB News includes "officer down" calls and police determining how to treat Mattingly's gunshot wound.
"We're going to put him in the back of a marked car," an officer said. "We don't know where our backup EMS is."
Police found nothing illegal in the apartment, and Glover was arrested shortly before the raid on Taylor's residence. Taylor had no criminal record and "was unarmed when she was shot repeatedly," the lawsuit reads.
LMPD's Public Integrity Unit is close to completing its investigation, Chief Steve Conrad said Thursday, and the department's report will be handed to U.S. Attorney Russell Coleman's office and FBI agents in Kentucky. 
The office of Kentucky Attorney General Daniel Cameron has been asked to serve as a special prosecutor in the case and will determine if any charges will be brought against officers. Jefferson County Commonwealth's Attorney Tom Wine recused himself from the case because his office is prosecuting a case against Walker, who has been charged with attempted murder of a police officer. 
Cosgrove, Hankison and Mattingly are on administrative reassignment while the Public Integrity Unit investigates. 
Meanwhile, Taylor's story has drawn national attention. Civil rights attorney Ben Crump, who has represented the families of Michael Brown, Tamir Rice and, most recently, slain Georgia jogger Ahmaud Arbery, has joined Aguiar in representing Taylor's family. Former Democratic presidential candidate Kamala Harris, a U.S. senator from California, in a tweet called for the U.S. Department of Justice to investigate. 
Louisville Mayor Greg Fischer said LMPD's Professional Standards Unit will review the matter if no charges are filed against the officers or "once a potential case is over." The review could lead to discipline from Conrad. 
Fischer said Thursday that the truth surrounding the raid will be uncovered, but the answers will not arrive quickly or easily.
"Not everybody is saying the same thing in terms of witnesses. So it takes a while to get to the truth," Fischer said. "I just want to commit to the family and the whole community that we will be doing everything we can to get to the truth behind this and make sure justice is served." 
Related Stories:
Copyright 2020 WDRB Media. All Rights Reserved.