INDIANAPOLIS (WDRB) – Fewer than half of Indiana's students scored proficient in reading or math in ILEARN assessments last school year, raising serious concerns not about the state of education in Indiana, but rather the quality of the tests it administers.
ILEARN results released Wednesday show that 47.9% of all third- through eighth-grade students in Indiana tested at least proficient in English and 47.8% showed proficiency in math. Those are significant declines from the 2017-18 ISTEP results for, in which 64.1% and 58.3% of third through eighth graders scored proficient in English and math, respectively.
Just 37.1% of Indiana third- through eighth-grade students demonstrated proficiency in both subjects on the ILEARN tests, down from 50.7% in last year's ISTEP exams.
The dismal first-year ILEARN results prompted both Gov. Eric Holcomb and Superintendent of Public Instruction Jennifer McCormick to urge Indiana lawmakers to hold school corporations harmless for poor scores, and McCormick went a step further last week in asking legislators to pause interventions based on ILEARN scores and give the State Board of Education authority to review and alter Indiana's accountability model, which assigns districts and individual schools "A" through "F" grades based in large part on assessment results.
There's a lot on the line for districts and schools based in part on these assessments, including federal dollars, teacher evaluations and bonuses, and whether the state steps in to assume control of district operations. 
That's part of the reason for McCormick's call for a moratorium on this year's results.
"I don't want to speak for those who will ultimately make that decision and vote on that, but from all signals that we've seen so far, it looks promising," McCormick said during an Aug. 28 news conference.
"But if we don't get this through, it would be devastating for many of our schools."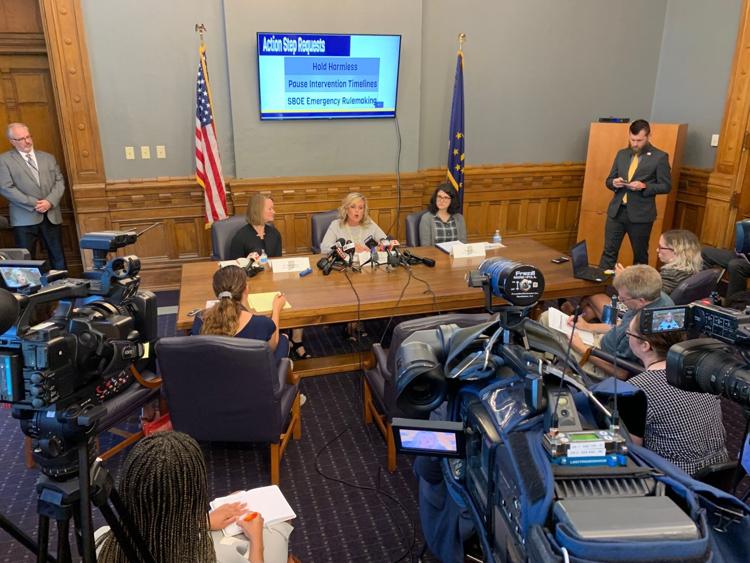 Scores for southern Indiana school corporations varied but generally reflected the statewide average.
Of districts adjacent to Louisville and Jefferson County, students in North Harrison Community School Corporation performed the best in last year's ILEARN test. Nearly 60% showed proficiency in English and 59.2% reached that level in math. Nearly 47% of North Harrison's students were proficient in both subjects, results show.
The two other districts in Harrison County also topped 50% proficiency in both categories. In Lanesville Community School Corporation, 56.4% and 50.7% of students scored proficient in English and math, respectively, and 41.5% of students reached that level in both subjects. For South Harrison Community Schools, those proficiency rates were 51.4% in English, 56% in math and 42.6% in both.
In New Albany-Floyd County Consolidated School Corporation, 48.7% and 53.8% of students who took ILEARN scored proficient in English and math, respectively. More than 42% were proficient in both subjects in that district.
Results for Clarksville Community School Corporation were slightly better, with 52.4% of students demonstrating proficiency in English and 56% reaching that level in math. Almost 43% showed proficiency in both subjects.
For Greater Clark County Schools, 49.4% and 44.2% of kids scored proficient in English and math, respectively, and 35.2% hit proficiency in both categories. Students in West Clark Community Schools fared better in math with 48% scoring proficient but slightly worse in English with 48% attaining proficiency. More than 36% of West Clark's students were proficient in English and math, ILEARN scores show.
Like statewide scores, those school corporations showed precipitous drops from their students' ISTEP scores in the 2017-18 year. Clarksville was the only district to demonstrate improvement in one category in their ILEARN scores, improving from a 52.1% proficiency rate in ISTEP's math assessment to 56% proficiency in ILEARN's version.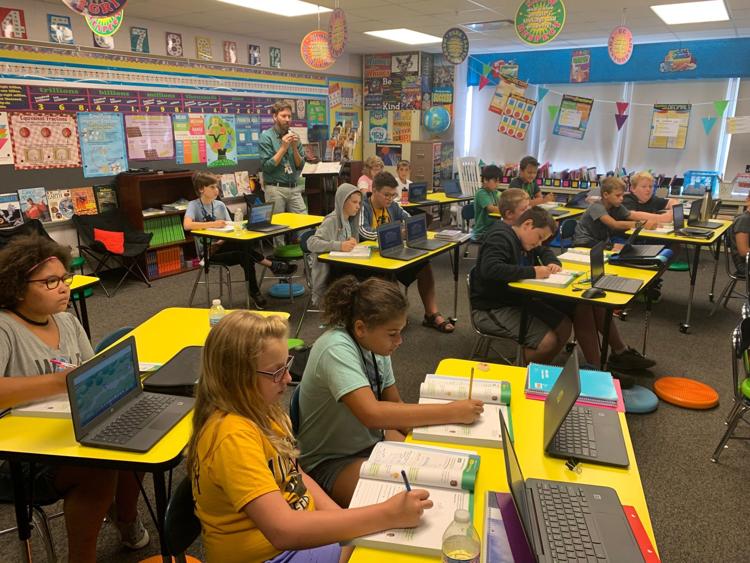 Bradie Shrum Elementary experienced a similar decline in year-over-year test scores. While 52.7% of students reached proficiency in English and 57% percent scored that in math on ISTEP assessments, their ILEARN results took a tumble. Just 43.5% and 47.9% of Bradie Shrum students demonstrated proficiency in English and math, respectively, on last year's ILEARN test.
The results are both puzzling and troubling for Bradie Shrum Principal Brent Minton, who questions the validity of the test results. With more than half of Indiana's students failing to show proficiency on ILEARN, "there's something wrong, and I don't think it's with the education," he told WDRB News.
"Any educator who's taken a testing class or measurement class, you should know that if you have a test where the majority of people are failing, there's something wrong, and it's usually something wrong with the test," Minton said.
Minton says he supports a one-year moratorium on using the ILEARN scores for schools' and districts' accountability grades. Part of that equation includes year-over-year improvement for students, something he says isn't possible when comparing two completely different testing models.
"If part of our score or school grades are based on student improvement and you can't figure that in, how do you figure in a score for the school?" he asked. "It's a missing portion of the grade."
McCormick called the 2018-19 ILEARN results "a snapshot" of learning for Indiana students. She said other indicators, such as National Assessment of Educational Progress scores and college admission exam results, have remained steady or improved despite the drop in year-to-year statewide assessment numbers.
She'd like to see the state scrap its A-F accountability scorecard in favor of a model that more closely resembles the federal one developed under the Every Student Succeeds Act, which has four categories from "does not meet expectations" to "exceeds expectations" and is based on a wider spectrum of performance indicators.
With a more rigorous examination that places a greater emphasis on college and career readiness in the past, McCormick says Indiana needs a more "modernized" accountability system to provide a more accurate gauge of how districts and schools are academically.
"I think ESSA will give schools a better indication of actually where they are performing statewide," she said. "… Our state accountability system's just not going to tell you much. It's really the accountability piece that's extremely problematic in this whole story."
Maggie Paino, director of accountability for the Indiana Department of Education, agreed.
"The anticipation is that the state system really has not been keeping in track and in time with where we are with our data and with our performance," Paino said during last week's press conference.
McCormick attributed the poor ILEARN results in part to an implementation dip that Indiana has experienced in the past as it transitioned to new standardized tests. Indiana has had four different assessments in the past decade, she said, and ILEARN – which cost the state $43 million in a three-year contract awarded in 2017 – is the latest iteration.
The Indiana Department of Education presented data last week that showed steep declines as the state moved to a new version of its ISTEP exam in 2014-15. That year, 67.8% and 61.6% of Indiana's students scored proficient in English and math, respectively. In the prior year, those proficiency rates were 81.2% in English and 84.1% in math, according to the department's data.
"We are still feeling the impact of the last performance declines," McCormick said. "We were digging ourselves out of that and were moving in the right direction."
Both McCormick and Minton expressed a sense of fatigue with the pace by which Indiana policymakers have been moving in scrapping and implementing new assessments.
McCormick said she believed that school districts were beginning to feel "policy fatigue," and Minton called the rapidly changing testing landscape "exhausting."
"Each test we're given this, 'We're going to make this better. It's going to be better,'" Minton said. "And yet it seems to be worse each time."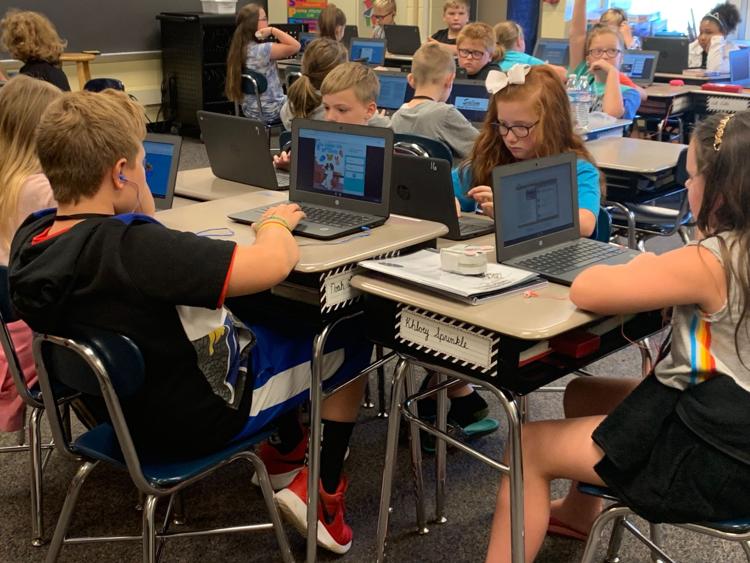 Minton said a more accurate gauge of student growth would be to test students at the start of the school year and again at the end. Those numbers, he reasoned, could give educators a better look at how their kids performed academically throughout the year.
The two also shared a similar sentiment for those who set education policy in the state: Listen to those who have experience in schools and classrooms and make improvements based on their feedback.
"In this situation you're always trying to position yourselves to make sure kids are in the best situation for those high-stakes assessments, and it can be exhausting," McCormick said, adding that she's seen instances of "knee-jerk" reactions implemented in Indiana to mixed results.
"It's extremely frustrating. It's frustrating at the local level. It's frustrating at home. It's frustrating at a school level, but at some point Indiana needs to listen to practitioners as some of those policies are being developed and be smart about how we move forward."
English and math ILEARN results for southern Indiana schools and districts can be downloaded here:
Copyright 2019 WDRB Media. All Rights Reserved.